How to Recycle a Soda Bottle into a Pin Cushion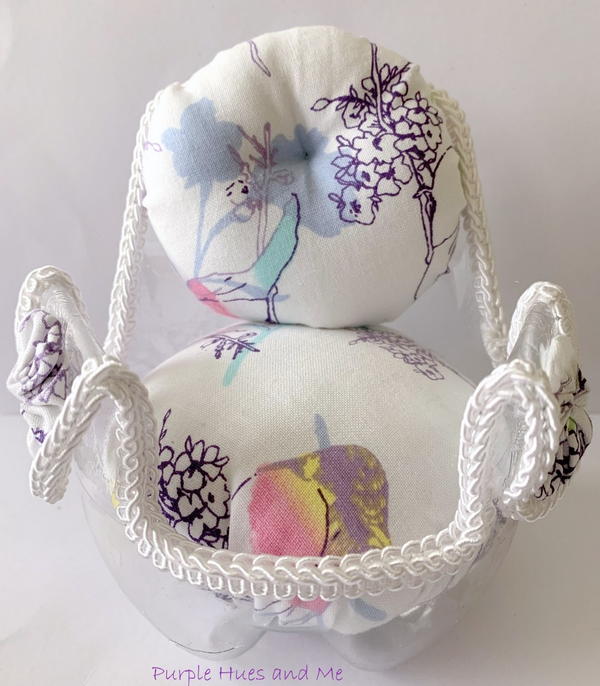 How to Recycle a Soda Bottle into a Pin Cushion
"Unfortunately, discarded plastic soda bottles usually end up as litter, in landfills and sadly in seas. And there are lots of companies trying to do their best to recycle plastics into additional useful products. I'm all for recycling plastics into fun craft ideas! It's amazing what can be made from discarded soda bottles! And making a pin cushion from a soda bottle was shared with me by my sister-in-law several years - a craft she picked up while visiting her hometown in Brazil."
Primary TechniqueGreen Crafting

Materials List
2 liter empty soda bottle
Craft knife/scissors/black marker
Nail polish remover (acetone)/cotton balls
5/8" trim/bias tape
Fabric scraps (2-12" x 12")
Poly-filling
Needle and thread
Quick grab and dry glue
Instructions
Wash bottle with dish detergent and let dry.

Cut soda bottle in half just below the label.

Draw a pattern outlining a chair using a black marker.

Cut out the pattern and use a cotton ball dampen with nail polish remover.

Glue on trim or bias tape around the edges using a quick grab & dry glue.

Trace the outline of the circle templates on the wrong side of the fabric and cut out.

Note: click image for larger version.

Starting with the larger circle, make a running stitch around the folded inside edges of the fabric going around the entire circle, pulling the thread to gather the fabric into a circle. Make a few extra stitches where the threads meet, and knot to secure.

Stuff filling into the fabric circle as tight as possible, making it fluffy and even like a pouf. Secure gathers with a few more stitches, cutting off excess thread.

Cut a circle of fabric, folding edges under and glue in place over the cushion opening to complete the bottom cushion.

Repeat the same steps using the next size circle to make the smaller back cushion.

Make three yo yo's by sewing a running stitch along the folded edge around the smaller circles and gently pull the thread to gather the fabric toward the center. Secure by stitching close to gathers and knot. Had press yo yo's flat with gathers in center.

With needle and thread, attach top cushion to plastic back through center of yo yo, making a recess in front center of cushion - then sewing back and forth several times and knotting to secure.

Fold over side arm flaps sewing back and forth several times securing through the center of the yo yo, and knotting in place.
Your Recently Viewed Projects