"How to Paint Furniture: 19 Upcycled Furniture Projects" free eBook from DecoArt
How to Paint Furniture: 19 Upcycled Furniture Projects free eBook from DecoArt
Turn your furniture from drab to fab in no time!
Give your home a makeover with this new free eBook from DecoArt and FaveCrafts.com. How to Paint Furniture: 19 Upcycled Furniture Projects is filled with awesome ways to transform tables, bookshelves, cabinets, and more! With some simple painting techniques and a little creativity, you can instantly transform an old piece of furniture into something new and chic! Learn how to paint wooden furniture to give it that distressed look, turn a thrifty garage sale steal into something country-inspired, and learn how to paint a dresser to perfectly match your child's bedroom. With 19 amazing tutorials to choose from, as well as a helpful how-to for using DecoArt Chalky Finish Paint, brushes, stain blockers, varnishes, and more, this free eBook is a must-have for thrifty DIY'ers who are looking for painted furniture ideas that will liven their homes and keep money in their wallets.
Download your free copy of How to Paint Furniture: 19 Upcycled Furniture Projects today!
How to Paint Furniture: 19 Upcycled Furniture Projects Table of Contents
Note from the Editors
Letter from DecoArt's CEO and President, Stan Clifford
I want to invite you to learn more about the newest member of the DecoArt product family, Americana Decor Chalky Finish Ultra-Matte Paint. We took over a year to carefully formulate Chalky Finish paint to offer you the highest possible quality chalk paint available.
We know there are many paints available in the store for you to choose from for finishing furniture pieces or decorative items. So why choose Americana Décor Chalky Finish Paints? Because they are the easiest product to use to achieve a distressed, shabby chic look with any flea market find or even newly bought discount store items. Creating that beautiful, vintage European look doesn't take a lot of special skills or hours of training. By the time you finish reading this eBook, you will be the flea market find refurbishing expert in your neighborhood and visitors to your home will want to know where you curated all of your unique pieces.
THE PAINTS
Americana Décor Chalky Finish Paints are specially formulated to provide excellent adhesion to wood, metal, laminate, glass, terra cotta, ceramics, and more. There's no need to prep the surface with time-consuming stripping or sanding…you just clean it and go!
No Prep: No priming or prep needed (Unless the surface has an old finish that may bleed when painted; then Stain Blocker should be used before painting)
Excellent Coverage: One-coat coverage with most colors and on most surfaces
Very matte finish, chalky finish
Durable: due to the unique cross-linking feature of the paint resin system
Easily distresses for a vintage appearance
Can be buffed to a smooth, shiny finish
Water-based for easy clean-up
Besides the paint, available in 29 intermixable colors, the line also includes waxes, varnishes, brushes, stencils, stain blocker, image transfer medium and crackle medium.
Thank you for taking the time to learn more about our Americana Decor Chalky Finish products. We hope the projects in this eBook will inspire you.
Stan Clifford
DecoArt CEO and President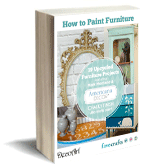 Download your free copy of How to Paint Furniture: 19 Upcycled Furniture Projects today!
What's in this Free eBook
Tables and Chairs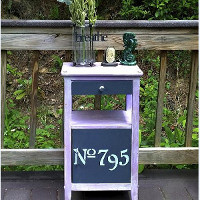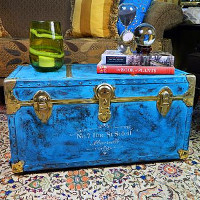 Gorgeous Starry Side Table (pg. 17): There are so many painted table ideas for children's rooms and nurseries that it's hard to find one that truly stands out and is uniquely yours. This Gorgeous Starry Side Table, however, is a DIY chalk paint table that can be the perfect touch for that bare room.

Must-Make French Chair (pg. 28): Learn how to paint a chair the French way - with lots of style and plenty of flair. No classy home is complete without this Must-Make French Chair. Every time you sit in this chair, you will feel like you're seated at a quaint little Parisian cafe.

Irresistible Telephone Table (pg. 58): Just because your tables are old, it doesn't mean they don't deserve some love and a fresh coat of paint. Table decorating ideas can give outdated tables new life, and this Irresistible Telephone Table tutorial can help you achieve it.

Treasured Dining Table (pg. 66): If you're looking for outdoor seating that is both comfortable and elegant, look no further than this Treasured Thrift Store Dining Table. Learning how to paint a dining table is easy with this classy tutorial. This lovely chalk paint dining table is made from a thrift store find.

Beautiful Coffee Table (pg. 79): Nothing says adventure quite like an old trunk. This Beautiful Flea Market Coffee Table is a DIY coffee table made from an antique trunk. This is a unique and charming DIY coffee table idea that gives an old trunk new life.

Country Kitchen Stool (pg. 86): Whether you have a small kitchen or are small in stature, you should consider making this handy Country Kitchen Stool. This tutorial will show you how to decorate a small kitchen with a simple yet cool step stool.
Bookcases and Dressers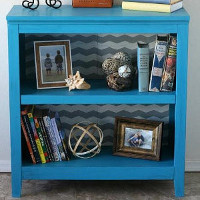 Thrifty Chevron Bookcase (pg. 14): Learn how to decorate bookcases so that they look brand new with this Thrifty Chevron Bookcase tutorial. All you need to do is add a little bit of color and an exciting pattern to make a boring piece of furniture really stand out.

Millionaire's Decoupaged Cabinet (pg. 20): Decoupage DIY projects are simple to create and look amazing around the house. This Millionaire's Decoupaged Cabinet will have you saving (and feeling like) a million bucks.

Blue Ombre Whale Dresser (pg. 32): This Blue Ombre Whale Dresser is the furniture piece that pops. Learn how to paint a dresser for your child's room with this adorable and easy-to-follow tutorial. Many little children dream of the sea and adventuring on grand ships. Give your child the stuff dreams are made of with this shipshape painted dresser idea.

State Fair Farmhouse Cupboard (pg. 46): Certain painted kitchen cabinets have the ability to give your house a vintage country look. This State Fair Farmhouse Cupboard is definitely one of those kitchen or living room ideas. All you need is an old cupboard, and this tutorial will show you how to distress furniture with paint.

Tropical Teal Shimmery Dresser (pg. 62): Nothing brightens up a room quit like some cheery pastel colors. This Tropical Teal Shimmery Dresser tutorial will show you how to paint a dresser that will surely bring some light into any room of the house.
Miscellaneous Home Decor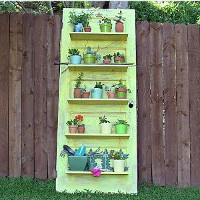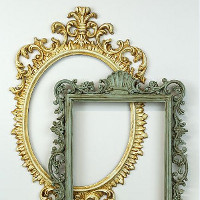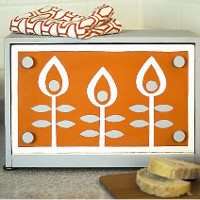 Absurdly Useful Numbered Tray (pg. 24): DIY serving tray projects are simple ways to make your kitchen or family room a little more decorative. This Absurdly Useful Numbered Tray will especially make your home feel very welcoming. Trays are often underrated as kitchen supplies. However, once you paint your own serving tray, you'll wonder why you haven't used one before.

Fancy Bulletin Board (pg. 35): This bulletin board is far from boring. In fact, this Fancy Bulletin Board tutorial will show you how to decorate a bulletin board that is out of this world. With a crackle finish, this board's frame looks as though it could be an antique.

Outstanding Stationary Box (pg. 37): Create a DIY stationery box with all the elegance of a french bistro. This 1 Hour Stationery Box truly lives up to its name. It's time to put away the boring boxes of yesterday and create something entirely new and beautiful.

World's Easiest Modern Bread Box (pg. 42): Bring an old breadbox back in style with this cool room decor idea. This World's Easiest Modern Breadbox can be upcycled from a much older, out-of-date breadbox. Add a little color to your kitchen with this room decoration idea.

Perfect Storage Shelf (pg. 49): Everybody has a special spot commonly known as the "junk drawer." If you're looking for an ideal home decor upgrade, this Perfect Storage Shelf will certainly fit the bill. Best of all, this is the easiest storage shelf you'll ever make.

Amore Oval and Rectangular Frames (pg. 54): Everybody has an artistic side, and finding and creating beautiful picture frame ideas is one way to show it. These Amore Oval and Rectangular Frames look as though they were taken off the walls of an old-fashioned mansion, but you'd be surprised to know they are actually made from plastic.

Stylish Planting Shelf (pg. 74): Learn how to paint a door so that it's ready for the garden. This Stylish Planting Shelf is a great way to turn an old door into a chic place to display your plants. When the plants are small and don't look too spectacular, turn to this tutorial and learn how plants can be dressed up just by resting them on a cute door.
Need Help Downloading?
You can easily download and print out each book for on-hand reference while crafting.
For help downloading our eBooks, check out the FAQ here: How to Download our eBooks.
Don't Miss Our Other Free eBooks!
Be sure to check out our entire collection of eBooks. You'll find titles such as:
Sign Up for Our Free Newsletter
With your free copy of How to Paint Furniture: 19 Upcycled Furniture Projects, you can also subscribe to our Quick and Crafty newsletter to become part of the FaveCrafts community. In subscribing to the newsletter, you will receive:
Weekly emails with free crafting patterns, tips, collection pages, videos and more + a weekly wrap-up.
Chances to win books and products from our weekly giveaways and contests.
New FREE patterns and eBooks made available to you throughout the year.
Access to our free pattern library full of over 1,000 of free crafting patterns.
The opportunity to share ideas and help others in the crafting community.
Filled with fabulous ideas for turning old furniture into something new, How to Paint Furniture: 19 Upcycled Furniture Projects is a fabulous book for the DIY crafter. Complete with helpful tutorials, hints and tips, and useful information about DecoArt products and services, you can learn how to give an old table, chair, bookshelf, or cabinet a new lease on life...and chances are, you'll never look at a piece of furniture the same way again!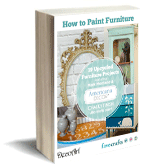 Download your free copy of How to Paint Furniture: 19 Upcycled Furniture Projects today!
Your Recently Viewed Projects
Join our community of 5 million crafters!
Get free craft projects, exclusive partner offers, and more.
Thank You for Signing Up!
There was an issue signing you up. Please check your email address, and try again.