16+ Aluminum Foil Crafts
Broaden your crafting horizons. Uses for aluminum foil reach beyond the kitchen.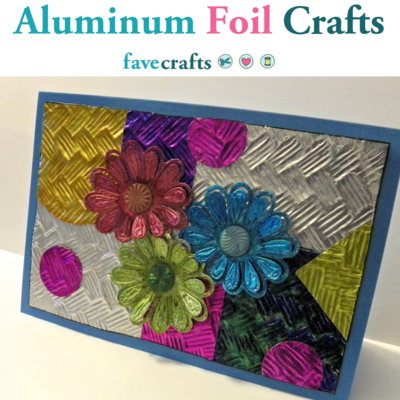 Aluminum foil craft ideas like the ones included in this collection are both inexpensive and super useful! We asked, you delivered. here are several unexpected uses for aluminum foil. Below we have ideas from our awesome Facebook fans, site visitors, editors, and bloggers alike. This is a great collection of useful ideas that will help make your life so much easier!

Did you know you can use aluminum foil to sharpen scissors? You can paint it and rub the paint off to create an antique finish. You can use it to make Christmas decorations and embellishments for paper crafts. In fact, embossing or otherwise texturizing aluminum foil is easy and stunning.

Browse some of our favorite tin foil crafts below!

*Disclaimer: Some names have been changed to respect our readers' privacy and responses have been edited for quality and length purposes.
Table of Contents
Aluminum Foil Crafts
Make aluminum foil art projects. Pro Tip: Use yarn underneath to create patterns and add a layer of texture.
 
"My mom used to make Christmas trees. Cut paper towel rolls into 1/2-inch pieces, cover each piece in foil. Glue them together in the shape of a pyramid for the Christmas tree and glue in small ornaments in the middle." - Karen
 
Crumple up a few pieces of foil to elevate your tin foil art projects. They'll add texture to all of your painting projects.
 
"Emboss with stencils and add to your scrapbook pages." - skpwoodworks 59635 96
 
Aluminum embossing crafts are all the rage, and we have a few on FaveCrafts.com that we think are pretty cute (like this Embossed Foil Wall Art). Embossing, die cuts, edgings, flowers, embellishments— you name it, tin foil can do it all. You can also use aluminum foil for 3D paper craft projects, roofs for houses or buildings, and fencing.
 
"Stack a few layers of tin foil and cut with pinking shears for rick rack to embellish cards." - Lisa
 
"Crumple and then flatten out again. Glue to an old vase, glue on dull side, being careful not to get glue on the shiny side. Using black paint (like Plaid with extender mixed in), cover the whole thing with paint, then rub off. Will look like really old pewter when you're done." - Paula
 
Start a new tradition this year. A cute aluminum foil craft for kids is to make Christmas decorations! Cut out pieces of foil into the shapes of stars, snowflakes, snowmen, etc. and hang them from your Christmas tree or windows in the winter.
Unexpected Uses for Aluminum Foil
My all-time favorite use for aluminum foil is to sharpen my scissors. Dull scissors will always be the least of my problems.
 
"You can use in your wallet covering credit cards, bank cards (anything with a reader strip on it) for security purposes to help prevent ID and credit card info theft instead of purchasing the aluminum wallets." - Kaylee P.
 
Want to salvage tarnished silver jewelry? Make this Incredibly Simple Silver Polish. No need to spend a lot of money on this since you you can easily find all of the ingredients in your kitchen.
 
Use foil to remove rust from metal objects— scrunch it up and scrub! Note: this method also works on dirty dishes in the place of a steel wool pad.
 
"Use foil to wrap around their hair, make crowns, jewelry, etc...also u can take foil and wrap it around tree branches to act as a reflector or marker when camping to find your way back to camp when going to the "outhouse" or taking a night time hike." - imapca 9722842
 
"Makes a great masking tape alternative for doorknobs and the like when painting, also great for scrubbing, scouring, and cleaning." - Jennifer H.
 
"Fold into layers of three and sandwich in embossing folders when you run your project through an embossing machine." - Heidi B.
 
"Use it to help hold the shape of clay when you bake it." - Shannon G.
 
Use tin foil as a disposable dish for paints, food, etc. Double up your foil and form it in your desired shape or simply wrap foil around a piece of cardboard for an impromptu (and disposable) tray. P.S. If you're feeling particularly adventurous, aluminum foil can also make a practical camping box oven.
 
"Scrunch it up and put in your dryer with clothes and use in place of softener sheets." - floper47 3669786 
Your Recently Viewed Projects
Join our community of 5 million crafters!
Get free craft projects, exclusive partner offers, and more.
Thank You for Signing Up!
There was an issue signing you up. Please check your email address, and try again.