24 Knockout Tissue Paper Flowers
Turn a simple piece of tissue paper into a beautiful paper flower with this collection of 24 Knockout Tissue Paper Flowers. From lovely crepe paper flowers to amazing paper flower bouquets, this collection will completely transform the way you look at paper.
Start off by learning how to make paper flowers with our collection of simple paper flower tutorials. From beautiful giant tissue paper flowers to simple crepe paper flowers, this section is great for those just starting to craft with crepe or tissue paper. Several of these flowers are great for embellishing all kinds of projects, from a scrapbook or card layout to a headband or jewelry accessory.
After you've learned how to make paper flowers in all shapes and sizes, you're ready to start decorating your home! Our section on tissue paper flower decor is sure to inspire you to brighten up any and every room in your home with these easy paper flowers. You'll learn how to make large flowers that are great for decorating tables and walls, as well as suggestions on how to actually create a topiary or pomander with tissue paper.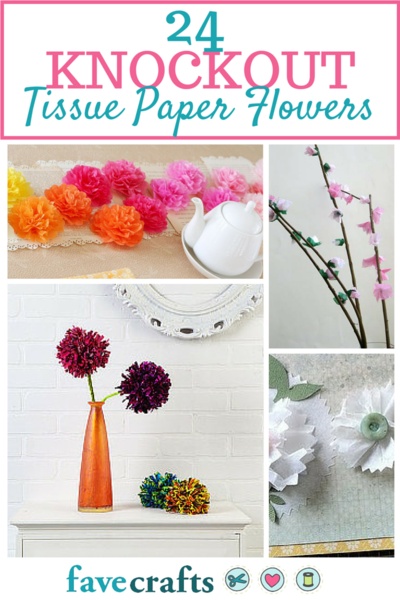 22 Knockout Tissue Paper Flowers
Table of Contents
---

Find even more stunning and floral craft ideas in our collection of DIY flowers and other spring-tastic DIY crafts, 81+ Printable Flower Patterns. From paper craft ideas to printable crochet patterns, this list of tulips, peonies, and more is sure to hold a flower you will adore.
---
How to Make Tissue Paper Flowers
Whether you're looking to embellish a scrapbook or a headband, these beautiful tissue paper flowers are perfect for all your crafting needs. Not only will you learn how to make a tissue paper flower, but there are also tutorials for making giant tissue paper flowers, great for birthday parties, and simple crepe paper flowers, perfect for assembling into a bouquet for Mother's Day.

Tissue Paper Flower Decor
Making paper flowers is easy and fun, and is a great way to decorate your home for spring and summer. With these colorful and bright tissue paper flowers, you'll be able to transform any room in your home with ease. These paper flowers are also a budget-friendly decoration for an upcoming wedding or baby shower, and many of them are so realistic, you won't even believe that they were made with simple tissue paper.

Mother's Day Tea Party Flowers - pictured!
---

If you love the tissue paper crafts in this collection of free flower patterns, you are going to love every single DIY craft idea in our flower crafts eBook. Download you free copy of 17 Flower Craft Ideas: How to Make Paper Flowers, Easy Fabric Flowers and More today!
---
Your Recently Viewed Projects