No Sew Fabric Flower Bouquet
Create a bouquet of fabric flowers that will never wilt. Sometimes learning how to make fabric flowers involves stitching, but that is not the case with this No-Sew Fabric Flower Bouquet from Dana Willard. This flower craft proves that you don't need to spend a ton of time or money on a piece of DIY home decor to make it look lovely. Follow these easy, step-by-step instructions to create the fabric flowers with a glue gun and wooden dowels. Spray paint is optional, though it is tons of fun.
---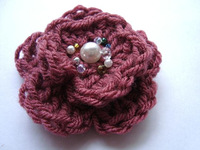 For more beautiful handmade flower projects, check out our collection of 81+ Printable Flower Patterns.
---
Materials:
Fabric scraps
Wooden dowels
Hot glue gun
Coordinating felt
Spray paint (optional)
Kitchen sponge (optional)
Instructions:
Basic Flower:
Cut strips of fabric approximately 2x16 inches.

Bunch up the beginning of the fabric a bit (this will be the center of the flower). I'm right-handed and found that it's easiest to hold the flower in my left hand and work the fabric around with my right. If you're a leftie, do the opposite.



Stick a dab of hot glue right in the center and glue the end of the dowel to the center of the flower.



Run a few inches of glue along the next section of the fabric.

Carefully scrunch bits of the fabric up and press them together at the bottom of the flower. It's like you're "ruffling" the fabric. Repeat until you've gone all the way around.



Cut out a small felt circle and cut a slit in the middle of it

.

Glue and wrap the felt circle around the base of the flower to disguise the messy glue and fabric.



Colored Stems:
Grab your favorite spray paint color and something to make the dowels stand up while you spray them. A sponge with holes punched in it works well.



Take your dowels to a ventilated area. To contain the paint even more, spray them inside of a box. Make sure every dowel gets an even coat of paint. Let dry.



The tips of the painted dowels will be left unpainted. Use that part of the dowel when you glue it to the center of the flower so that it's hidden.
Scalloped Edges:
Fold your fabric strip in half a couple times.



Cut a wavy pattern out of the one side and glue it around the dowel.



Colored Center and Base:
You can also add a center to your flower by bunching up a small scrap of fabric and glueing it into the center.



Try a bright piece of felt to cover the base of your flower.
---
More Fabric Flowers to Make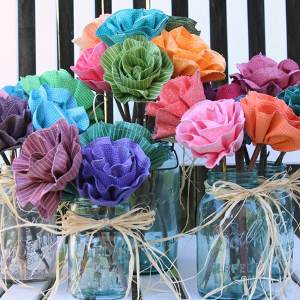 If you are looking for even more ways to make fabric flowers, check out this pretty DIY ideas.
---
Your Recently Viewed Projects