Captain America Tie Dye Tee
Thumbs up, Soldier! Make tie dye shirts for your superhero fan friends with this amazing Captain American Tie Dye Tee from I Love to Create. Learn how to tie dye a shirt that looks like patriotic superhero's vibranium shield!


Materials:
Tulip® Fabric Spray Paint™: C1 Snow
Tulip® One-Step Tie-Dye Kit™: C1 Psychedelic
Tulip® Dye Zip Ties™
Tulip® Surface Cover™
White 100% cotton shirt
Pencil or star printout
Freezer paper
Scissors or X-acto Knife
---
Find this project and many more in our free eBook, How to Make Tie Dye Shirts, Decor, and More: 18 Tie Dye Patterns! The tie dye patterns and techniques featured in this downloadable collection will help you personalize everything from tie dye socks to t-shirts. You'll never run out of creative ideas when you have this collection for tie dye designs by your side.
---

Instructions:
Pinch the middle of shirt and pull up.

Apply zip ties as shown in the Bullseye Technique and secure tightly. Zip ties work best for this because they grab the material really tightly, oftentimes better than rubber bands!

Rinse shirt in water and wring out. The water helps the tie dye set!

Apply tie dye in between each of the binded areas. You will want to saturate each section and not leave any white.

Once finished dyeing wrap in plastic surface cover. Let it set for 6-8 hours.

Now run your shirt under the water in the sink until all the dye is out. The dye is out when the water runs clear! Cut off zip ties and place by itself in the washer and set to large load. Put it on the hottest water suitable for fabric and use a little laundry detergent. Dry in dryer or line dry.

Next measure the middle bullseye area of the shirt. Print out or hand draw a star to this size on your freezer paper. Cut out star and center it in the middle of the shirt. Use a hot iron to press the design onto the shirt.

Use fabric spray paint to spray inside stencil. The spray paint will give the star a more distressed look. Use a hair dryer to speed up drying time.

Once dry, peel off stencil to reveal star!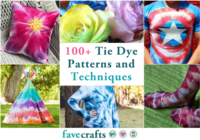 ---
If you love projects like this one, browse more of our favorites! Find our most popular collection of patterns at 100+ Tie Dye Patterns and Techniques.
---
Your Recently Viewed Projects