"24 Tie-Dye Techniques: Free Tie-Dye Patterns" eBook
Free Tie-Dye Techniques from FaveCrafts.com: 2

4 Tie-Dye Techniques: Free Tie-Dye Patterns

eBook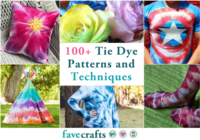 ---
If you love tie dye, find our most popular collection of patterns at 100+ Tie Dye Patterns and Techniques.
---
When you think of tie-dyeing, you probably think back to your time in summer camp, wrapping t-shirts with rubber bands, dipping them in dye, and ending up with a splotchy t-shirt and stained hands. Take a peek through this eBook and you'll discover that there is much, much more to the world of creative tie-dyeing! There are so many different tie dye techniques that you can learn, so if you're interested in creating a specific design or pattern on your t-shirt, peruse our technique chapters and discover how simple it is to create them. No more random rubber banding! When you download our free eBook, you can learn a new tie dye technique or two and create a whole new wardrobe of colorful, dyed clothing. Included in this book are fifteen different tie dye designs and nine tie dye patterns. Read through the techniques first, and then try out your new skills by making one of the projects we've included in the eBook.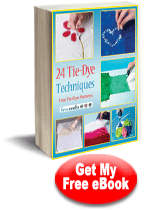 Download your copy of 24 Tie-Dye Techniques: Free Tie-Dye Patterns today!
Beginner Tie-Dye Techniques: Sponge Tie-Dye Technique
This eBook includes several beginner tie dyeing techniques and tie dye instructions with pictures. If you're just getting started tie-dyeing, you'll want to check out these tie dye methods first. Any of the techniques in this eBook can be easily completed with nothing more than the instructions provided and the materials listed; however, it's always prudent to start with the beginner tutorials and work your way up! One of the beginner techniques we've placed in this eBook is the sponge technique, which uses a sponge to get a really cool, textured design on your garment. This is a great way to tie-dye something without it looking traditionally tie-dyed. If you're interested in cool tie-dye designs but don't want to look like you're wearing a hippie costume, these beginner tutorials are perfect for you! In addition to the sponge technique, you'll also learn the crumple tie-dye technique, the folding tie-dye technique, and more!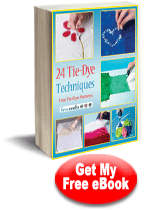 Download your copy of 24 Tie-Dye Techniques: Free Tie-Dye Patterns today!


Advanced Tie-Dye Techniques: Ombre Tie-Dye Technique
In this section of the eBook, we have collected some great tie dye techniques with pictures for more advanced tie-dyers. Our photo tutorials will walk you through how to create a number of gorgeous designs using just a few dye colors. No one will ever believe you've made them yourself! These tie-dye design instructions are much fancier and more intricate than you've ever seen before, yet they're surprisingly simple to reproduce if you use our tie-dye instructions. If you have experience with tie-dyeing, you can start in this section of the eBook. We have lots of tie-dye pictures to show you how to do these advanced techniques, and you'll move from one to the next in no time. You're guaranteed to love the ombre tie-dye technique, which uses a spray bottle to create a pretty color gradient on your t-shirt or other article of clothing. Ombre styled clothing is so trendy right now, and you can get the look for less by using these easy tie-dye instructions. If ombre isn't for you, perhaps you'll like the heart tie-dye technique or sunburst tie-dye technique? These tutorials are more advanced than others in the eBook, but they are by no means difficult! Even if you've never tie-dyed anything before, if you're a crafter who is up for a challenge, try your hand at an advanced technique and marvel at the professional looking results.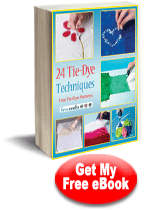 Download your copy of 24 Tie-Dye Techniques: Free Tie-Dye Patterns today!


Pretty Tie-Dye Patterns: Faux Lace Hoodie and Tote
Once you learn how to tie-dye shirts and other clothing, you can begin making some of the cool projects we've included in this free eBook. Get the techniques down, then apply your new skill to a project by making a cool, tie-dyed t-shirt, bag, dress, or other project. Inside this eBook, you'll find nine tie-dye patterns, some pretty and demure, and some wild and sassy. Whatever your personal style is, you'll find tie-dye designs you love when you download this eBook. This faux lace hoodie and tote are girly and pretty, and they'd make great bridesmaid gifts! No one would ever associate this look with the era of free love, yet they're made with the same technique: tie-dyeing! Most people don't realize just how versatile tie-dyeing techniques can be. If you're a girly girl or if you're looking to make a handmade gift for a friend or family member who loves being feminine and pretty, check out one of our pretty tie-dye patterns. These are simple, inexpensive handmade gifts to make, and you can easily make them in large batches to use for party favors, bridal party gifts, or just to give to all of the special women on your Christmas gift list. Inside this eBook, you'll learn how to create the faux lace hoodie and tote along with several other pretty articles of clothing and accessories. You can even make a pretty tie-dyed dress! Download the eBook today to get access to these flirty, feminine tutorials!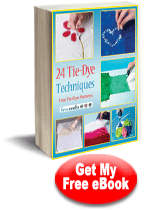 Download your copy of 24 Tie-Dye Techniques: Free Tie-Dye Patterns today!


Sassy Tie-Dye Patterns: Animal Print Tie-Dye Dress
Not much of a girly girl? No problem! These sassy and bold tie-dye patterns are perfect for people with a wilder personal style. If frills and bows aren't your thing, perhaps an animal print dress is? When you download our free tie-dye eBook, first learn how to tie-dye. Patterns like this animal print dress are a great way to put your new skills to work. Everyone will be so surprised that you created the animal print design yourself, and they'll be even more surprised when you tell them you tie-dyed it! In this section of the eBook, you'll not only learn how to make tie-dye shirts, but also dresses, bags, and even shower curtains! This is not your mother's tie-dyeing! Want to learn how to tie dye a shirt to look like graffiti? This chapter gives you step by step instructions on how to create the look yourself. These sassy patterns are definitely not for the faint of heart. You must have a wild and outgoing personality to pull these outfits off. If you're a stylish crafter with a bold personality, or if you're looking to make something wild for a sassy friend, the tie-dye techniques and tie dye patterns in this section are for you.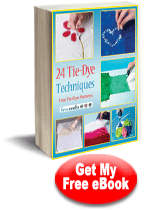 Download your copy of 24 Tie-Dye Techniques: Free Tie-Dye Patterns today!
With your free copy of 24 Tie-Dye Techniques: Free Tie-Dye Patterns eBook you can also subscribe to our Quick and Crafty newsletter to become part of a helpful and friendly crafting community. In subscribing to the newsletter you will receive:
Six weekly emails with free craft projects, tips, collection pages, videos and more
Chances to win craft books and products from our weekly giveaways and contests
New FREE patterns made available to you throughout the year
Access to our free project library full of over 7,000 more free craft projects
The opportunity to share ideas and help others in the crafting community
All of these great tie-dye techniques and patterns can be yours, absolutely free, from the beginner and advanced techniques to the girly or sassy patterns. All you have to do is click to download the eBook, and you can save it to your computer, print it out, or just bookmark the page and return as often as you like! You can make hundreds of tie-dyed pieces using the patterns inside this eBook. Refresh your wardrobe or make handmade gifts for friends, family members, and loved ones. Download this free eBook today to check out all 24 projects and see which one is your favorite!
You can also download this book for FREE at Amazon.com and iTunes!
Download 24 Tie-Dye Techniques: Free Tie-Dye Patterns from Amazon.com (for Kindle readers)
Download 24 Tie-Dye Techniques: Free Tie-Dye Patterns from iTunes (for iPad readers)
Your Recently Viewed Projects
Join our community of 5 million crafters!
Get free craft projects, exclusive partner offers, and more.
Thank You for Signing Up!
There was an issue signing you up. Please check your email address, and try again.