The Ultimate Guide for How to Decoupage
Decoupage Tips, Tricks and Techniques for Glass (and other hard, non-porous surfaces)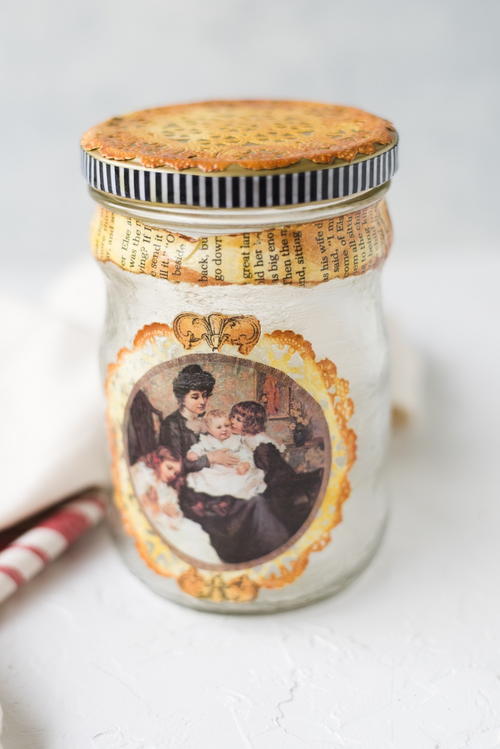 What is decoupage? Decoupage is the art of applying and sealing flexible components such as colorful or printed paper cutouts onto a surface using a thin glue and multiple coats of varnish or by using specialty decoupage mediums that may contain both glue and sealant. These paper elements are sometimes attached to surfaces with added painted features or combined with gold leaf or other decorative touches.

Origins: Derived from the Middle French word "decouper" (to cut out or cut from something), decoupage was used in China as early as the 12th century to decorate objects such as boxes and lanterns. The art of decoupage also made its way into Europe where Florentine artists combined it with other decorative techniques and materials.  Originally used to create items with a religious purpose, the craft was eventually used for more secular items, as well. 

Decoupage does not require elaborate or expensive materials or specialized skills, which is why it became popular among both the wealthy and middle class. This is a craft that can be done by people of many ages—from older children through adults of all skill levels.

What can you use decoupage on?
A multitude of surfaces can be used for decoupage, including wood, paper mache, chipboard, metal, ceramic, glass and stiff plastics. The key is to use a surface that will retain its shape and surface after wet decoupage mediums, glues and varnishes have been applied and dry.  Porous surfaces that may warp when wet must be sealed prior to beginning the process. While there are seemingly limitless projects a decoupeur can choose from, some surfaces provide unusual opportunities that cannot be duplicated elsewhere.  

One of the most unique substrates to decoupage is glass.

Methods: There are various methods and techniques to use when decoupaging on glass and other hard, non-porous surfaces. These include:
"Basic" Decoupage (applying images onto a surface)
"Reverse" Decoupage"(applying images onto clear glass items on the side that will not be touched or have food contact)
"Tissue" Decoupage (using delicate handmade papers, colored, stamped or printed tissue and/or printed paper napkins)
"Fabric" Decoupage (applying cut out fabric images or trim instead of paper)
Decoupage Mediums
What is the best glue for decoupage? Decoupage mediums vary by formulation, finish, consistency, application use and drying time. While they all have the correct consistency for application, some decoupage mediums work best on porous surfaces while others are designed to work equally well on both porous and nonporous surfaces.  

What is decoupage glue made of?  Well, some are glues AND sealers.  Others are glues that need separate sealers. Some decoupage mediums appear milky when first applied but they all dry clear.  If using thinned down craft glue, make sure to choose a glue that will also dry clear.
 
There are also specialty mediums formulated for certain materials (such as fabric) or uses (such as being dishwasher safe).  Make your choices based on the type of item you will be decoupaging, as well as the materials from which you will be cutting out your images.

Popular decoupage mediums include:
Plaid's Mod Podge®️
Americana® Decou-Page™
Beacon Adhesives Fast Finish Decoupage Glue
I Love to Create's Collage Pauge®️ Instant Decoupage™.
To ensure success, always follow individual manufacturer's instructions and warnings on the labels. It is also advisable to test the medium on the substrate before using on the actual project so you can become familiar with the application process. For example, some mediums may cause inkjet printed images to bleed or not be permanent enough for the finished project to come in contact with water.  Doing a "practice" exercise will also help you learn how to prevent bubbles and teach you how to handle the more delicate papers without tearing.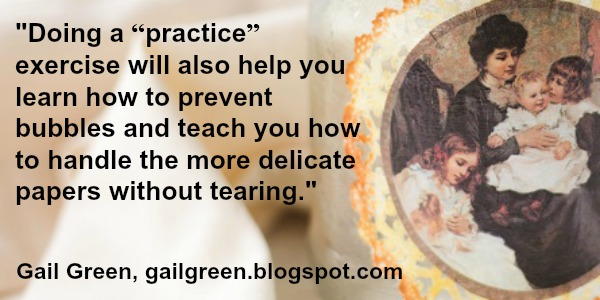 Basic Decoupage Supplies
Images or Shapes Cut out From
Printed paper (non-glossy magazines, brochures and catalogs, books, printed clip art, greeting cards, wrapping paper, one-ply printed napkins, cardstock, maps, books, or original art) as well as tissue or paper strips, paper doilies, and die or laser cut shapes
Digital designs or photos printed from a home printer, copy machine or stamped, stenciled, and mono-printed using inks and paints that are not water soluble when dry. 
Colored tissue, rice paper, printed or stamped paper
Muslim or other lightweight solid color or printed fabric.
Items That Can Be Used for Decoupage
Furniture, including tables, chairs and book cases
Boxes
Shelving
Storage cabinets with drawers or lids
Jewelry chests
Albums and journals
Glass plates, candlesticks, ornaments, gazing balls, bowls, vases, mason jars and other containers
Mirrors (with or without frames)
Frames
Ceramic tiles, lamp bases, household items and containers
Metal washers, planters, tin cans and other recycled metal items
Acrylic photo frames, candy dishes, napkin rings, toothbrush holders, cups and other household items
Craft specialty items such as wood letters, terra cotta pots, metal lids
Tools for Decoupage
Scissors, craft knife, die cut machine, paper trimmer and punches for cutting out images and shapes
Brush, sponge or other applicator tool for applying glue, decoupage medium, varnish and paint
Brayer, squeegee, burnishing tool, wooden craft stick, or old credit card for smoothing
Styrofoam plate or other non-porous palette
Work Surface, Prep and Cleanup:
Dishwashing liquid and lint-free towel OR streak-free glass cleaner and lint-free paper towels
Non-stick craft mat or waxed paper
Buttons, wood blocks, small ceramic tiles or silicone trivet to place under your item
Latex-free disposable gloves
Water, rags, baby wipes for clean-up
Adhesive and Sealant:
Specialty decoupage medium (glues and seals) OR thinned down white craft glue plus sealer (polyurethane, spray acrylic, resins or lacquer) 
Optional:
Glitter or mica powders to mix into the glue, decoupage medium, sealant or paint
Multi-media dimensional embellishments such as metal washers or nuts, faceted gems, beads, buttons or textile trims and fibers
Learning how to decoupage on wood is one of the most popular and surprisingly simple ways to upcycle wood crafts and furniture. Learn more:How to Decoupage on Wood
Basic Decoupage Technique
Prepare your decoupage glass surface
Select and cut out images
Arrange and glue images onto item
Seal with varnish or additional layers of decoupage medium 
Traditional decoupage is done using (1) cut out pictures to decoupage with, (2) something to decoupage onto, (3) a cutting utensil, (4) decoupage medium or thinned down glue, (5) applicator, (6) smoothing tools and (7) a sealant.
While there are many application and drying steps involved for each project, there are basically only four steps within the actual decoupage process.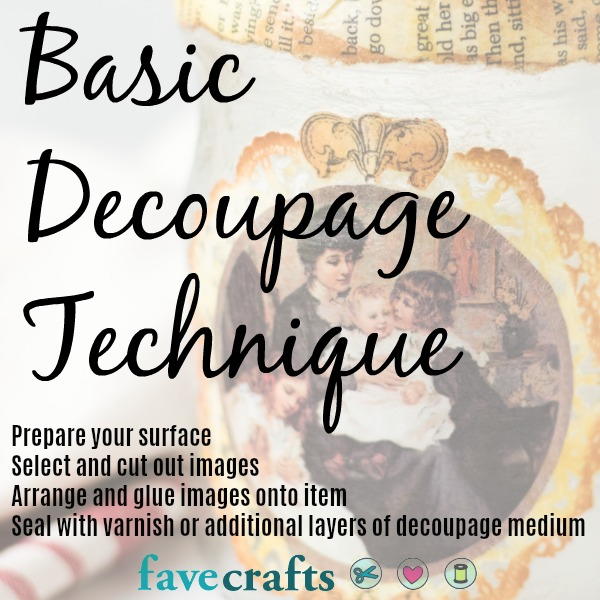 Prepare Your Surface
It is important the item you will be decoupaging is free from dust, dirt, debris and finger oils. This is especially true when working on a decoupage glass surface.  Wash your glass item thoroughly with dishwashing liquid, glass cleaner or rubbing alcohol and either air dry or dry with a lint-free towel. If desired, wear latex free gloves to handle the glass item so there will be no traces of finger oils on the item.
Select and Cut out Images
Some of the success in decoupage involves planning ahead.  When using prints from your home printer, dry for a day or so if possible or seal them with a light coat of spray sealant and dry thoroughly before beginning the decoupage process.  Also, avoid coated papers or printing on a glossy or semi-glossy stock as the coating that gives the paper its sheen will also prevent the ink from actually soaking into the fibers—potentially causing bleeding when the wet decoupage glue is applied.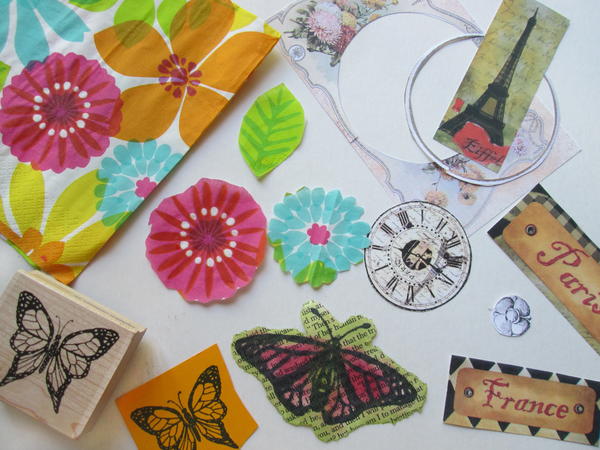 This is also the time to prepare your work area and surface.  Clean off stray cat hairs, threads, glitter, paper slivers or other random debris off your work table and non-stick mat.  Also, check your applicator and smoothing tools and remove unwanted residue from these as well.  Remember, anything you do not want adhered to the glue or decoupage medium should be removed prior to starting the process. (This includes cats wandering across your work table or dogs brushing against your arm!)

Place buttons, wood blocks, small mosaic tiles or silicone trivets under your object to raise it above your work table surface, making sure these items fit well within the outer edges of your object and that your object is sitting level on your work table. Note: While you may lift your object as you attach items to it, you will want to periodically place it on this raised "platform" in between steps. This same raised "platform" will also be used when sealing.
Gluing Tips
Bubbles: Do not shake or stir varnish or decoupage medium container. If possible, dip your brush directly into the container or pour a small amount into a clean styrofoam plate and let sit a moment before using. Pop any bubbles with a pin before dipping in your brush. Apply layers gently to your decoupaged piece to prevent additional bubbles from occurring.
Curling: When using thicker paper, (such as cardstock) soak cut images in water for a few seconds, depending on the type of paper and ink.  This will keep the paper from curling when the decoupage medium is applied.
Attaching larger images: Press gently at the center and smooth out towards the edges, leaving the corners for last. 
Removing bubbles: Add an additional coat of decoupage medium behind area; gently slide remaining bubbles towards the edge of the glass piece. Keep the area wet but be careful not to tear the paper during the process.
Arrange and Glue Images onto Your Item
Make sure your items will fit the way you want before beginning the gluing process.  The decoupage medium (or glue) dries very quickly and once you attach a piece, you run a risk of tearing it if you try to move or remove it.  If you are decoupaging several tight fitting items in a complex pattern, first arrange them on your object (using a light tack removable tape if needed)  and take a reference photo.  Then remove the items and clean/dry the glass object again.  You can then refer to the photo for accurate placement the placement as you attach the pieces. 

Attach one cut out piece at a time. Using a sponge or Taklon bristle brush, apply a thin coat of decoupage medium onto the glass item and onto the back of the first paper cutout. Apply medium in thin coats or thin slightly by dipping the brush into water first and then into the glue before brushing it onto the cut outs or glass surface to avoid streaks and spots appearing between the paper and glass when dry.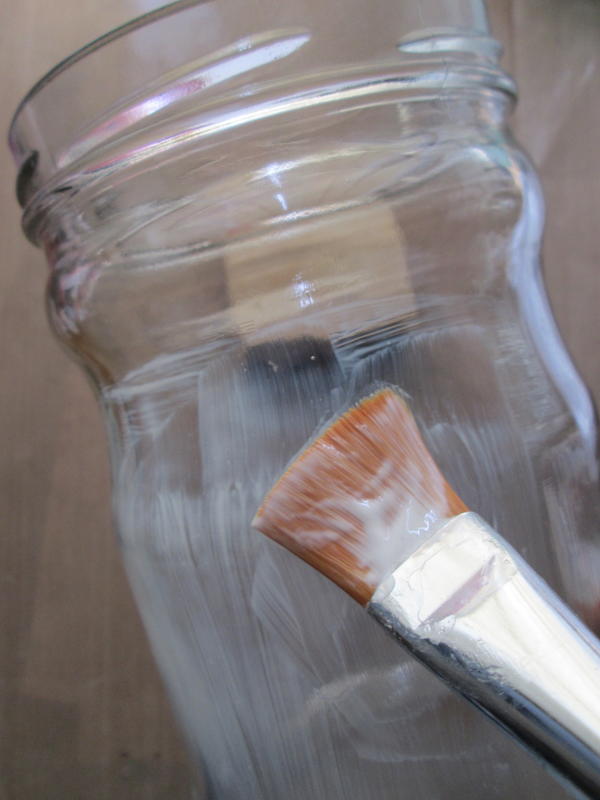 Carefully place the cutout onto the glass, beginning at one edge and gently pressing and rolling it smoothly onto the glass with your fingers.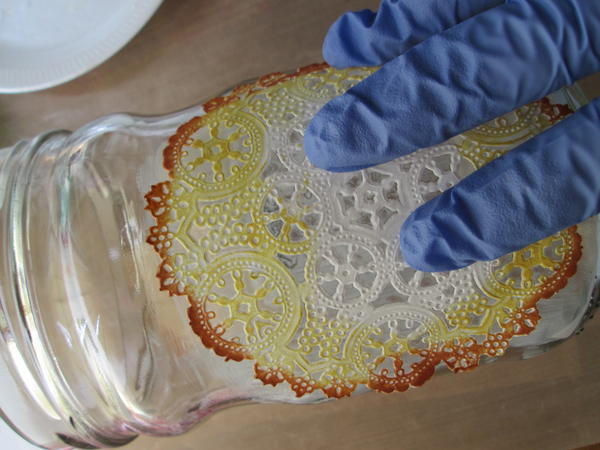 Work out any air bubbles or creases by smoothing your fingers, burnisher or squeegee over the cutout, being careful not to tear the paper. An additional thin layer of medium on top of the image can help smooth and seal images with detailed cuts and edges. To prevent tearing, work quickly with a wet brush, use gentle pressure and do not over work.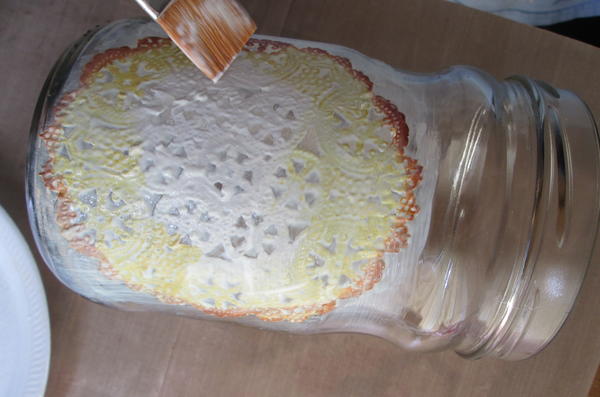 Continue these steps with additional paper cutouts until the glass piece is covered.  If desired, overlap the cutouts in interesting patterns or create borders, frames, and collage effects as you go.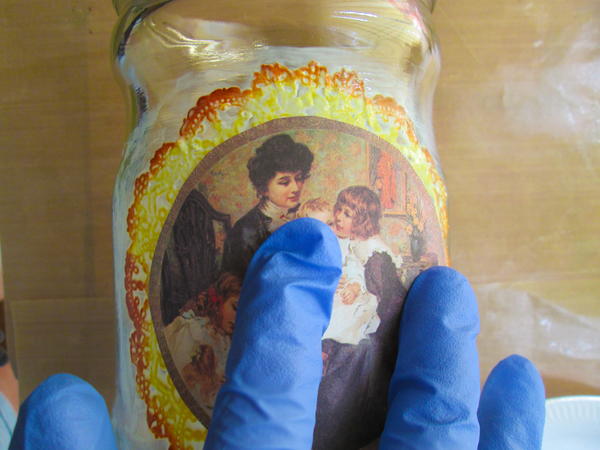 Seal with Varnish or Additional Layers of Decoupage Medium
How do you seal decoupage? For permanence and shine, most decoupeurs prefer to seal images with multiple layers of varnish or additional layers of decoupage medium. Decoupage medium, however, can clump or add texture to your piece when applied in multiple layers to nonporous surfaces such as glass.

When the piece is completely dry (several hours to overnight), brush several thin coats of decoupage medium or sealant over the entire piece with a Taklon brush.  Apply this first coat gently and avoid lifting the edges of the paper cutouts as you brush.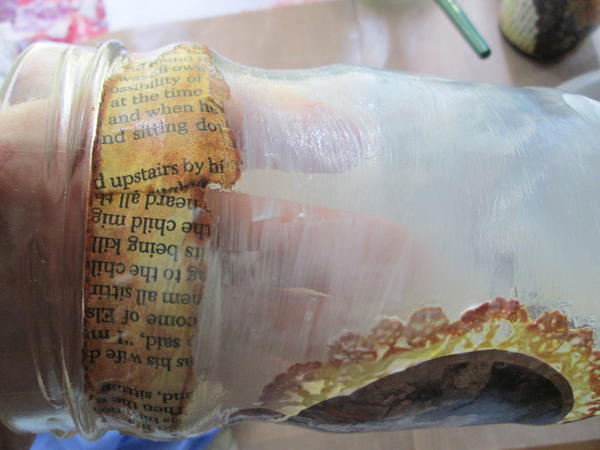 Brush on several additional coats until the surface is smooth and there are no visible bumps. Always allow adequate drying time in between coats. Fewer coats will be needed if cut outs are from lightweight paper; if cut outs are from heavy stock, many layers may be needed before the surface is smooth and the cutouts are completely embedded.
 
Optional: If desired, attach dimensional elements such as beads, lace or trim.  Spray on an acrylic sealant when completely dry.  
More Decoupage Ideas for Glass Projects
Now that you've mastered the basic technique, find more basic glass decoupage crafts here: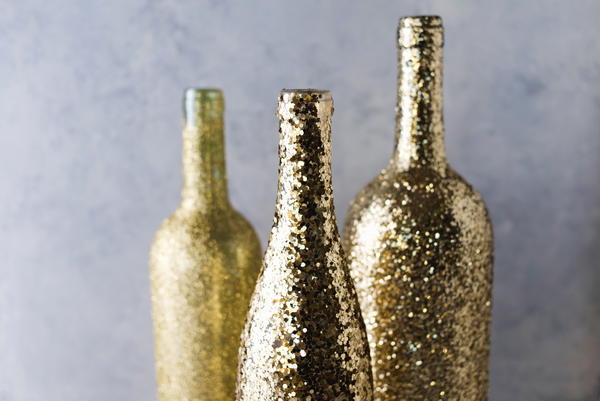 What advice do you have for beginners to decoupage?
Your Recently Viewed Projects
Join our community of 5 million crafters!
Get free craft projects, exclusive partner offers, and more.
Thank You for Signing Up!
There was an issue signing you up. Please check your email address, and try again.