Best Ballpoint Pens for Drawing
What is the best ballpoint pen for drawing? Choose from the 5 options detailed in this article.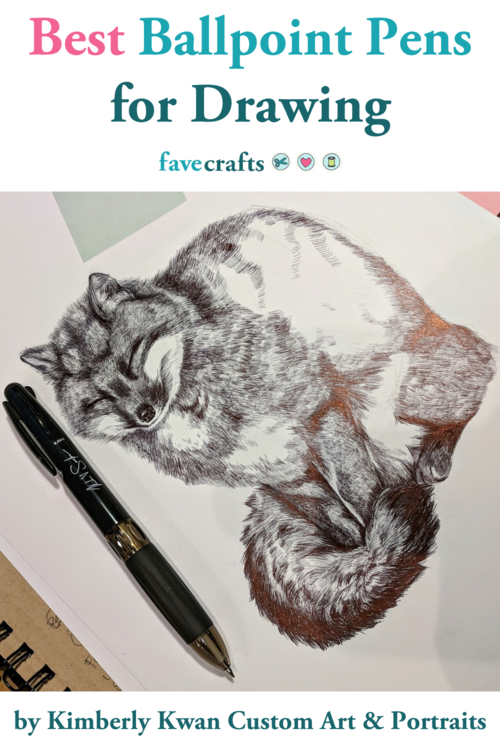 Looking for the best ballpoint pen for drawing? Artist Kimberly Kwan explains the pros and cons of 5 of the best ballpoint pens for creating art.

Even if you're brand new to drawing, the ballpoint pen is a handy and versatile tool! Novices and experienced artists alike are invited to read about ballpoint pen art in this lovely article.

Kwan ranks her favorite pens, counting down 5 to 1, and listing all the pros and cons to each option. Price, useability, and more are all important factors in her ranking process.

The best part? Many of these ballpoint pens are easily available at your local office supply store.

Maybe you've never given ballpoint pen art a try. With this list of the best ballpoint pens for drawing, you'll be itching to try this stunning artistic technique!

View Kim's beautiful artwork on Facebook at Kimberly Kwan Custom Art & Portraits and on Instagram.
The Most Practical Artist's Tool Yet: The Ballpoint Pen
When someone mentions the word "art" around anyone, the first mediums you assume are more likely to be pencil, paint, markers, or ink. However, my favorite medium around is the unassuming ballpoint pen.

Then when one first mentions a ballpoint pen, you think of an office and people using them to take notes in class, but the real winner of this tool is how versatile it essentially is as an artist's tool. Both smooth and long lasting, a ballpoint is perfect to get those fine details down in a drawing or illustration.

The best part is that you can get them for cheap at any store! Any artist starving or not can agree that the ballpoint will not break your bank, unless you want to find something refillable or heavy duty.

There's a pen for any style! Ballpoint pens come in so many varieties, it's hard to choose just a few to rely on. Nevertheless, I have a few recommendations as a fellow artist myself who uses ballpoint as one of my main tools of the trade!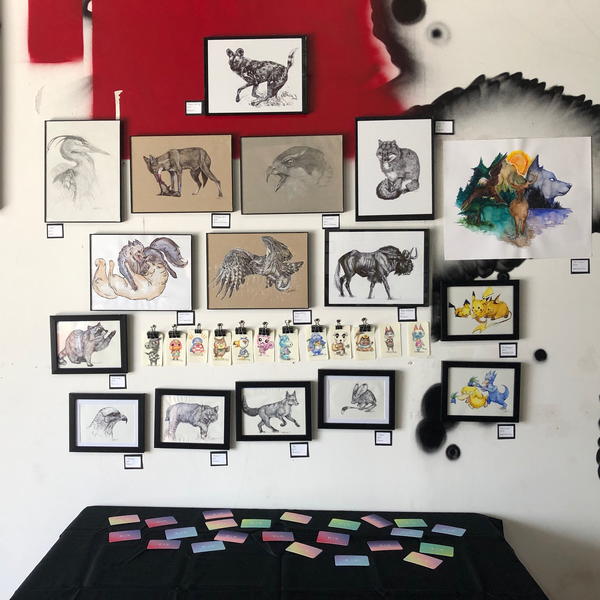 Some background information on me is that I am a self-taught artist from a young age. I dreamed of becoming an illustrator for children books. However, art has now been more of a hobby for me to pass time with and relieve the stress of my 9 to 5.

My preferred mediums are pastels, charcoals, and most importantly ballpoint pen. My style is very detail oriented and I find myself challenging myself to draw almost photo realistic. I am very avid on spreading the love for my favorite tool as it is so underrated but available to everyone.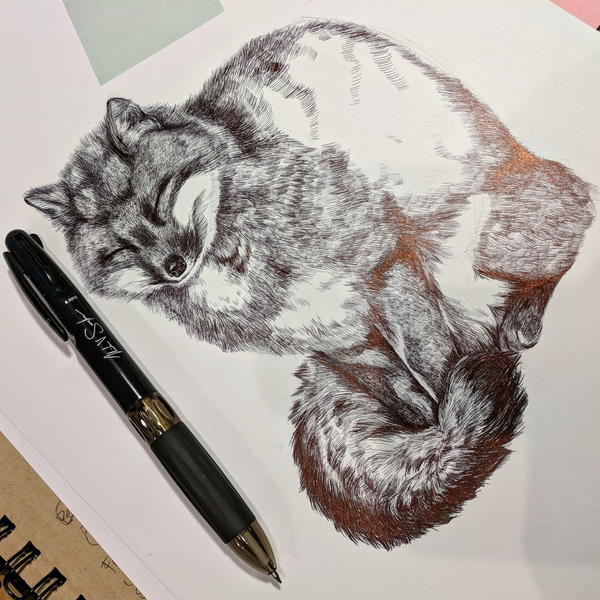 5. The Bic Pen: Round Stic
Bic's come in many types. But I'm focusing on the Round Stic - Xtra Life.  

Ink type: Ballpoint Paste Ink (Oily with sheen)

Cost: $ Low

Pros: This pen comes in 3 different tip sizes, Fine, Medium, and Bold. It is well rounded and perfect for starters into the ballpoint art world. Smooth and long lasting, a box can easily last you years. I use this pen for filling in not so detailed areas so I do not waste the ink of my other nicer pens.

Cons: Can easily clog and render useless. Tends to beads up a little on the sides causing you to wipe off occasionally or you will get beading on your drawings. The finer tip does not bead as much. It is a light pen and does nothing in terms of weight.
4. Pilot G2
Pilot also has many types of pens; I am focusing on the G2 Gel. 

Ink Type: Gel

Cost: $$ A little Pricier

Pros: This pen can also come in different pen tip sizes. I personally love using this pen when I want to go darker and have a little precision in my drawings, however, this is a one shade tool, you can not get the normal gradients like you can with ball point paste ink. You will most likely use hatching for the effect of shading. 

Cons: This pen takes so long to dry. It can easily smudge if you are not careful or patient. If you draw too hard with this it will cause a double line effect. These pens don't last as long as the Bics.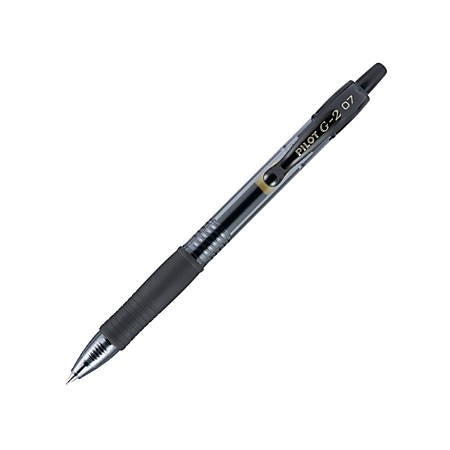 3. uni-ball Deluxe Rollerball Pen
Uni-ball is a well-rounded brand that includes many types! I am specifically referring to the standard Deluxe pen. You can recognize it from the metal pen clip. 

Ink Type: Liquid Ink

Cost: $$ A little Pricier 

Pros: This pen is a standard pen for me when drawing and writing. It has smooth liquid ink that draws evenly at any speed. The flow on these pens is unmatched to any type of liquid ink pen I use. The ink is specialized to be fade resistant, which is great for drawings that will last!

Cons: Ink takes a little while to dry completely and is prone to smudging like the G2. The point on this pen can gouge the paper if you draw too hard. The grip is uncomfortable for long term sessions.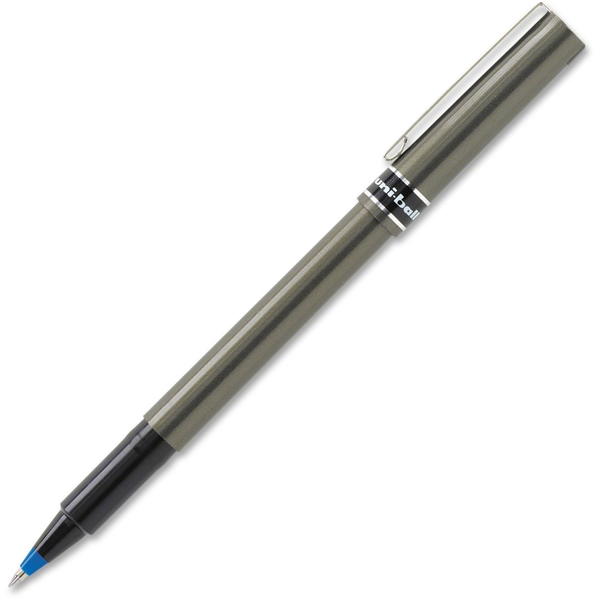 2. Zebra F-301 Ballpoint Retractable Pen
Zebra is a name brand, with a touch of luxury with the quality of the pen. Some of their pens can run you $10+ per pen. I am focusing on their recognizable F-301.

Ink Type: Ball point Paste

Cost: $$$ Pricey

Pros: This pen comes in all different tips and sizes. Even colors! My usual go to for my favorite drawings since the ink is dark and vibrant. I find the weight to help with fine details as it is a heavier pen. The tip is smooth and the design of the pen is meant to last. You can refill these pens with refillables. This pen in not meant to be thrown away after it is finished. Quality with its all metal construction, it has a comfort grip that helps with long term drawing and detailing.

Cons: Obviously price. Also, with most ball point pens, the lighter and finer the detail the more this pen will tend to bead up around the tip and will need to be wiped off frequently as you draw.
1. NS1 Pen by Nicolas V. Sanchez
This is a one of a kind pen specially designed by one of the best ballpoint pen artists of the 21st century.

Ink Type: Ball point Paste

Cost: $$$$ Priciest but for good reason! The website states, "A portion of the proceeds will go to the Center for Arts Education. CAE is committed to ensuring that all New York City public school students receive quality arts instruction as part of their pre-K-12 education."

Pros: This pen is designed by an artist for artists. Though mostly plastic in construction, it has 3, YES 3, separate tips in one pen. A .5mm fine tip, a .7mm medium tip, and a 1.0mm large tip. Its round and wide ergonomic grip helps your hand hold the pen comfortably as you sketch and draw in all your fine details or use the larger tips to fill in backgrounds and dark areas without spending so much time with a smaller tip. The pen does not bead heavily like previous pens listed in this article. This is the pen to have in your collection.

Cons: The price will set you back almost $11 per pen. I suggest buying two at a time to make sure your pens have even wear. These are not pens you can find in a store. You must buy it online.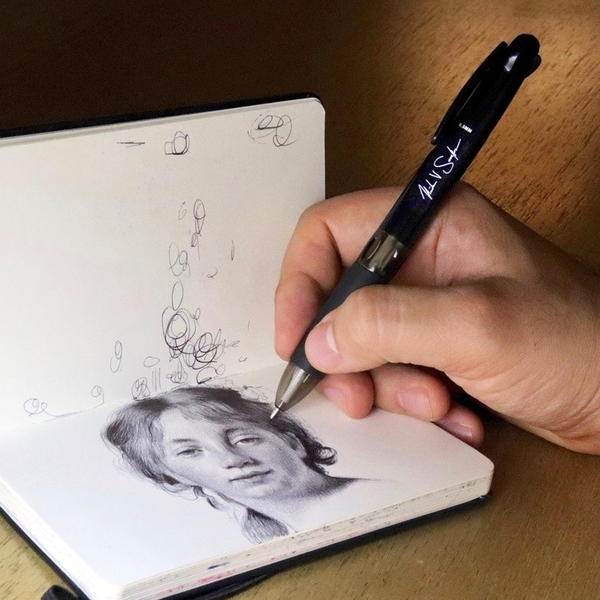 Photo Credit: Nicolas V. Sanchez.
All in All
All in all, there are so many different types of brand and choices out there. This list is to help you narrow down your choices a little and possibly broaden your knowledge that the ball point pen can be just as useful as a pencil or a paint brush. Whether you like fine details like me or love to draw something with big bold lines, ball point pens are made for everyone and anyone, artist or not.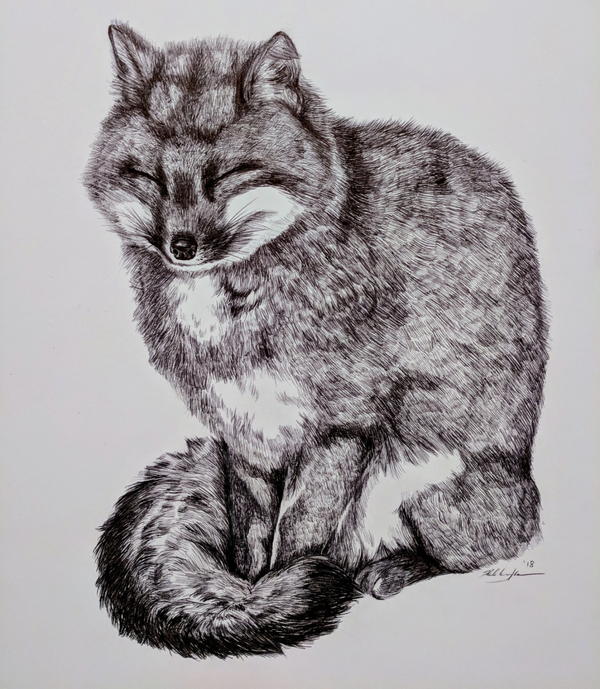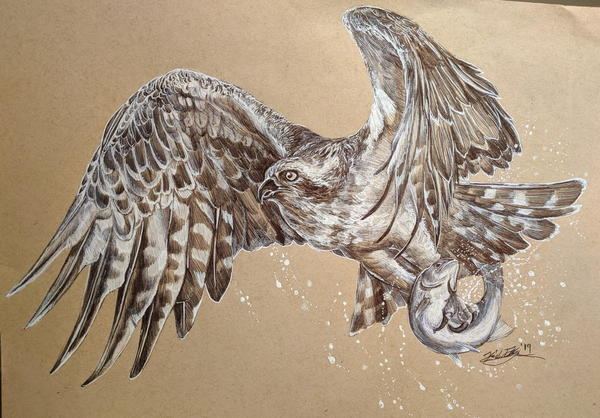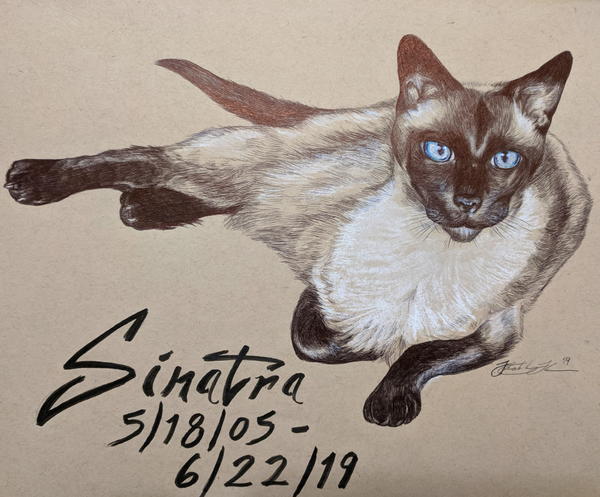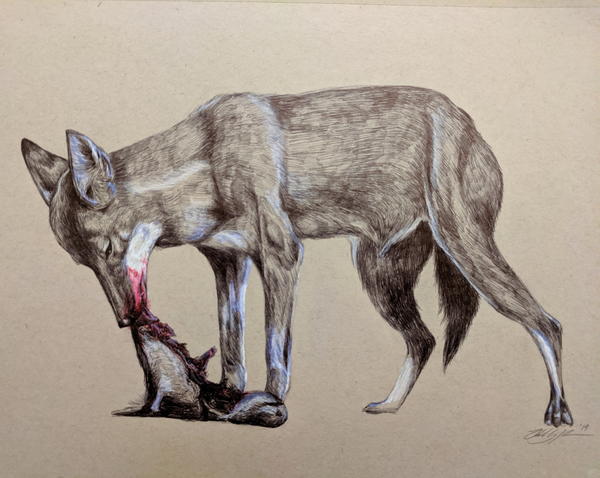 About the Artist
Kimberly Kwan started drawing from as far back as she can remember, but the first drawing she personally did from a picture was in 1st grade where she drew a foal from her math workbook. Since then, she realized her potential to quickly learn new techniques and styles. She labels herself as a very broad mix media artist who will work with more than just one medium on one piece. However, she can stick to the traditional route as well with only one medium per piece. Her favorite mediums include ink, charcoal, watercolor, and chalk pastels.

View more of Kim's beautiful artwork on Facebook at Kimberly Kwan Custom Art & Portraits and on Instagram.
Your Recently Viewed Projects
Join our community of 5 million crafters!
Get free craft projects, exclusive partner offers, and more.
Thank You for Signing Up!
There was an issue signing you up. Please check your email address, and try again.