How to Clean a Glue Gun
Keep your hot glue gun spotless with these helpful cleaning tips and tricks!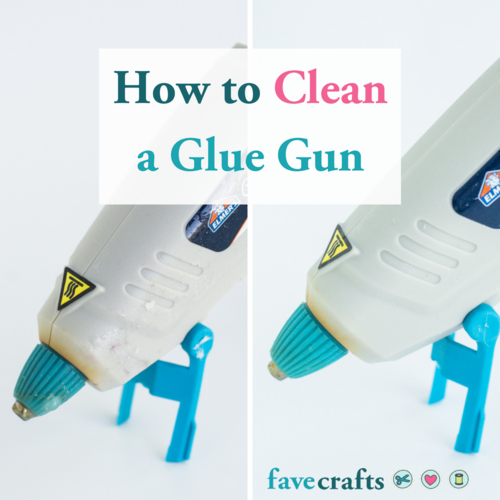 Every crafter needs a hot glue gun. Whether you're working on a scrapbooking project or a felt craft, glue guns are essential to every craft room. So, if you use your hot glue gun as much as we do, it's probably looking pretty gross right now. Covered in dried glue, glitter, and other crafting supplies, your glue gun probably seems like a nightmare to clean. It's the last thing that you'd want to do. And how do you take off all of that gunk anyway? 

If you've never tried cleaning your hot glue gun, this task literally looks impossible. The excess glue is so hard that you can't even take it off with your fingernails. But don't worry, we're experts at cleaning our glue guns, and it's a lot simpler than you'd think! 

With this How to Clean a Glue Gun article, you'll learn multiple tips and tricks that'll leave your tool spotless. Whether your glue gun is dirty from the base or the nozzle, you'll be able to clean any spot with this guide. Now, you'll never feel intimidated by all of that gunk again, and you won't have to worry about spreading it onto any new projects. Your hot glue gun will look so clean that it'll look brand-new!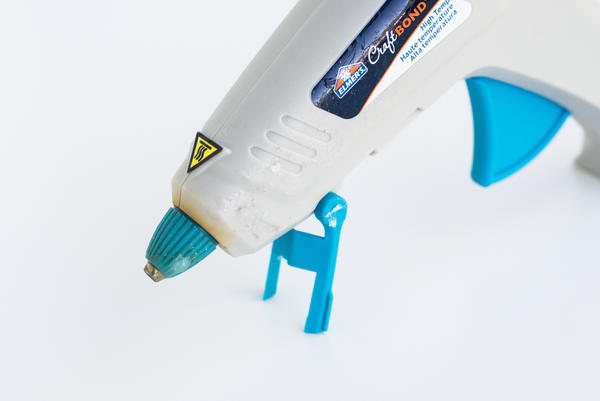 How to Clean the Outside of a Glue Gun
Is the outside of your glue gun caked in dried glue? While using your glue gun, strands of hot glue always end up on the tool's casing. And it is pretty frustrating to look at those blobs of dried glue! If you need to clean your hot glue gun's outside, you should definitely try one of these three methods!

Method 1: Aluminum foil
Plug in your glue gun.
Tear a large piece of aluminum foil. Wrap it around your gun.
Let your hot glue gun warm up. It'll be easier to remove glue if the gun is warm.
Remove foil, and scrub off any dried glue.
    Method 2: Blow dryer and aluminum foil
Set your hot glue gun on its side. 
Place a piece of aluminum foil onto the areas with dried glue.
Rub the foil. Remember to protect your hands with gloves to avoid burns. 
Using a blow dryer, heat up the foil. 
Peel off the foil, and repeat steps as needed.
    Method 3: Acetone
Pour acetone onto a paper towel. 
Do not plug in your glue gun. If warm, let the gun cool. 
Using the paper towel, rub the glue gun. The acetone will remove any dried glue along with stains.
Continue rubbing the glue gun until it's clean. Reapply acetone if needed.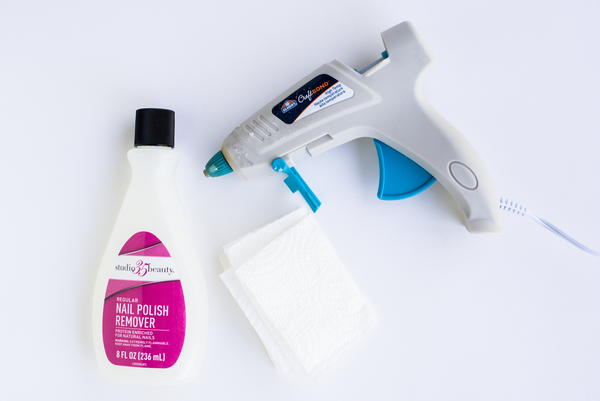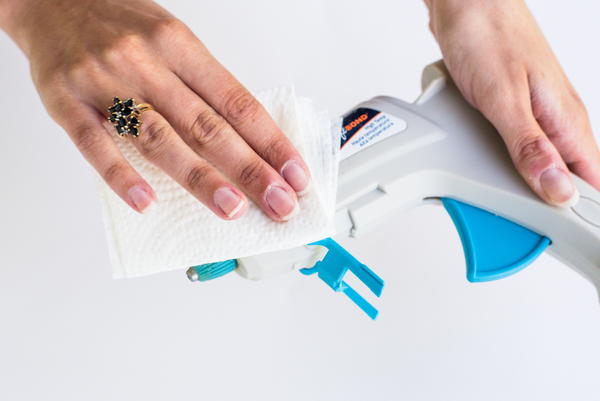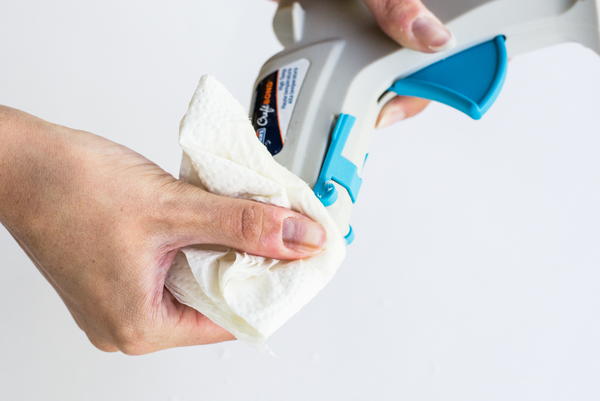 When you're hardcore into a crafting project and don't want to mess around with making sure your materials stay put, you know which crafting tool to use. Once you hot glue something, you can be sure that it's not going anywhere. Check out this article here:24 Hot Glue Gun Crafts + Tips For Working With Hot Glue
How to Clean the Nozzle of a Glue Gun
When you're using a glue gun for your crafts, the nozzle is the area that'll quickly become dirty. And if you don't clean your gun frequently, any gunk on the nozzle can spread onto other crafts. So, to avoid messes on your following crafts, you should clean your gun's nozzle after every project! With these methods, you can clean it in no time.

Method 1: Dryer sheet
After finishing your crafting project, do not turn off your hot glue gun.
Take a dryer sheet, and run it over the nozzle. Wipe off any excess glue. 
    Method 2: Aluminum foil
Rip off a square of foil. Form it into a ball. Make sure it's big enough to avoid burning your fingers.
Plug in your glue gun. Let it warm up. 
Take the ball of aluminum foil, and use it to scrape the nozzle. 
Rotate nozzle or ball to remove glue from all sides.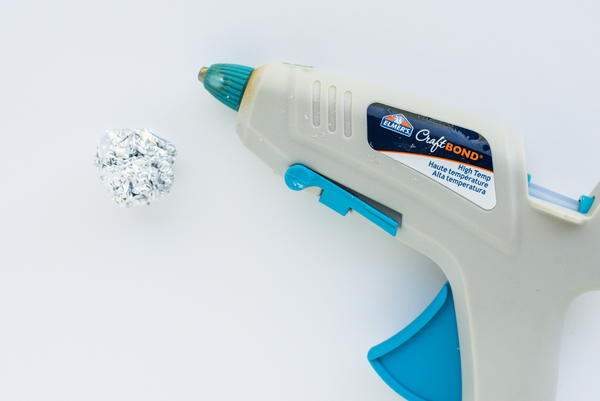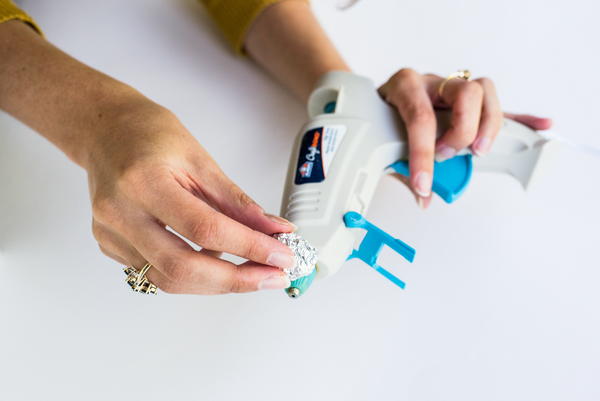 How to Clean the Base of a Glue Gun
Do you use a cordless glue gun instead of a traditional one? After using your cordless hot glue gun, you might've noticed that its base is covered in dried glue. And if the base hasn't been cleaned, your gun might not fit in it anymore! But with this method, your base will be spotless!

Method 1: Needle
Using a needle (or a pin), scrape the hole at the bottom of your gun. 
Continue scraping until you've removed all of the dried glue.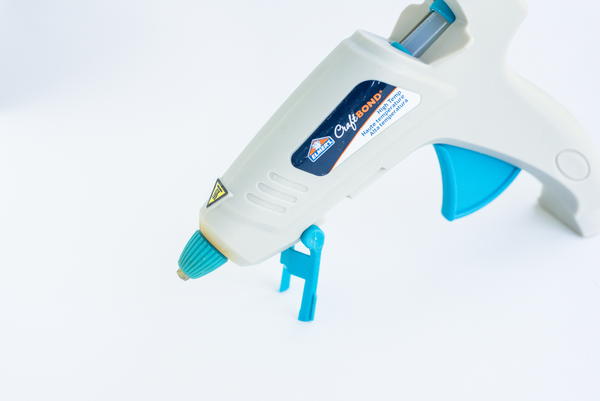 We've all been happily crafting along with our glue gun when, all of a sudden, hot glue ends up somewhere it definitely shouldn't be. Whether you accidentally stuck hot glue to fabric or even worse found it burning your skin, this helpful how-to is going to show you exactly How to Remove Hot Glue from Any Surface. Check out this handy guide here:
How do you clean your hot glue gun?
Let us know in the comments below!
Your Recently Viewed Projects
Join our community of 5 million crafters!
Get free craft projects, exclusive partner offers, and more.
Thank You for Signing Up!
There was an issue signing you up. Please check your email address, and try again.