Mandala Mania: 16 Mandala Coloring Pages
There's no right or wrong way to fill in these mandala coloring sheets - just grab a colored pencil and go!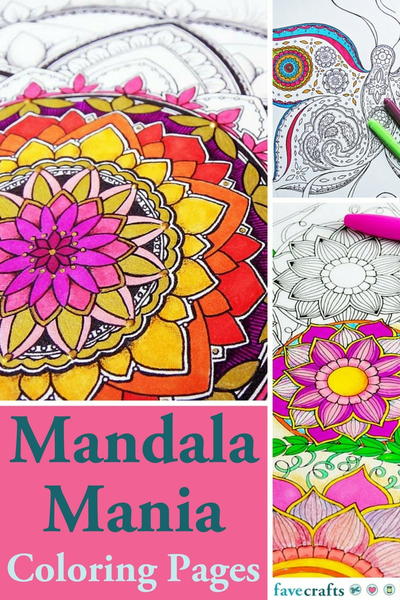 Adult coloring sheets have become a huge fad in the past year. Large stocks of adult coloring books are now available in stores like Wal-Mart and Target, and the demand keeps growing. Mandalas are particularly popular designs to color, with their intricate patterns that are both challenging and relaxing. Colored pencils are the medium of choice for filling in these gorgeous mandala coloring pages because of their delicate details.

A mandala is a geometric figure made up of concentric circles and other curved interconnected designs. When hearing the word "mandala," some people think of a sacred Buddhist symbol representing the universe. Others believe it is a sign in a dream that represents the dreamer's search for completeness. Still others think it's just a pretty picture to color.

Whatever your feelings are about mandalas, there's no denying they make beautiful printable adult coloring pages to embellish and hang on your wall. Check out the paper craft ideas below for more mandala madness!
Table of Contents
If you are always on the move - going from the office to the gym to book club to PTA meetings - you know how important downtime can be. Don't let your activities burn you out. Take an hour and relax withColoring Therapy: Scribble Stress Away
Stress-Relieving Mandala Coloring Sheets
Coloring is a fantastic way to relax at the end of the day, especially with these mandala coloring sheets. You don't have to worry about filling in the spaces with realistic colors - just pick up a pencil and zone out as you shade in the design. There are other uses for adult coloring pages, too.

If you are looking for unique, modern wall art, look no further. For quick decorations, you can print out these coloring sheets in black and white, mount them on foam board, and hang them on your wall. If you want your decor to be more personal, you can color the pages to match the room, frame them, and then hang them. What a cheap yet chic way to decorate your home!
Flower Mandala Coloring Pages
These adorable mandala patterns give power to your flowers in these cute coloring sheets for adults. Flowers already have a somewhat natural mandala shape since the petals fan out from a central point. It makes perfect sense to add tiny mandala details to these floral designs.
Mandala Coloring Pages + Calendars
You'll always know what day it is with these printable adult coloring pages and calendars. The cute calendars will give you something to color each month. You can fill in a big or small version of each unique design. These are DIY paper crafts that you'll want to save even after the month is over!
Adult Coloring Sheets With Mandala Animals
Mandalas are fun to color on their own, but they're even better when they're connected to other images. Check out these animal mandala coloring pages and find the tiny patterns hidden within the bigger picture, starting from a central point and moving outward. If you like these DIY animal crafts, there's plenty more where they came from.
More Mandala Craft Projects
If you love mandala designs, check out these other fun DIY crafts!
Comment and let us know:
Besides coloring, what other things do you do to unwind?
Your Recently Viewed Projects
Join our community of 5 million crafters!
Get free craft projects, exclusive partner offers, and more.
Thank You for Signing Up!
There was an issue signing you up. Please check your email address, and try again.