33 Things to Do with Finished Coloring Pages
If you're looking for what to do with coloring book pages, look no further than this marvelous list.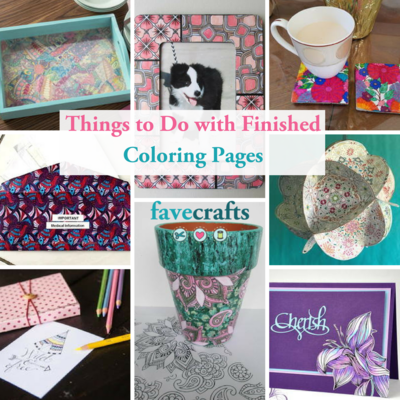 Adult coloring book pages can provide hours of entertainment and relaxation for crafters of all ages. These paper crafts are not only stress-relieving, they yield beautifully colored pages when they're finished. However, it's sometimes hard to know what to do with all your stunning, printable coloring pages when you're done with them. Without finding projects to make with coloring pages, its less likely your creations will get the appreciation they deserve.

Fear not, because this exciting list of projects to make with adult coloring pages is your answer. With these amazing ideas for what to do with coloring book pages, before you know it you'll have a variety of crafts ranging from DIY home decor to paper crafts for kids. The possibilities are endless when you try your hand at these paper craft ideas that are fun and easy to make while being light on your budget. Check out the projects to make with printable pages below to get started.

Bonus: if you're a visual learner, this DIY Coloring Book Pages Gift Card video tutorial is an excellent project to make!
Table of Contents
What's your favorite craft to relax after a busy week?
Your Recently Viewed Projects