Coloring Therapy: Scribble Stress Away
Learn how to ensure that your time spent shading in adult coloring book pages is actually stress-relieving.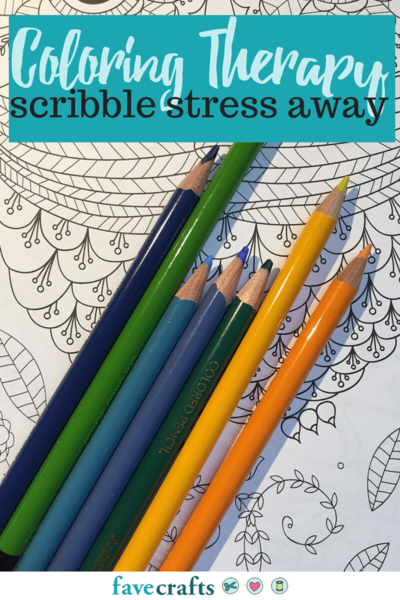 Coloring Therapy Scribble Stress Away
At this point, we have all heard about the growing fad of adult coloring books and the supposed stress-busting capabilities of this newly popular activity. While whether or not scribbling away in adult coloring book pages actually reduces the stress in your life is up for debate, the simple act of coloring is meditative enough to let you relax. Recently, the FaveCrafts.com staff explored the cause and effect of some coloring time and found that the amount of relaxation you get from your coloring experience is entirely dependent on your experience, your attitude, and your environment. Coloring therapy only works if you do it right.

A creative endeavor is not enough to de-stress. In addition to coloring (or crafting), you have to create your environment, as well. Without a comfortable environment, too many outside factors can affect whether or not you have a meditative experience. This is exactly why we have looked to the experienced color-enthusiasts on our staff to get the most of out your adult coloring book creative endeavors. Check out the tips below in Coloring Therapy: Scribble Stress away to learn how to make the most out of your coloring therapy attempts.

Do you think adult coloring books can really work as a form of therapy? Does coloring actually relieve stress? The FaveCrafts.com editors decided to try and find out. See what we found:Coloring Book Therapy: Fad or Fact?
Make the Most of Your Coloring Therapy
Have a Nice Set Up
In order to de-stress and relax, you need to find the right place to color. Much like choosing your particular brand of exercise or diet, your de-stressing and meditative environment are entirely up to you. Some people find silence relaxing. Some people cannot stand it. Some people will want to multi-task while others might need to focus entirely on the task at hand. Experiment with where and how you color. Create your own coloring therapy regimen and make sure, to be honest with yourself if you are actually enjoying yourself and whether or not it is working. Do not stress yourself out about how to de-stress.
Some great ways to relax while coloring: make yourself a cup of tea, listen to a favorite album or audiobook, color while marathoning your favorite television show, color first thing in the morning or right before bed.

Eliminate Stressful Factors
Trying to meditate or practice yoga in a busy environment would be absolutely silly; the same is true for coloring therapy. You need to find a space that is free of those factors. This means tucking away your cell phone, stepping away from the computer, and taking some time alone. Allowing things like phone calls or house guests interrupt you break your concentration and will entirely eliminate your downtime.
Connect with Your Intentions
If you are coloring to eliminate stress, make sure that you keep that in mind and truly commit to giving yourself this time. It is also important to keep in mind that using adult coloring books as a form of relaxation means that you should be connecting to the activity and not the final product. It can be tempting, especially for creative and crafty people, to get caught up with making your page look as stunning as possible. Stressing yourself out about how your final product looks rather than just relaxing in the moment might distract you, but it will not let your brain settle into a meditative state. Try and connect to your intentions before sitting down to color, relaxing your mind and reminding yourself this is you-time and not a time to prove your creative and artistic prowess.
Give Yourself a Time Limit
Adult coloring book pages are gorgeous and intricate. They are designed to force you to concentrate on the task at hand rather than any outside factors or stresses buzzing in your brain. These itty bitty details also mean that coloring a full printable coloring page or coloring book page will take a long time. These pages were not designed for you to fill in during one sitting. So, before getting started, decide how long you will be coloring and stick to it. This method will allow you to chill out rather than rush to finish shading a page. You could even set an alarm and just dive in until your time is done.
Printable Coloring Book Pages to Try
Try your hand at coloring book therapy when you sit down and shade in these gorgeous, free printable coloring pages. There's no need to stress about spending an extra few dollars on a coloring book when you can download coloring book pages for free!
Let Us Know:
What kind of activities do you do to relieve stress?
Your Recently Viewed Projects
Join our community of 5 million crafters!
Get free craft projects, exclusive partner offers, and more.
Thank You for Signing Up!
There was an issue signing you up. Please check your email address, and try again.