21 DIY Steampunk Jewelry Designs and Crafts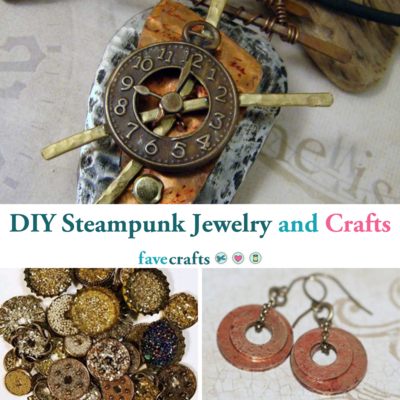 With a broken watch and some leftover lace, you can create stunning Victorian DIY steampunk jewelry that you're sure to love!

The newest craze to sweep the crafting world involves the unlikely marriage of gears, screws, and bolts with vintage lace, charms, and accessories. This new form of crafting, called steampunking, has found a place in vintage crafts, jewelry, apparel, and even home décor! Steampunk style jewelry and crafts are great for budget cautious crafters, as well as those who love to upcycle and recycle! With a broken watch, some leftover lace scraps, and a handful of beads and buttons, you can create stunning Victorian steampunk jewelry that you're sure to love!

When it comes to making steampunk style jewelry, you'll need a few odds and ends. A trip to the hardware store should to you good, or even rummaging through your junk drawer to find random washers, nuts, and bolts will work. Once you find some unused washers, try making these Distressed Washer Earrings. They are a great project for beginning steampunkers!

Love the look of steampunk but don't necessarily want to wear it? Fear not! There are tons of cheap steampunk home décor ideas that will bring a touch of romance to your house. These DIY Vintage Candles combine the look of steampunk style jewelry with the country style romance many crafters love. This candle set would be a great centerpiece for your next party or get together.

Perhaps the most important feature of steampunk style jewelry, home decor, and apparel is steampunk costume accessories and embellishments.  Buttons, washers, clock parts, and little charms can all be used to help add a vintage flair to your steampunk crafts.  This Glittery Buttons tutorial is also a great way to get started in creating steampunk style jewelry designs. These cute buttons make a great addition to your collection of steampunk jewelry components and would also be beautiful on vintage arm warmers or sweaters. 

Lovers of vintage jewelry and design are sure to go crazy for steampunk!  Steampunk style jewelry and crafts are a great way to use up odds and ends around the house, as well as create beautiful one of a kind art pieces that you can cherish and enjoy for years to come!
Table of Contents
Making Steampunk Jewelry
With some items you can probably find in your junk drawer or your garage, you can create beautiful steampunk style jewelry designs for you and your loved ones.  From earrings to necklaces, rings to pins, vintage steampunk jewelry is fashionable and affordable!
DIY Steampunk Home Decor
If you love the look of steampunk style jewelry but don't necessarily want to wear it, you can easily create fun steampunk home decor that is sure to set you apart from Mr. Jones next door!  Using the same materials you would to create wearables, you can make storage containers, candle cozies, and beautiful wall art in the style of steampunk!
DIY Steampunk Costume Accessories and Embellishments
Steampunk style jewelry, home decor, and vintage wear would be nothing without fun embellishments!  These colorful buttons, pendants, and charms are great for adding to your next steampunk project.
Your Recently Viewed Projects
Join our community of 5 million crafters!
Get free craft projects, exclusive partner offers, and more.
Thank You for Signing Up!
There was an issue signing you up. Please check your email address, and try again.