32 Key Crafts
Find the best crafts using old keys, DIY keychains, and keyholders to make!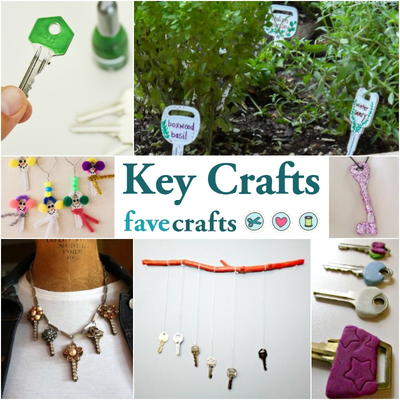 If you're wondering what to do with old keys, explore our list of key crafts! You'll discover cute painting projects and other crafts using old keys.

No matter what you do, don't throw those keys in the garbage! There are so many beautiful projects you can make with them. Make thrifty wind chimes for the garden, create adorable jewelry, and personalize keys for easy identification.

As a special bonus, included in this collection are DIY keychain ideas and keyholders for your home. Not only will you learn what to make with old keys, but you'll learn how to accessorize and display the keys you use every day. Enjoy the fun projects below!
Table of Contents
Crafts with Old Keys
You can make the prettiest projects with old keys! If you have a drawer full of keys that you don't need anymore, such as keys from old apartments or for locks that you've replaced, this is the collection for you. You'll also find ideas below for ways to decorate your keys so you know which ones go to which locks, or which keys each of the kids have. Customize your old items and turn trash into treasure with the projects below.
DIY Keychains
Not only do we have awesome key crafts in this collection, but you can dress up your keys with any of the DIY keychains listed below! We have a variety of crafts you can make, including projects with leather, pom poms, yarn, perler beads, regular beads, and more. If you love working with polymer clay, there's a darling keychain for you below. If yarn is your preferred medium, make tassels and flowers with the tutorials below.
Wooden Key Holder Designs
Discover some of our favorite wooden key holder designs and other key holders you can make! If you (or your spouse) are one of those people who lose things all the time, one of these cute key holders will help you never misplace those keys again! And when you put a cute keychain on your keys like the designs listed above, you'll really have a hard time misplacing them. 
How many keys do you have lying around that don't go to any locks anymore?
Your Recently Viewed Projects