Giant Tassel Keychain Easy Yarn Craft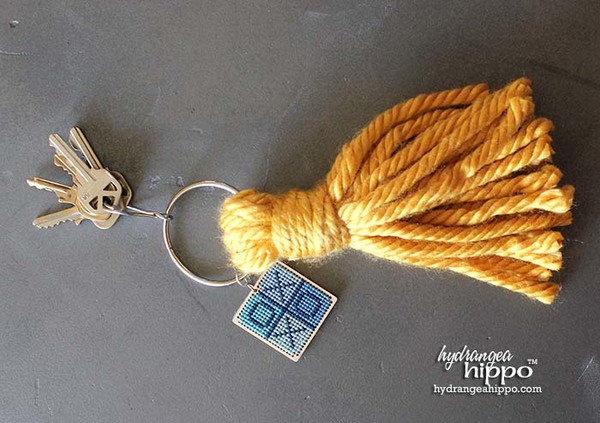 If you're always misplacing your keys and having a hard time fishing them out of your purse, make this Giant Tassel Keychain Easy Yarn Craft. This is one of those great scrap yarn projects anyone can enjoy. This giant tassel makes it easy to find your keys in my purse or laying on a table. Use super soft Bernat Chunky Yarn for this project - it's perfectly luxurious! If you need an excuse to use up your leftover yarn scraps, look no further than this project. DIY craft projects are a great excuse to get creative and make something that really stands out. Once you make one of these for yourself, be sure to make a few for your friends and family members - these tassels make great gifts!

Materials List
Bernat Chunky Yarn
Large Split Ring or BinderRing, 2" to 3" diameter
5x7 chipboard piece
Dimensions Needlecrafts Large XOXO Finished Pendant
Instructions
Cut a notch into a piece of 57 chipboard about 1 down from the top on the 7 long side. The notch should cut into the chipboard about halfway. Slip a 6 piece of yarn into the slot.

Wrap the 57 chipboard along the 7 side with Bernat Chunky Yarn, about 15 times. Cut the end of the yarn when the tassel is the desired thickness.

Tie the scrap of yarn in the chipboard slot around the yarn bundle in a tight knot. Remove from the chipboard form.

Tightly wrap the tassel top with Bernat Chunky Yarn, securing with hot glue every so often until the wrapping is the desired thickness.

Slip a Binder Ring through all the loops at the top of the tassel.

Attach a stitched Dimensions Wood Pendant to the Binder Ring with a jump ring.
Your Recently Viewed Projects