31 Free Macrame Patterns and Knot Craft Projects
Find modern macrame patterns you'll totally obsess over in this collection.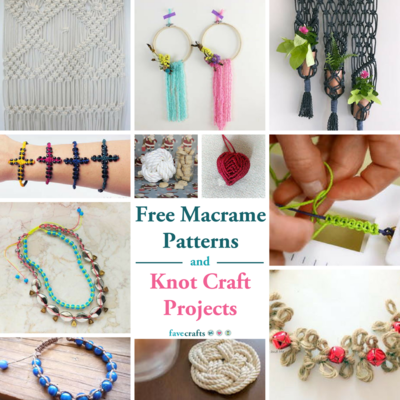 Macrame is making a comeback, so don't miss your chance to hop on this new/old trend. If you loved macrame in the 70s and are looking to bring it back in a chic new way, check out these free macrame patterns! You can make stunning wall hangings, pretty bracelets, and find other knot crafts here. You'll be amazed what you can make by simply knotting some string!

First, start off with this video overview ot the types of jewelry you can make using the macrame technique. Learn how to knot over a form and also learn what other unique materials you can incorporate into your macrame projects with this fun video.

Also, make sure you consult our handy resource to learn How to Estimate Length of Macrame Cord Needed.

If you love what you're reading, let us know by subscribing to our newsletter: Quick and Crafty.
Table of Contents
Your Recently Viewed Projects