Handsome and Homey: 17 Men's Prayer Shawl Patterns
Bring comfort to someone in need with an easy prayer shawl pattern that's as handsome as it is heavenly.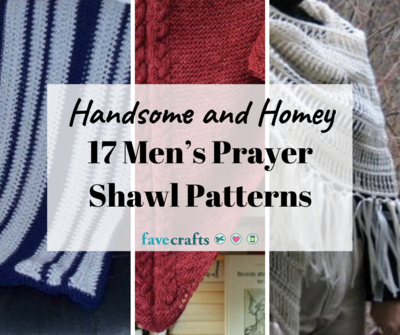 Men's prayer shawl patterns may not have been next on your to-make list, but working one up is a heartfelt gesture that is sure to be appreciated.

Whether you've lost a job, had a tough week of final exams, or had a fight with a loved one, we've all experienced a time in our lives when we could use just a little bit of extra help, love, and support. Want to show someone that you're there for them during their time of need? There's nothing that can brighten a day more quickly than a heartfelt DIY prayer shawl from someone who cares. Worry no more about giving a little boost to the men you care about, either. This collection of homey, comforting, and attractive men's prayer shawls has you covered.

We all know that prayer shawls are the perfect remedy for a hopeless day, but it can be difficult to find prayer shawl patterns for the suffering men in your life. Now it can be a snap to give a spiritual lift to the men you care about. These dapper, cozy, and good-looking men's prayer shawls are just what you've been looking for. You'll find the perfect prayer shawl crochet pattern or knit pattern for your husband, son, or friend in this list.

These heavenly prayer shawl designs can be made for men or women because they can be customized using any color palette, from muted, earthy tones to bold, handsome shades. Even if a shawl seems a little more on the feminine side, with a quick change of yarn, it will be the perfect gift for your special guy!

These men's crochet patterns simple, free, and stress-free to make, so you can ensure that you can put good vibes into every stitch. Your man will remember he's not alone every time he wears one of these gorgeous men's prayer shawl patterns. Remind yourself of God's love at every step while following these prayer shawl tutorials.

No one can resist the comfort of a handmade piece that wraps them in love and warmth. So, if you want to instantly bring light to your man's life, then you need not look further than these stunning, heartfelt men's prayer shawls!
Table of Contents
Crochet Prayer Shawl Patterns for Men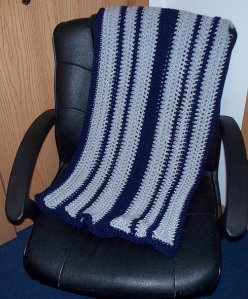 Repetitive, meditative, simple, and creative, crochet can't be beat when it comes to DIY religious crafts. It's no wonder, then, why so many people turn to crochet when they're looking to comfort themselves or others! A simple crochet pattern is just the thing to quiet the mind of someone looking to relax.

No matter the pattern you choose, these DIY crochet prayer shawl designs are guaranteed to bring the warmth of God to whoever receives it. The Men's Reversible Prayer Shawl (shown) is a prime example of the fierce love a simple crochet gift can bring. Whether your man says a different prayer or counts his blessings on each stripe, this crochet shawl will light him up with the brightness of God's love, even when times get tough.
Knit Prayer Shawl Patterns for Men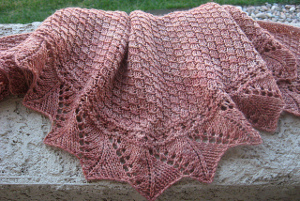 Knitting is easily one of the most relaxing activities a person can do. Not only are these knit prayer shawl patterns a treat to make, but they're also incredibly dapper to wear. Just look at the Crescent Shawl (shown); it has the most enchanting edge you've ever seen, guaranteed. With a beguiling basic stitch and terrific triangle pattern, this prayerful piece will make any recipient want to spend all day long thanking God for such a thoughtful gift.
What other gifts do you give others during their time of need? Let us know below in the comments!
Your Recently Viewed Projects