14 Crafts Your Grandmothers Were Known For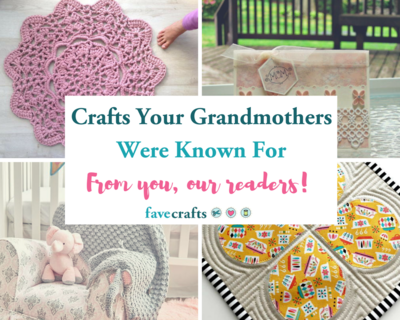 We recently asked our readers "What craft was your grandmother known for?" We are overwhelmed by the amount of sincere and memorable responses! Your grandmothers are each known for such amazing things such as quilting, tatting, sewing, knitting, crochet, and even making the most out of the simplest things. From braiding rugs with old denim to crocheting an afghan for every single grandchild, it is truly remarkable.

Want to be included in our next reader spotlight? Sign up for the FaveCrafts newsletter, Quick and Crafty. You'll receive amazing craft tutorials, patterns, ideas, tips and tricks on a weekly basis. You'll have your chance to share your crafting tips, family patterns, or even a few memories. Have your own craft or pattern you'd like to submit? Click here to submit.

*Disclaimer: Names have been changed to respect our readers' privacy and responses have been edited for quality and length purposes.
Table of Contents
Sewing and Quilting
"My grandmother always had the sewing machine out. She used to go to jumble sales and buy dolls, some of them very creepy, then made beautiful clothes that always fitted perfectly. It was a shock sometimes to visit and find an ugly old doll wearing a fur coat and hat and amazingly intricately made underwear with lace and embroidery. None of them exist now which is sad as she put so much work into each of them. She also used to repaint her kitchen door in all kinds of odd colours. The paint layers got so thick the door seemed huge." - Lou Anne*

"My paternal grandmother was a midwife. In her lifetime she delivered over one hundred babies. Her favorite craft was, I believe, quilt making. Some were made for warmth out of whatever fabric was available, but she also made at least one very nice one for each of her five children. She passed away in 1958 but I have three quilt tops that she hand made. I hope to quilt them or have them quilted and leave them to my children. Even though they did not know her, the tops are memories of their ancestry and will be passed down I hope for many generations to come. She was also well known for the many doilies and dresser scarves she crocheted so I imagine that too was a favorite craft." Margaret*
When it comes to crafting supplies, many people, myself included, tend to buy much more than they really need or keep acquiring new, cooler things before they've actually used up the rest of the materials they have on hand. Learn How to Better Organize Your Crafting Supplies
Crocheting and Knitting
"She could crochet beautifully. She could look at a crochet piece and make it without instructions." Linda*

"My grandmother had a 3rd grade education and could not read and write. THAT did not stop her from making the most beautiful crochet doilies and afgans. She would count each stitch on her item used for a pattern and work with rose stitches until she had the correct type of stitch...single, double triple crochet, etc. She taught me to crochet and my grown daughters as well as myself have items she made. She also taught me to make quilts." Rosaline*

"My grandmother, was known for her hand crochet. She made hand crocheted tablecloths from fine white cotton. These were sent to Ireland to have Irish linen centres put into them. She had 8 children, and each child had a tablecloth made by Grandma." Jacqulyn*

"When I was younger, she was an avid knitter, knitting all of us grand kids an afghan when we were young. Mine was white background with dolls on it, each doll looked different in her hair color, eye color and dress and parasol colors. My brother had a blue and red sailboat themed afghan and a cousin got a Minnie Mouse one, and another cousin got a Belle from Beauty and the Beast one. Every kid got one and I know I still have mine." Olivia*

Okay, we may be a little biased but . . . these are some of Red Heart's cutest patterns ever! With a variety of knit and crochet patterns below, these free patterns from Red Heart are completely adorable and should find their way into your life. Check out our article: 12 of Red Heart's Cutest Patterns Ever
Tatting and Rug Tying
"I am named after my great-grandmother. We have a few things in common, one of them being left-handed. She passed before I was born but she loved tatting. I found some of her tatting and I set out to learn how to tat. Through books and videos I was finally able to learn and have made a bedspread that I designed. I am the only one in my family who can tat. The rest crochet and that was another skill I managed to learn after years of them trying to teach the 'lefty.'" Danielle*

"My grandma made braided rugs out of old coats. She made smaller area rugs and 11' × 14' and 10' ×12' large rugs. They alway laid flat with no curling. They were very colorful also. She sewed them together rolling them as she worked on a card table" Ashley*

"My paternal grandmother Marie could tat so quickly I couldn't follow the shuttle. She made lace for all of the linens; sheets, pillowcases, towels, to name a few as well as doily's and table runners. I still have the towels and sheets she made me 34 years ago." Diane*

"Grandma used to braid rugs out of old denim and it was one of the most unique way to use old jeans. As we would grow out of our old jeans and she would find pairs, she would put together these beautifully braided rugs." Margot*
Even More Crafts
"My paternal grandmother made rugs out of cotton cloth. She cut and sewed the cloth into strips and braided them into oval rugs. She was also a great baker. She made many sweets for us with recipes that she brought from the old country. They were well organized and goal oriented. They were grounded. They got an idea and made it happen. No wishy washy women. I miss them. They enriched our lives in many ways." Marianne*

"Grandma does embroidery. She designs pillow cases, table clothes, table runners, dresser scarves, and even the occasional quilted blanket, which is usually for a newborn baby. I currently have 4 sets of pillowcases, a dresser scarf and a Christmas table cloth. When my daughter was younger, she embroidered "The Last Supper" and framed it. That piece is in my living room since my daughter wanted it somewhere it could be seen when people visit." Claudia*

"My dear grandmother would collect fabric from old worn out blouses, curtains, aprons, sheets. She would make squares and squares and piece them together beautifully, not a pattern. Colorful, a true work of art! This is 40 years ago, quality fabric. I am sure she knew she was recycling then, bless her heart." Raven*

"She sewed, knitted, crocheted, tatted lace, and could make the most amazing, lifelike flowers out of crepe paper. However, there is one memory that stands out in my mind. Every year she would knit a hat and a pair of mittens for each of her 16 grandchildren. She would start knitting at the end of the summer.  By the beginning of December she would fill the kitchen table in sets for each family. My  Mother would help her wrap all the gifts and then parcel each family pack and then off to the post office!  They were gifts from the heart that I'm sure were appreciated by the recipients." Jessie*
What craft was your grandmother most known for?
Your Recently Viewed Projects
Join our community of 5 million crafters!
Get free craft projects, exclusive partner offers, and more.
Thank You for Signing Up!
There was an issue signing you up. Please check your email address, and try again.