How To Make Tie Dye Shirts, Decor, and More: 18 Tie Dye Patterns eBook
How To Make Tie Dye Shirts, Decor, and More: 18 Tie Dye Patterns free eBook
Discover free tie dye patterns and techniques from iLoveToCreate and FaveCrafts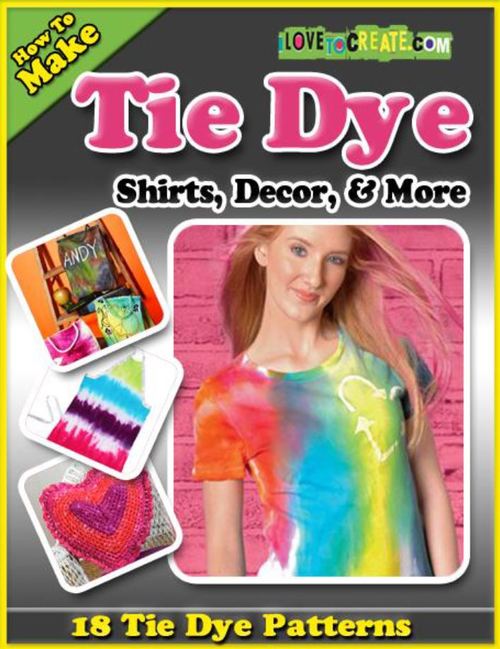 FaveCrafts has teamed up with iLoveToCreate.com to bring you How To Make Tie Dye Shirts, Decor, and More: 18 Tie Dye Patterns free eBook. Filled with fun tie dye designs and projects, this free eBook is a must for anyone who loves a good tie dye project! Sure, you can learn how to make tie dye shirts, but that's just a small piece of this eBook. Learn how to tie dye pillows, aprons, towels, and purses. You can be instantly transform all of these items with a few drops of color. This eBook filled with cool tie dye designs and instructions on how to tie dye shirts, pillows, and much more.
With the projects and tie dye instructions in How To Make Tie Dye Shirts, Decor, and More: 18 Tie Dye Patterns, you'll be able to turn a plain pillowcase into a work of art, a bland dress into something summery and fun, and you'll even learn how crochet with dyed tee shirt yarn to create a pillow that just bursts with bright vibrant colors. If you're looking to change up your wardrobe or are just on the hunt for fun crafts to make with your friends or your kids, be sure to download How to Make Tie Dye Shirts, Décor, and More: 18 Tie Dye Patterns today and get ready for a groovy good time!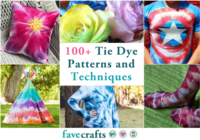 ---
If you love tie dye, find our most popular collection of patterns at 100+ Tie Dye Patterns and Techniques.
---
How To Make Tie Dye Shirts, Decor, and More: 18 Tie Dye Patterns eBook
Table of Contents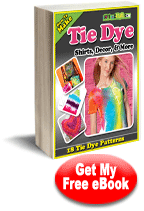 Download How to Make Tie Dye Shirts, Décor, and More: 18 Tie Dye Patterns today!
Note from the Editors
Hello Readers,
Inspired by fashion runways and designer collections from around the world, Tulip offers the most comprehensive collection of premium color products that make it possible for fashion artists to create couture fashion without breaking the bank. Whether you're covering your kicks in layers of luscious shimmer, showering fabrics in bold hues of ombre dye or painting the ultimate canvas - you … one thing you'll never have to worry about is the quality of the Tulip product you are creating with. Bold, beautiful and made to last, Tulip fashion art products are created with you in mind. For every purpose, every occasion and every style, Tulip offers colors and products to fit, along with the inspiration, education and tools to support your fashion art dreams. The world isn't black and white so color it with Tulip. Tulip is color and fashion loves color. Rock one of the hottest trends with the Tulip One-Step Tie-Dye Kit, where you can create vibrant, outrageous art on anything you can dye! And the process is in the name – one step makes a fashion masterpiece! Just add tap water to bottle, shake and squirt on fabric. The dyes are permanent and color-fast, so they won't fade in the wash. And since the dyes are mixable, you can create your own custom colors. It's fashion art made EASY!

Sincerely,
The Editors of FaveCrafts.com


What's in this Free eBook
Tie Dye Shirt Patterns and Wearables: Captain America Tie Dye Tee (p. 9)
Learn how to tie dye shirts that stand out from the crowd. With a white tee shirt and a few drops of Tulip Permanent Fabric Dye, tye dye instructions, and some patience, you can create one-of-a-kind tops that are unique, colorful, and fun! Discover seven unique and colorful tie dye shirt patterns, so you're sure to find something to suit anyone's taste. And don't forget, you can always mix and match colors to suit your taste! That's the great thing about learning how to make tie dye shirts … once you've mastered the techniques, you can easily create tie dye designs that are unlike anything you've ever seen.
If you've ever wondered how to tie dye shirts, or you're nervous about tie dyeing for the first time, have no fear! With the help of this free eBook, you can chose from one of several patterns and styles to create your own tie dye shirt. Each pattern comes with a full list of materials, detailed instructions, and photos of the completed project, so there's no question as to what your tie dye designs will look like.
This Captain America Tie Dye Tee is just one of the great tee shirt patterns you'll find in How to Make Tie Dye Shirts, Décor, and More: 18 Tie Dye Patterns. Not only would this tee be great for the superhero in your life, but this patriotic top would also be great for your next 4th of July celebration!
Tie Dye Designs For Home Décor: Sunburst Blossom Pillow (p. 24)
Once you've learned how to make a tie dye shirt, we bet you'll want to try your hand at bigger projects. We've gathered some of our best tie dye ideas for home décor to help you add color and style into any room in your house. These tie dye instructions are easy to follow and customize, so you can create colorful patterns that help accent and highlight your favorite décor. This Sunburst Blossom Pillow is a vibrant example of all the fun patterns you'll find in How to Make Tie Dye Shirts, Décor, and More. One or two of these cool tie dye designs would instantly bring an indoor or outdoor seating arrangement to life.
When most people think of tie dye, memories of summer camp and crafting with your friends come to mind. but with the patterns in this eBook, you can make patterns and projects that look sophisticated and elegant. With the right techniques and by following these easy tie dye instructions, you will be well on your way to creating all kinds of beautiful projects that you'll be proud to call your own.
Tie Dye Instructions and Techniques: Cobbled Bicolor Tie Dye Tee (p. 26)
As you browse through your free copy of How to Make Tie Dye Shirts, Décor, and More, you may be surprised to learn that there are so many cool tie dye patterns. Learn how to create unique tie dye designs and motifs for all your dyeing projects. From hearts to stripes, achieving a patterned tie dye look is much easier than you think!
If you want to know how to make tie dye shirts, take one look at this Cobbled Bicolor Tie Dye Tee and get inspired to learn. This is one of those tie dye designs that gives you an excuse to try something that's anything but traditional. Made with a simple craft sponge, this project shows that tie dye shirt patterns can work great for everyone and be used on pillows, dresses, scarves, and more.
Need Help Downloading?
You can easily download and print out each book for on-hand reference while crafting. For help downloading our eBooks, check out the FAQ here: How to Download our eBooks.
Don't Miss Our Other Free eBooks!
Be sure to check out our entire collection of eBooks! You'll find titles such as:
Sign Up for Our Free Newsletter
With your free copy of How to Make Tie Dye Shirts, Décor and More: 18 Tie Dye Patterns eBook, you can also subscribe to our Quick and Crafty newsletter to become part of a helpful and friendly crafting community. In subscribing to the newsletter you will receive:
Six weekly emails with free craft projects, tips, collection pages, videos and more
Chances to win craft books and products from our weekly giveaways and contests
New FREE patterns made available to you throughout the year
Access to our free project library full of over 7,000 more free craft projects
The opportunity to share ideas and help others in the crafting community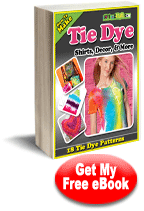 Download How to Make Tie Dye Shirts, Décor, and More: 18 Tie Dye Patterns today!
Reader Exclusive!
Take a look inside How to Make Tie Dye Shirts, Decor and More: How To Make 18 Tie Dye Patterns
Your Recently Viewed Projects
Join our community of 5 million crafters!
Get free craft projects, exclusive partner offers, and more.
Thank You for Signing Up!
There was an issue signing you up. Please check your email address, and try again.