How to Store Craft Supplies + Craft Room Storage Ideas
Storing craft supplies tips to ensure that your craft supplies have the longest shelf life possible.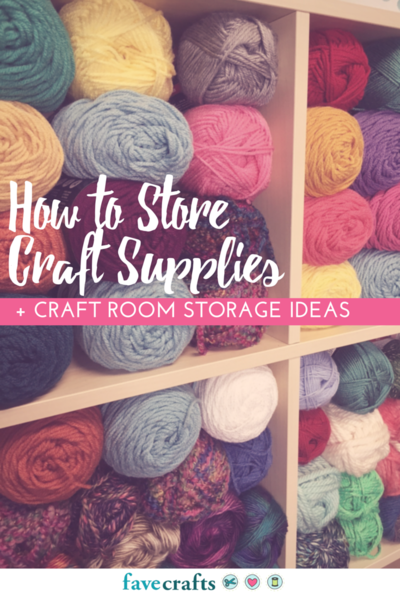 While perusing Pinterest for clever ways to organize your crafting room, small space or otherwise, can be a ton of fun, there is one thing many of these pretty photos of expertly organized craft rooms lack. Making your craft room cute is surely a priority, but storing your craft supplies properly is an even bigger one. It is not surprise to any of our readers that many craft supplies are expensive. There is nothing worse than spending a pretty penny on some craft paint, only to realize three months later that it is dried out and useless. So, before, after, or during your organizing spree this spring, take a moment to learn how to properly store your craft supplies. Above anything else, taking care of your paints, clays, yarn, Mod Podge, and other supplies will save you money in the long run. Making your craft supplies lasts gives you serious bang for your buck, because it allows you to skip replenishing supplies.

How to Store Craft Supplies + Craft Room Storage Ideas has everything you need to know how keeping your crafting supplies as good as new for a long time. Whether you need to keep paint from drying or paper from fading, these tips are sure to keep them as good as new. Plus, look out below for some DIY organizers to make it even easier.
Table of Contents
Why Proper Storage?
The reason you need to think about storing your craft supplies properly before organizing is pretty simple. Many craft supplies had different needs. While you might be able to store paint in a dark cupboard, just placing paper on a shelf can be a grave mistake. Paper can wilt and fade if not packaged up. So, before you organize your craft room, figure out what you need to organize and make sure everything has a proper place. If everything has a home in your craft room, it will be easier to keep it safe.
How to Store Craft Supplies
Not all craft supplies are created equally. Some supplies (like paint and fabric) need some extra care to make sure they last as long as possible Check out the tips below to learn how to store paint, fabric, paper, and more.
Easiest and Quickest Pocket Folder
Paper – In order to store paper, you will need to decide how long and how much paper you need to store. If you are storing paper for a short amount of time, it can sit on a shelf. If you are storing paper for longer than that, purchase plastic folders or a tub for your crafting paper. Storing paper means keeping it away from dust and away from light. This will ensure that it can stay crisp and bright. If you are storing paper patterns for sewing or even crochet instructions, a plastic filing pouch or folder works wonders.
Restyled Red Shelf Home Decor Craft
Liquid Supplies - In order to properly store liquid supplies like glues and Mod Podge, check the label for the best way to store these products. In general, adhesives need to be kept in a cool dry place. So, make sure these materials and stacked in a cupboard or on a shelf that is away from the warmth of sun streaming through a window and out of the reach of a furnace vent.
Paint – Most paints are designed to keep for quite some time, but the wrong storage can put their spoiling into overdrive. Always make sure your paint is stored in a cool dry place. You also want to make sure that you clean your paints up properly before putting them away. If paint pools at the top of a container, it can eventually cause the top to pop open, exposing the paint inside to air, and making it dry quickly.
Other Craft Storage Tips
These general tips for storing craft supplies and organizing your creative space as effectively and safely as possible.

1. Safety First – If you are crafting in a home with small children, keep little hands in mind. You will want to store dangerous chemicals (like paint or Mod Podge) away from little hands. You should also find an up-high space for sharp tools like scissors and die cuts. 

2. Save Energy – Always make sure that you are turning off and unplugging supplies you are not using. Some older crafting supplies, like a sewing machine for example, can be energy vampires. This means they often continue to pull in energy despite the off button being on.

3. Think Like an Office Manager – Office supplies are a fantastic way to organize. You can use filing cabinets and folders to tuck away paper crafts and even file things like fabric. Labeling drawers and tubs is always a plus, as well. This way you do not have to pop open every tub or cupboard when you are on the hunt for a specific paint.

4. Craft Supply Grocery List – It can also be helpful to treat crafting supplies like groceries. Keep a running shopping list in your crafting space. This way you can denote if you are running out of a certain color of thread or adhesive you use often. You can also label products when you bought and opened them. This way you won't try to cover a precious piece with paint or glue that has lost all its important properties.
Craft Room Storage Ideas
Ready to start organizing and storing craft supplies? Then check out these DIY organizers and craft room organization tips for some happy and helpful projects.
Let Us Know:
How often do you spring clean your crafting stash?
Your Recently Viewed Projects
Join our community of 5 million crafters!
Get free craft projects, exclusive partner offers, and more.
Thank You for Signing Up!
There was an issue signing you up. Please check your email address, and try again.