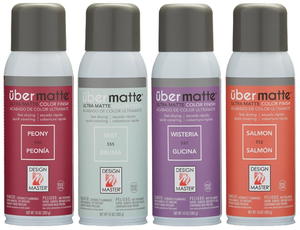 übermatte® Spray Paint
Gifted by: Design Master
dmcolor.com
Reviewed by: Dana Byerwalter, Editor, FaveCrafts.com


Ready yourself for a chic new option for freshening up an old piece of decor. The übermatte® Spray Paint from Design Master is the latest in trendy and effective multi-use spray painting. From updating an old end table to adding a pop of color to a bland glass vase, this new spray paint works quickly and effectively for a beautiful finish.

The übermatte® finishes like it sounds: super matte! The smooth finish is easy to achieve with a few tips and tricks from Design Master. No more than two coats results in a crisp, opaque color, and the paint should finish smoothly without drips or trickles when you apply it from the bottom up. It is the perfect choice when you want an opaque color and you want it fast.

Inspired by nature, übermatte® Spray Paint comes in 12 colors named for flowers, creatures, and more. Radish and Salmon are lovely reddish-pink hues, and Sprout is a springy shade of green. The hues are meant to draw from nature while still giving off a pop of modern, bold, beautiful color. In fact, these colors work particularly well for vases and pots because the natural hues will complement floral arrangements marvelously!

übermatte® Spray Paints are intended for indoor use and offer a scratch-resistant, hard-wearing color. Perhaps the most important quality of this spray paint is its ability to cling to a variety of surfaces. Most plastics take on this spray paint beautifully, and plastic can be a finicky material to paint. Not only will übermatte® provide a beautiful opaque color, but it works on most surfaces.

You can add another coat of übermatte® Spray Paint at any time to your projects. You can also create a patina effect with this spray paint if you're looking for a slight offshoot from the pure opaque. As a fun fact, you can even use this spray paint on Styrofoam™ brand foam! Last, you can use this paint on flowers but be advised that Design Master makes other, more flower-friendly sprays.

Paint quickly, smoothly, and opaquely with übermatte® Spray Paint!

What would you like to paint for your next project?
Your Recently Viewed Projects