39 Patterns for Pet Clothing and More Pet Crafts
Find dog clothing patterns, DIY pet toys, and more ideas in this collection.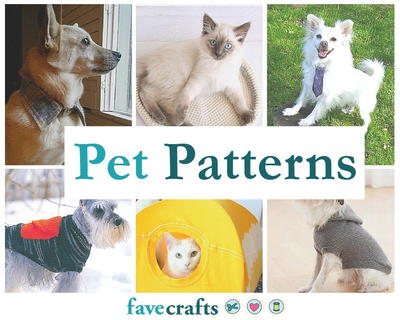 Pets are already adorable to begin with, but adding a homemade article of clothing takes them into cute overload territory! Is there anything cuter than a dog in a dress or a cat in a sweater? Now you can make your pets a stylish wardrobe with our free patterns for pet clothing. Whether you have a dog or a cat, and whether your knit, crochet, or sew, we've got a pattern for you.

Dress up your furry friend in a cute, homemade outfit using our free pet apparel patterns, or maybe make him a stylish collar or leash. These 39 Patterns for Pet Clothing and More Pet Crafts will keep your pet stylish on a budget. Not into primping your pets? We've also got crafty ideas for homemade pet beds, fun treat containers, and home decor that will celebrate your pet.
Table of Contents
If you don't have real-life pets, make a few out of yarn. The adorable projects in our collection will make you say "Awww" over and over again. Get the collection:
Crochet Patterns for Pet Clothing
Dog clothes patterns are so much easier than crafts for humans because dogs can't complain about wearing your creations! Get your hooks and yarn ready to make something cute and stylish for Fido. These crochet patterns for pet clothing will keep your little pooch warm in the winter, not to mention how adorable they'll look!
Knit Dog Clothes
Not a crocheter? Check out these easy craft projects for pet clothing that don't require hooks. You can knit with these ideas.
Got two hours and an urge to craft? We have a great list of projects to keep you busy and engaged. You'll find ideas for jewelry, dresses and even scarves. If you think craft projects require a ton of time and energy, think again. You can start and finish these DIY craft projects while watching your favorite movie or binge-watching your favorite television show. Get the collection: 14 Two Hour Easy Craft Ideas
DIY Pet Clothing
Sew or otherwise DIY pet clothing with these crafty ideas. There are even some fun upcycling ideas for crafty pet owners on a budget. Now you can outfit your animal on the cheap by making homemade pet apparel from a little bit of yarn or some recycled materials.
Craft Project Ideas For Cozy Pet Beds
Give your pet the gift of a good night's sleep (or a good day's sleep) by making a homemade, cozy craft pet bed. The best part about making your pet's bed yourself is that you can make it as soft and cozy and your pet prefers, and you can also match it to your home's decor. Here are our favorite craft project ideas for homemade dog and cat beds.
DIY Crafts For Making Pet Accessories
For a quick and easy way to transform your pet's look, why not try a homemade accessory? These low-commitment crafts for pets are just as adorable as our patterns for pet clothing, but they have a more subtle elegance to them. Your pet will love dressing up like a businessman or a princess. Make these adorable accessories in a jiffy with our easy craft projects.
Easy Craft Projects For Making Dinner For Your Pet
If you have a pet, then you know how important dinner time can be! Make feeding time even more exciting for your fur babies by making these homemade treat containers and other food paraphernalia for Fido. These crafts for pets double as whimsical home decor for your kitchen or pantry as well!
DIY Pet Toys
Once you're done using patterns for pet clothing and making dog and cat accessories and treat jars, try out the rest of our quick and easy crafts for pets. We've got some fun pet toys and more to keep you and your pet occupied!
More Cat and Dog Craft Ideas
Are you a cat person or a dog person?
Your Recently Viewed Projects
Join our community of 5 million crafters!
Get free craft projects, exclusive partner offers, and more.
Thank You for Signing Up!
There was an issue signing you up. Please check your email address, and try again.