Fabulous Felines: 16 Cat Clothing Patterns
Whether you're looking for a snuggle-friendly sweater or a debonair bow tie, you'll find a pattern for every style in this list of DIY cat clothes!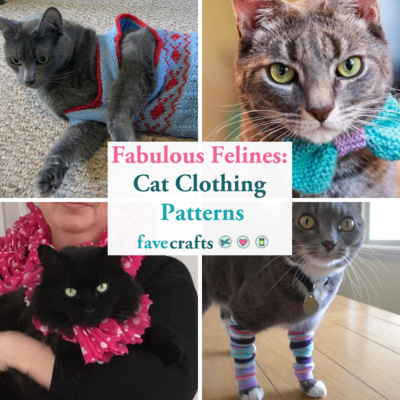 Cat lovers agree: there is nothing more precious than seeing a kitty dressed to the nines in handmade cat clothes! Who can resist a fabulous feline looking hip in a couture sweater? Is it possible not to lose your (and Santa's) cookies over a Christmas kitten collar? Can you imagine anything sweeter than matching scarves for you and your cat? 

Here at FaveCrafts, we know just how head-over-heels you are for cat clothing. That's why we've assembled this downright darling collection of free DIY cat clothes. In this cat-crazy list of clothing tutorials, you'll find a pattern for every kitty style and occasion. From black tie dinners to holiday gift exchanges, there's a snazzy set of cat clothes for your furry friend.

This collection also has a pattern for every crafter, from crocheters to sewists to knitting enthusiasts. No matter your medium or your skill level, you'll find something your kitten will adore. Cat-lovers of all crafting backgrounds can follow their kitty clothing dreams with this list of patterns.

So what are you waiting for? Follow any of these tutorials, and you'll have just as much fun making the clothes as you will seeing your kitty wear them. Get your camera ready for the cuddly and cute times ahead!
Table of Contents
Cat Sweater Patterns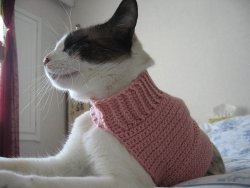 Whether you want to make sure your furry companion is warm during the chilly winter months or chicly dressed for an upscale outing, you're going to need a sweater for the job.

This hip and adorable collection has a sweater pattern for every feline fashion. Your little buddy can be cozy, preppy, academic, or haute couture with these stunning pieces.

There are even cuddly sweaters for the smaller kittens in your life. Patterns like this Mock Turtleneck Sweater for Cats (shown) will make your kitty as snug as a bug.
DIY Cat Collars, Cat Neckwear, & More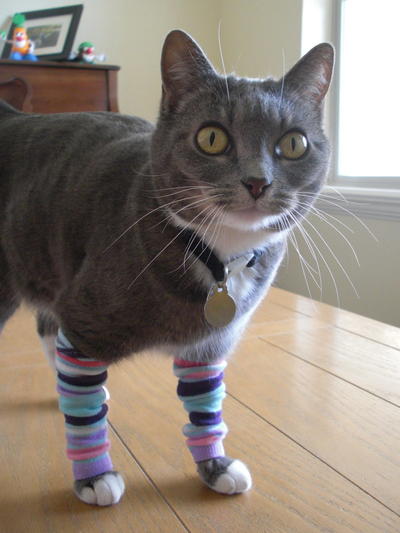 When you dress your kitty companion from head to toe in snazzy gear, you don't want to forget about the most important part: the collar!

Now even your cat's scruff can be as vogue as the rest of her outfit with these trendsetting neckwear and collar patterns. From quirky ruffled scarves to knitted bow ties, this collection has everything your cat clothing collection needs.

There are even patterns for those fussy cats who aren't looking to do up their neckwear, like the Unforgettable Kitty Leg Warmers (shown). Whether you're a dancer or a trendsetting fashionista, these legwarmers are an absolute must!

Even your pet can join in on the purr-fectly precious accessory trend with beginner-level DIY pieces like this. Cozy, comfortable, and cute, there's no way to go wrong with these free patterns.
Cat Costume Patterns and Festive Fashions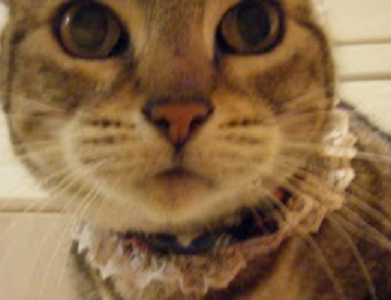 Everybody has a soft spot in their hearts for the holidays, and now you can bring your kitten into the festivities!

Whether you're looking for a Santa-approved jingle bell collar or a trick-or-treat Halloween costume, this collection has a piece for your cat.

Every season can get your kitty into the celebration spirit with these adorable patterns, like the Snazzy Cat Collar (shown). It's never too soon to deck the halls with Christmas cheer and to give your fuzzy companions a holiday treat they'll adore.
If Shark Week is your favorite time of the year, then why not let your best feline friend join in on the frenzy? This adorable DIY Shark Fin Cat Costume will make any cat look ferocious as a killer shark this Halloween, and it's a cinch to put on!
If your kitty is purrfectly into poinsettias, this beautiful collar is a must-make crochet pattern for her to wear every Christmas!
How do you like to dress your cat? Let us know below in the comments!
Your Recently Viewed Projects