23 DIY Geeky Gifts for Nerds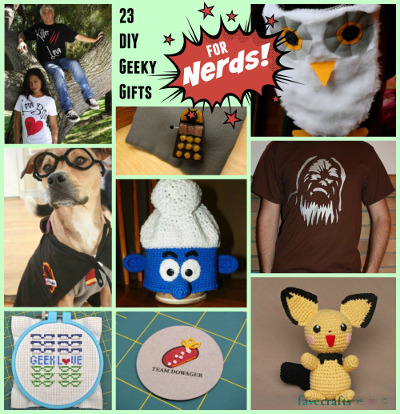 I think it's safe to say that we all have something we are geeky over. For some, it's TV shows and movies, and for others it's techie toys and sciences. So when it comes time to going gift shopping for your favorite geek, sometimes the best thing to do is to make something yourself!

With this collection of 23 DIY Geeky Gifts for Nerds, you'll be able to make geeky tee shirts, geek Halloween costumes, superhero crafts, and even some fun and nerdy geek home décor!

Our collection of funny tee shirts and other geek clothing is great for nerds of all kinds. This Smurf Hat, for example, will be appreciated by almost anyone who watched the show growing up. And with the release of the recent Smurf movie, there are new Smurf fans born every day!

If you want to deck your halls with some wonderful geek home décor, look no further than the Vintage Tripod Lamp. This useful art piece is made with a vintage camera tripod, so it's great for antique collectors and shutterbugs.

Finally, we were sure to include some other fun gifts for nerds, like this cute I Heart my iPad Case. This is a great gift for a techie geek. Gadgets need love, too…and you can show your favorite gadget some love with this easy crocheted pattern.

Cool gifts for nerds don't have to be calculator covers and pocket protectors. With these 23 DIY Geeky Gifts for Nerds, you can prove to everyone that geek is chic!
23 DIY Geeky Gifts for Nerds Table of Contents
Geeky Tee Shirts and Other Wearables
Whether you're looking to express your inner geek or you need some fun geek tee shirts for your friend, we have lots of great geek clothing in this collection of Geeky Tee Shirts and Other Wearables. Sing a happy song in a Smurf hat, or take your puppy with you to Hogwarts in his very own Harry Potter costume!



Great Geek Home Decor
From Twilight party decorations to geek decorations perfect for shutter bugs, these geek house décor items are a great way to show off your hobbies and decorate your home at the same time.



Other DIY Gifts for Nerds
These geek gadgets and toys make great gifts for nerds! From cross stitch to crochet, there's something for everyone in this collection of Other DIY Gifts for Nerds.
Your Recently Viewed Projects