How to Make DIY Guitar Picks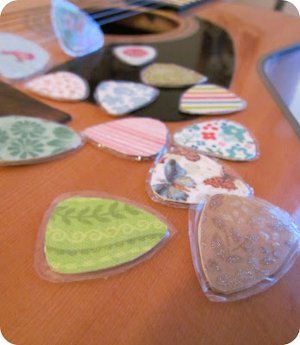 DIY Guitar Picks
Kids and adults alike will love these cute DIY guitar picks. Personalize your pick with unique colors and patterns for a great tool or accessory that will strike a chord with any music lover. These DIY Guitar Picks also make a great gift idea for anyone who's looking to learn how to play the guitar.

From the Editor:
There's nothing quite as fun or as meaningful as giving a handmade gift. These DIY guitar picks are great for your musical friends who love to play guitar. With a special, personalized touch, they will think of you every time they start strumming! Find this project and other great gifts in our collection of craft ideas for boyfriends.

Materials List
Pretty papers, images, magazine cut-outs, etc.
Sharp pencil
Scissors or sharp blade
Adhesive
Laminating folders
Laminator or iron
Guitar pick to use as a template
Instructions
Every guitar player is different, but I like my guitar picks to be pretty sturdy so I put an extra layer of lightweight cardstock in between my papers. Some guitar players like really soft picks. In that case, you don't need to add the extra layer of cardstock. You decide, maybe make a mixture.

If you're adding the cardstock layer, use your template to draw several and cut them out.

Trace your guitar pick shape onto some beautiful scrapbooking paper, an image from a magazine, a photo, or anything else you'd like to use that's fairly flat. Cut out one image for the front and another for the back.

Add a little adhesive and make a sandwich with your papers and cardstock before it goes through the laminator. This just keeps everything in place, you don't need to cover the entire piece (pretty images facing out).

Arrange your picks inside a laminating pouch, making sure to leave enough room between them to seal in the edges.

The first time I did this I tried my iron at home to melt the laminating folder (in between it's cardboard covering sheet).

At first I thought it was a great big fat craft fail, but they turned out just fine.

I did a second batch in the laminator at work.

There aren't as many crinkles surrounding the picks but I still had to take my iron to the edges to make sure they were all sealed in. If I make more, I'll stick with the home iron method.

Once you're laminated all of your pretty little picks cut them out. Try to go as close as you can to the edge without breaking the seal.

And that's it! Now you or your guitar-playing friend are ready to make some beautiful music!
Your Recently Viewed Projects