How to Subscribe and Unsubscribe from Newsletters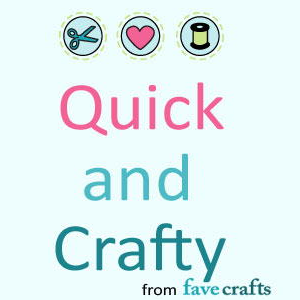 Each month, we have tons of new visitors to FaveCrafts looking to subscribe to our newsletter, Quick and Crafty. We're happy to have you! Our daily email newsletter is much loved by our subscribers and we're so excited to provide five minutes of fun to you every day.

Conversely, we have folks who no longer wish to receive our daily newsletter of quick and easy craft ideas. Perhaps you receive it too frequently (read on to learn about our weekly option!), or perhaps you don't have as much time to craft right now. Below, you'll find a handy step-by-step tutorial for how to subscribe and unsubscribe from FaveCrafts Quick and Crafty.
How to Subscribe
The first option is putting your email address in our drop down when you first arrive at FaveCrafts! This is what that looks like (click the image for a larger version):

If you closed out of this drop down (and you might have done that already if you're reading this article!), the second option is to sign up using this signup box, which can be found in the upper right column of the screen: 

The third option is to scroll down to the footer of our site and click "Subscribe". This option is excellent because if you decide to subscribe to some of our sister site newsletters, you can easily do that here in our subscriber center: 
How to Unsubscribe
At the bottom of every newsletter, there should be a link for a safe and hassle-free unsubscribe. Please note that it can take up to two full business days to be unsubscribed. If you receive any emails from us after 48 hours, please forward an actual sample to customer.service@primecp.com for further review.

At the bottom of our site in the footer, you will also see a link to unsubscribe:

If all else fails, you may unsubscribe here.

Questions, comments, or concerns? Contact us! We'd love to hear from you.
Your Recently Viewed Projects