Best Type of Yarn for Pom Poms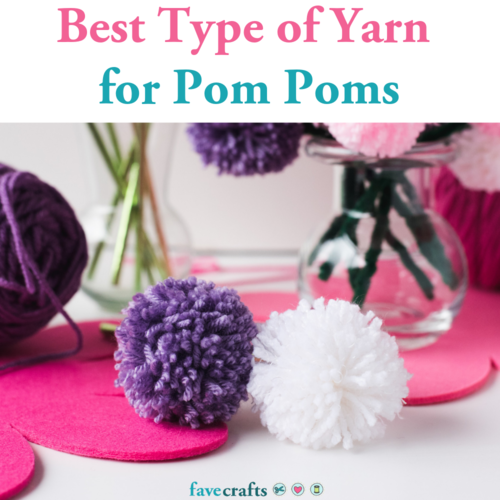 Best Type of Yarn for Pom Poms
Acrylic yarn is the best type of yarn for pom poms. 

Why? See what we think...

It's cheap.

Most craft stores carry acrylic yarn, and it is one of the most affordable types of yarn out there because it's synthetic. If you are making pom poms for a large-scale project like a wreath or rug, the yarn can get expensive in a hurry! Instead, stick with a modern favorite and choose acrylic.

You can find it anywhere.

Take a jaunt over to your local craft store and you will find a variety of styles of acrylic yarn by major brands like Red Heart and Caron, as well as store brands like Craftsmart and I Love This Yarn. 

It's the easiest to wrap.

While you might love the effect of a finer or thicker yarn when making pom poms, be it the adorably raggy look of an ultrafine yarn or the chunky funky appearance of a super bulky yarn, each yarn weight presents its challenges when it comes to the mechanics of wrapping the yarn around the pom pom maker. A thicker yarn is going to wrap QUICKLY, which is fantastic, but it can also be trickier to close the device (if you're working with a pom pom maker) and it can be harder to cut and tie off. Meanwhile, and ultrafine yarn will take you forever to wrap, so if you need to make pom poms in bulk, this is probably not the yarn weight you'll want to choose.

P.S. if you're curious about one technique for making pom poms in bulk, check out Petro's video over at Easy Peasy Creative.
Most importantly, it works up the most nicely.

Laura over at the Little Yellow Wheelbarrow tested five different yarn weights when making her pom poms, and the best looking results were made with acrylic yarn.

Why?

Medium weight acrylic yarn has great give, fluffs back out again if you disturb the pom pom, and best of all, works well for a variety of pom pom sizes. Thicker yarns tend to look awkward or clumpy when you're making small pom poms, and finer yarns are tedius to wrap a million times around the pom pom maker or cardboard tube (whichever your tool of preference). Just look at the orange pom poms in her example image below. You'll see what we mean.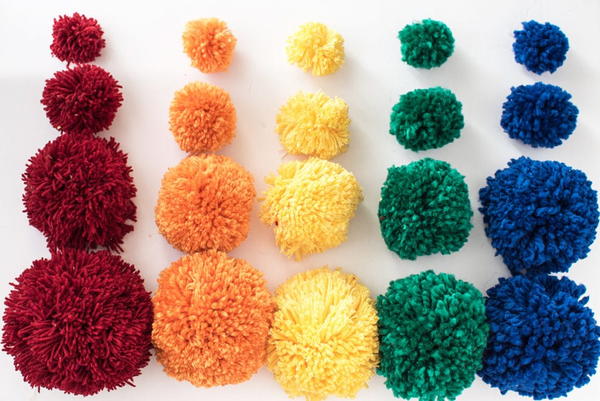 Read more about how Laura's experiment went comparing pom pom sizes and yarn types at her blog, here.
Best Yarn for Fluffy Pom Poms
Some people wonder what the best yarn is specifically for fluffy pom poms. Creating fluffy pom poms is less about the yarn type and more about how many times you wrap the pom pom around the pom pom maker. The more times you wrap it, the fluffier your pom poms will be.

My Poppet has a really wonderful trick for making pom poms look fluffy. It involves using a cat brush, and just look at the difference!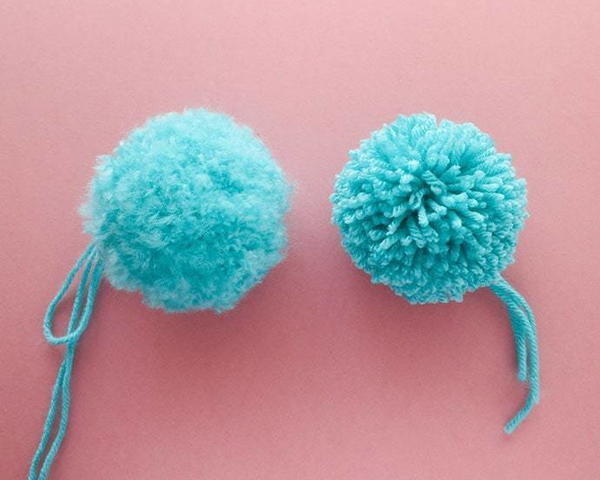 How to Make a Pom Pom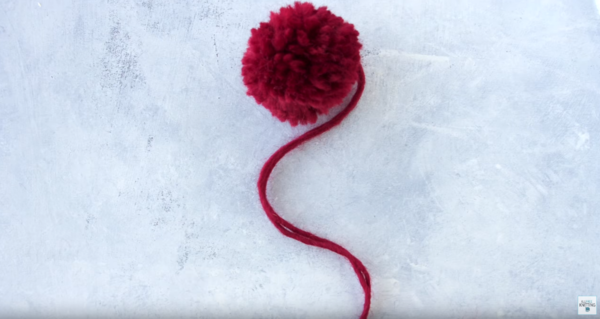 Your Recently Viewed Projects