Home Made Luxe Subscription Box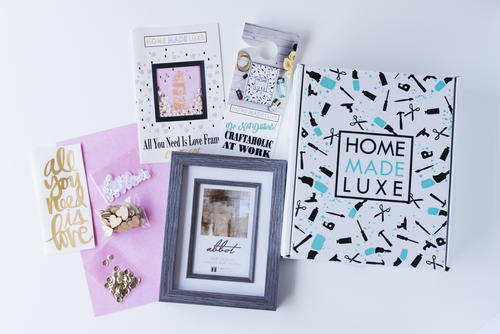 Home Made Luxe Subscription Box
https://homemadeluxe.com
Reviewed by zzz Christine zzz Weiher, Editor, FaveCrafts.com

If you're anything like me then you are obsessed with Pinterest and constantly looking for new crafts to make, new home decor ideas and of course party ideas for the kids. Let's face it though, most of the things I pin never get made or followed through because I just don't have the time to shop for supplies and trying to figure out how to make it. Luckily with Home Made Luxe my life (as well as yours) has just become easier.


Home Made Luxe has a subscription box that they are calling "Pinterest in a box"; every month a box of goodies will be delivered to your door, so you don't have to step foot in a store. Each box contains a set of supplies to make one specific home decor project; it can contain paints and brushes, Mason Jars, wires, wood pieces, paper flowers, ribbon, burlap and so much more.


There are three subscriptions to choose from: a monthly subscription that bills you each month, a three month subscription that bills you ever three months and a six month subscription. Can you imagine making a new craft every month with the materials literally dropped at your doorstep? This is the perfect craft experience for busy moms, business women (and men) and for all those who truly love to craft. It couldn't get an easier!


My favorite subscription box from the past is the DIY Monogram Cutting Board. It's a simple project that you can personalize to fit the mood of your home and also makes a great housewarming gift. This specific kit comes with a cutting board, letter templates, shading tips, a graphite stick, a pencil and tape, cork coasters, pliers and an old washcloth; it's everything you need to make the perfect kitchen decor piece.


The Home Made Luxe subscription is a great way to get crafty every month. Whether you don't have the time to shop or you've been nervous to try something new, this will give you that nudge to introduce you to a whole new world of crafting.

Your Recently Viewed Projects