With a few pieces of felt and scrap holiday fabric, you can create a Christmas tree shaped stocking for your fireplace mantel, banister or anywhere else you would like to hang a pretty Christmas tree. Follow this project from Heidi Borchers of Inspired at Home.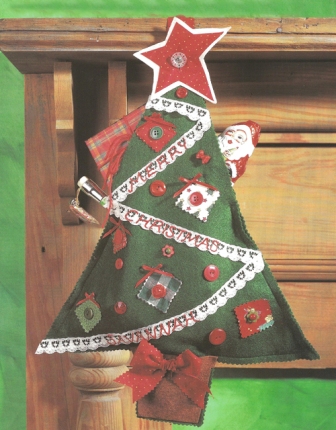 Materials:

Felt – 2 (16" x 20") pieces green, 1 (4" x 6") piece brown, 1 (6") square off-white
Scissors
Pinking shears
Green thread
Iron-on fusible web
Iron
Fabric scraps – assorted holiday prints
Aleene's® Jewel-It™ Glue
33" length ¾" wide off-white lace trim
Buttons – assorted
5 (8") lengths 1/8" wide red satin ribbon
Dimensional paint - red
Instructions:
To cut 1 large tree from each piece of green felt draw triangle 19" tall x 14-1/2" wide at base on 1 piece of felt. Referring to diagram, draw 1 trunk at base of tree. With edges aligned and pattern side up, stack green felt pieces. With pinking shears, cut 2 trees, cutting just inside marked line through both felt layers. With edges aligned and beginning and ending 9" from top of tree, machine-stitch trees together around sides and bottom, using 3/8" seam allowance.

Transfer patterns to felt and cut 1 pot from brown and 1 star from off-white. Fuse web onto wrong side of 1 print fabric scrap. Transfer pattern to fused scrap and cut 1 star, cutting ¼" inside marked line. Center and fuse print star onto off-white felt star. Cut 1 (3/4" long) vertical slit in star to create buttonhole for button. Cut 1 small triangle from remaining green felt and glue to top back of tree for stability. Let dry. Stitching through all layers and placing button 1-1/4" from tree tip, stitch 1 button at top of tree. Slip star over button and glue star to tree. Let dry.

To decorate tree, glue lace trim onto tree for garland effect. (See photo). Let dry. With inking shears, cut several small squares and rectangles from assorted print fabric scraps. Tie each ribbon length into bow. Glue fabric pieces, buttons, and bows to tree as desired. Let dry. With pinking shears, cut 1 (1-1/2" x 14") strip and 1 (1-1/2" x 10") strip from 1 print fabric scrap. Tie 14" strip in bow. Glue bow to top of pot. Let dry. For hanger, fold 10" strip in half to form loop. Glue ends to top back of tree. Let dry. Write message and name on lace trim with dimensional paint. Let dry.
For similar sewing ideas, check out the FREE eBook, "The Sewn Christmas Gifts Guide" on our sister site, AllFreeSewing.com.
Your Recently Viewed Projects