You've Been Booed Free Printable
This boo basket printable sign is a great way to get in the Halloween spirit!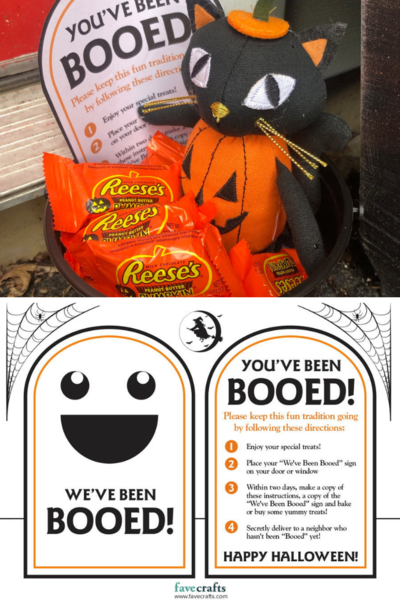 This free printable "You've Been Booed" sign is a great way to get in on this fun Halloween trend!

Exchanging boo baskets is a really fun way to celebrate Halloween in your neighborhood. You can share yummy treats and other goodies, like Netflix or Starbucks gift cards, with your friends and neighbors. It's a great no-contact way to get in the seasonal spirit.

This PDF includes both "You've Been Booed" and "We've Been Booed" Free Printables.

This printable PDF is free to download, so all you need is a printer to get started on your boo basket!

We have a few inspiration photos of cute way to creat a boo basket using this printable. You can use cute containers from the craft store or dollar store and fill them with toys and candy. We love the black cat stuffed animal and Reese's Peanut Butter Cups combo our editor used here!

We've also got lots of other great boo basket ideas in this article, so you can find more inspiration to make a really creative and fun gift.

All you need to do to get started is click, download, and print this free PDF. If you need help with printing, instructions are below!

Download your free "You've Been Booed" PDF here!
Get more craft ideas delivered straight to your inbox! Subscribe to FaveCrafts.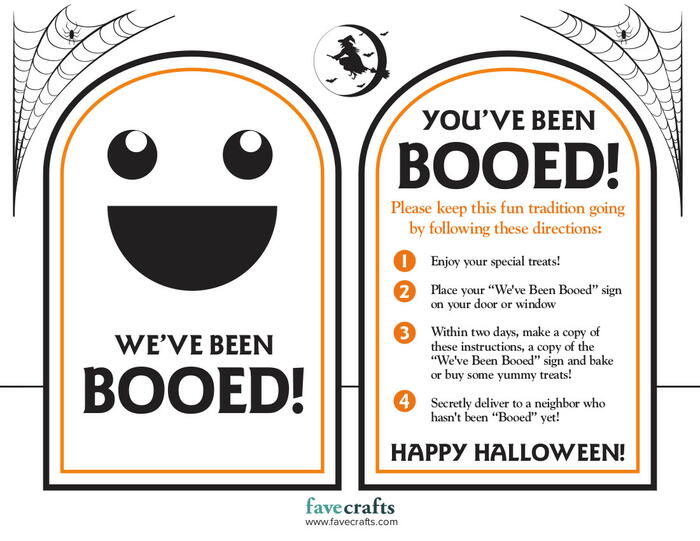 How to Print the PDF
Printing this is as easy as 1-2-3! If you're not familiar with printing PDFs, here's the step-by-step, along with a few tips.
Find and open the PDF.

Pro tip: You may see the download appear at the bottom of your browser window, and you can open it from there. Or check wherever your downloads are set to save to (the Downloads folder is often a default location).

Click the "Print File" button, choose the printer, choose how many copies you want, make any additional adjustments needed for personal preference, and click the "Print" button.
Want Holiday Projects Delivered Straight to Your Inbox?
Your Recently Viewed Projects