16 CD Crafts
These recycled CD crafts are super stunning and great for cleaning out old junk!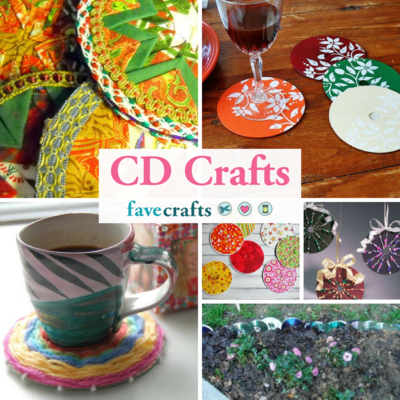 Whether you're cleaning out your music collection or looking for ways to reuse those old computer discs, these old CD crafts will help you find new and fun ways to reuse and recycle your CDs. From clever home decor items to holiday decorations that are sure to spruce up your tree, these CD craft ideas are easy and fun to make for crafters of all skill levels.

New cars these days don't even come with CD players anymore. As music moves more exclusively into the digital sphere, CDs (like VHS tapes and records) are stored in the closet gathering dust. But these shiny discs make fantastic craft supplies! Create a fun disco ball effect on any project by using fragments of CDs; just be careful not to cut yourself on the little pieces.

Wondering how to break CDs? Simply using scissors will do the job, and this is a bit safer than folding the CDs in half to break them. You can even run a CD through a paper shredder that has a setting for credit cards. Applying heat, such as with a hair dryer, will help you cut the layers more easily, or even peel them apart to cut thinner layers if you'd prefer. Good luck! These CD decoration ideas are sure to become staples in your household.

PLUS! Check out the Blogger of the Week, Lynn from Mainely DIY, whose Glistening Snowflake Made From Recycled CD is featured in this collection!
Table of Contents
CD Case Crafts
Bonus!  We also have some great ideas on how to reuse and recycle those CD jewel cases!
Great for displaying photos of your kids and grandkids, this CD Case Picture Frame hangs on the wall and lends itself well to any number of decoration ideas.
This amazingly beautiful pendant lamp is made entirely of CD jewel cases!  Great for an entryway or living room, this lovely lamp is not only thrifty, but dazzling and fashionable as well.
Have you ever tried crafting with CDs?  We'd love to hear what you made!  Share your successes in the comments below!
Your Recently Viewed Projects