Bird's Nest Photo Box
Paint a beautiful spring scene complete with bird's nest and vibrant flowers to store your photographs and other memories. This painted storage box makes a great Mother's Day gift or birthday gift.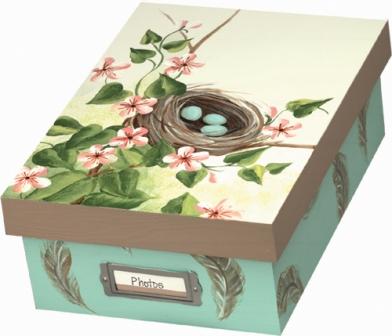 Materials:
DecoArt Products Required:

Americana Acrylics
DAO1 - Snow (Titanium) White
DAO17 - Georgia Clay
DAO52 - Avocado
DAO61 - Sable Brown
DAO64 - Burnt Umber
DAO67 - Lamp (Ebony) Black
DAO87 - Indian Turquoise
DAO92 - Mink Tan
DAO95 - Neutral Grey
DA131 - Hauser Light Green
DA251 - Melon
DA253 - Pistachio Mint
DA254 - Avocado Dip
DA257 - Bleached Sand
Americana Brushes
DBL1580-B - Script Liner 10/0
DBR2002-B - Round 2
DBR2006-B - Round 6
DBFB4510-B - Filbert 10
Brush 'N Blend Extender
DAS1 - Brush 'n Blend Extender
Americana Spray Sealers
DAS12 - Americana Gloss Spray
Other Supplies:
12 flat brush
8 flat brush
4 fan brush
Small sea sponge
Foam plate
Unfinished wood photo box with lid, Don Mechanic Ent., Ltd., 385255

Instructions:
Use Bleached Sand to paint lid top and Mink Tan for lid sides.

Mix equal parts of Bleached Sand, Pistachio Mint, and Indian Turquoise to paint box base. Reserve remaining paint for eggs.

Referring to photo for placement, use 2 round brush and Neutral Grey to paint curved lines for center quill of feathers around box base sides.

Mix equal parts of Brush n Blend Extender and Sable Brown; use fan brush to make inward curved strokes for feather blade toward center of each feather.

Mix equal parts of Brush n Blend and Neutral Grey; use fan brush to make shorter strokes toward center of feathers.

Use 2 round brush and Bleached Sand to paint light streaks on feather.

Trace pattern onto lid.

Use 6 round brush to paint inner area of nest Burnt Umber.

Following curve of inner nest area, use fan brush and Neutral Grey to paint straw in deepest section of nest; use Mink Tan for straw near upper edge.

Paint outside of nest using fan brush double loaded with Burnt Umber and Sable Brown. Twisting bristle tips of fan brush to follow curve of nest and overlapping edges unevenly for loose straw, use Mink Tan thinned with water to paint straw details; repeat with Bleached Sand, Sable Brown, and Neutral Grey for straw details.

Use 6 round brush and paint mixture from Step 2 to paint egg shapes. Thin Burnt Umber with water to add shading on underside of egg. Highlight egg with thinned mixture of Snow White. For shading on nest under eggs, blend equal amounts of Brush n Blend Extender with Lamp Black and use round brush to add shadows.

Mix equal parts Brush n Blend and Avocado; use liner brush to paint stems.

For branches, double load 2 round brush with Sable Brown and Burnt Umber.

Sponge on Avocado diluted with water over bottom left corner area, lightly covering about one-third of box.

For larger leaves, double load 12 flat brush with Avocado and Hauser Light Green; repeat with 8 flat brush for smaller leaves. For highlighted areas, go over some leaves with double loaded brush of Avocado Dip and Hauser Light Green.

For flower petals, double load filbert brush with Snow White and Melon, flattening brush at outer edge and pulling inward while lifting brush as it approaches center. For flower details, use liner brush and Georgia Clay to paint small vein lines of uneven lengths from center. Use end of brush dipped into Burnt Umber to add dots at centers of flowers.

When paint has thoroughly dried, spray box and lid with Americana Gloss Spray.
Note:
Allow paint to dry between coats. A hair dryer on low temperature setting can be used to speed drying process. Practice techniques for painting designs on paper before painting box.
Your Recently Viewed Projects
Join our community of 5 million crafters!
Get free craft projects, exclusive partner offers, and more.
Thank You for Signing Up!
There was an issue signing you up. Please check your email address, and try again.