24 Craft Ideas for Seashells
These seashell crafts for adults are perfect for your home decor.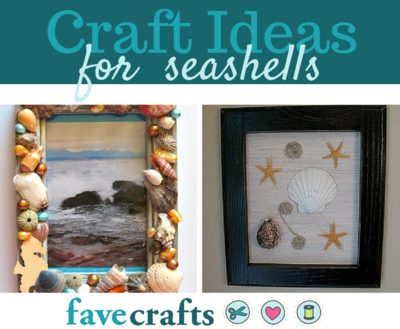 Picked up a few seashells during your last beach trip? Or have a seashell collection you'd like to show off? Here are our readers' ideas for how to use those seashells in beautiful crafts. Add a touch of the salted sea air without all the annoying sand when you learn how to make crafts with seashells. Seashell décor is a pretty way to make your nautical touches come with a side of nature.

These seashell crafts for adults were designed by our readers and are tried and true ways to add a bit of seashell style to your home. Perfect for your bathroom, beach house, or summer home décor DIY crafts, these 24 Craft Ideas for Seashells are sure to transform your space.
Seashell Crafts to Make
These crafts with shells are incredible.
Seashell Crafts from Our Readers
Seashell Lamp
by Judith Pearson

Last year for Christmas, my sister used her collection of shells to fill the inside of clear glass lamps. Of course, large lamps take more shells to fill than smaller lamps. Another person had taken an empty lamp of clear glass and was filling it with match packets from every place he visited.
What do Do with Seashells
by Debi Pearce
Hot glue shells to a picture frame.


Give your bathroom an ocean theme by putting up a net and filling it with the shells. You can also put shells on the walls with stickpins.


Make a decorative box with seashells glued on top or around the sides.


Put the shells into an aquarium, but make sure you add the shells several weeks before putting fish in the aquarium.
Seashell Scene/Scented Oil Plug In
by Jill Windsor

Fill a rose bowl with seashells and wind a miniature 20 light set of Christmas lights through the shells.   Top with a piece of crochet, or lace and tie with a ribbon - red or green for Christmas. Add a couple of drops of scented oil - plug in and you have a beautiful homemade "scented oil plug in". 
Seashell Frame
by Tami Lott

I had someone build some plain flat wooden frames for me. Then I painted them, and glued the seashells on them. You can also use pine bark nuggets to make a pretty frame. Let your imagination run wild.
Seashell Chimes
by Jan Bachelder

Seashells make great wind chimes! Drill holes and string them from large to small, hang from crossed dowels painted in a complimentary color.
Seashell Ideas
by Jean
Use them to cover indoor plant pots. Hot glue should make it quick and easy.


Cover boxes with them. 


Use them as the handles for other boxes. 


My daughter gave me a larger one to use as a soap dish in the bathroom. Smaller shells were used for the feet. I don't use bar soap, so I use it as a trinket holder
Shell Angels
by Kim Caswell

I have been making shell angels for years. They are quick and easy to assemble with hot glue. The hardest part is matching the right shells.
The bigger or wider shells are for the "skirt/dress." Lay the "bowl" part of the shell downward and color match two smaller shells for the wings.


Glue these together end to end to look like a bow tie. 


Use one even smaller shell for the head. Glue this at the center of the "bow tie" (bowl side down).


Then, glue the "wings & head" to the top of the larger shell, so the rounder portion of the shell is at the bottom. No need for a face.


Make a tiny bow from 1/8" ribbon and use it to hide the area connecting all the shells. This creates the look of having a body. A small rosebud is a nice touch. 


On some, you can even cascade tiny buds or flowers along one edge or side of the skirt. 


Make a loop about 3" long of 1/8" ribbon and glue to the back of the head to hang inside the "bowl." 


These make great ornaments, gift package toppers, and even to hang from a rear-view mirror.
Sailor's Valentine
by Anonymous

In the early sea going days, sailors would collect shells from all over the world and create what is called a "sailor's valentine." I took that idea and created many gifts! All it is a box (I use deep picture frames or sturdy decorative 1 to 2 in. deep boxes that prepackaged items come in like perfume gift boxes).
Cut strips from a plastic or paper milk container making them as wide as the box is deep. 


Cover them with gold, silver, or any coordinating contact paper. 


Trace a design (I use PA Dutch Hex designs) in the bottom of box. 


Glue the covered strips onto lines to create well compartments. 


Glue 1/4 " thick poly quilt fiber in each compartment and place shells into each well. You can sort them by color, type, etc. to create a visual design.


Next, take the lid, or make one. Cut out the top leaving 1/4 in. border around the top of the lid.


Glue a plastic window inside to create the picture frame glass. Place on box, make holes on each side corner of box to put straight pin in to secure. 


Glue lid and put pins in.


Now you have a beautiful gift or memory box from a shore trip etc. I also use this same technique to make picture frames by making the wells only around the centered picture. I then put a picture in and glue a small shell at each corner of photo (on the wall sides, not on photo). This will help hold the photo so it doesn't fall forward when hung on wall.
Decorating with Shells
by Roberta Blan

Use small shells for decorating picture frames. Large clam type shells can be used for holiday decorations; use miniature trees and people with a picture of snow scenery. Drill a hole in the top of each shell, glue picture to inside of shell, and then glue trees and people (carolers, animals, etc.) to the back of the shell. Use paints to finish, add names, greetings etc. Then string a ribbon or cord through hole and hang. Mine have been hanging outside for 9 years. Use the ones that look like conch shells and glue silk flowers inside in proportion to size. My children took the flat sand dollars and painted them with Happy Birthday, Merry Christmas, and all the other greeting that they could think of, drilled a small hole in each, and put wire through for hanging. 
Seashell Collage
by Bonnie Turner

I've made several using small pieces of driftwood, sea shells and small, pretty stones - all picked up at the beach.   Get a piece of board (plywood, etc.) and cut it into a 1 ft. x 2ft. size. Glue the driftwood, stones and shells in a pattern with a good strong glue (not Elmer's - an epoxy type is better). Add a hook on the back or string wire from the top to hang it. My Mother has 2 of them: one on an inside wall and the other on the outside. She removes the outside one when it's too stormy but it does survive quite well outside.
Decorating a Bathroom with Seashells
by Kathy

The latest thing I have done is I just recently decorated my bathroom with a sea theme, lighthouses and beach things. Of course I used shells. I filled a bowl with sea sand and put the shells on top in arrangement that was pleasing to me. I bought some gel candles from the craft store. I then melted the candle gel, put in a wick; you have to anchor the wick down. It will float to top otherwise (I found out the hard way.) Then pour (slowly) the melted gel in bowl on top of everything. After it set up, it was cute. You could hot glue tiny shells around top or tie raffia around the top of the bowl and glue a shell on the bow. I also have glued the small shells around the frame on a mirror, framed sea shells in a shadow box frame, and glued the shells on the roof of bird houses to look like shingles. Hope this will get your creative crafting juices flowing!
Seashell Craft Video: DIY Seashell, seaglass and sand Candles
Your Recently Viewed Projects