Beach and Seashell Glass Candle Rings
Surround your candles with the look of the beach. Seashells and starfish are going to make these candle rings remind you of summertime. These are great for having people over.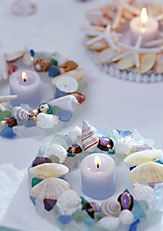 Materials:
STYROFOAM* Brand Foam:

Wreath, 6" X 1-1/4" X 1-1/4"

Seashells, 2" or smaller, about nine assorted pair
Sea glass, 1" or smaller, pale blue/green/white assortment
Shell/Glass Rings (front, left center):
Shell/Starfish Ring (top right):
Shells: whole tellin or scallop, about 18; 3/4" turrids, about 50
Votive candle
Low-temp glue gun and glue sticks
Thick, white craft glue
Small starfish, five
Optional: Matte-finish white spray paint
Instructions:
Shell/Glass Rings:
Wash and dry shells and sea glass if needed.

For formal look (front), glue pairs of shells to foam wreath, opposite one another. Begin with largest shells, moving to smallest. Fill spaces between shells with sea glass.

For more casual, natural look (left center), glue a favorite large shell to wreath, then surround with smaller shells and sea glass. Continue until entire top of wreath is covered. Glue sea glass to inner and outer foam edges.
Shell/Starfish Ring:
For starfish ring (top), paint turrid shells white if desired; let dry. Glue shells around wreath edge, close together with points up; let dry.

Glue large shells to top of wreath, facing one direction and slightly overlapped. Glue starfish to top of shells as shown. Let dry.

®™ Trademark of The Dow Chemical Company ("Dow") or an affiliated company of Dow. For more project ideas, please see styrofoamstyle.com.
Your Recently Viewed Projects