24 Free Crochet Doily Patterns for Beginners
Learn how to crochet a doily with the free doily patterns in this collection.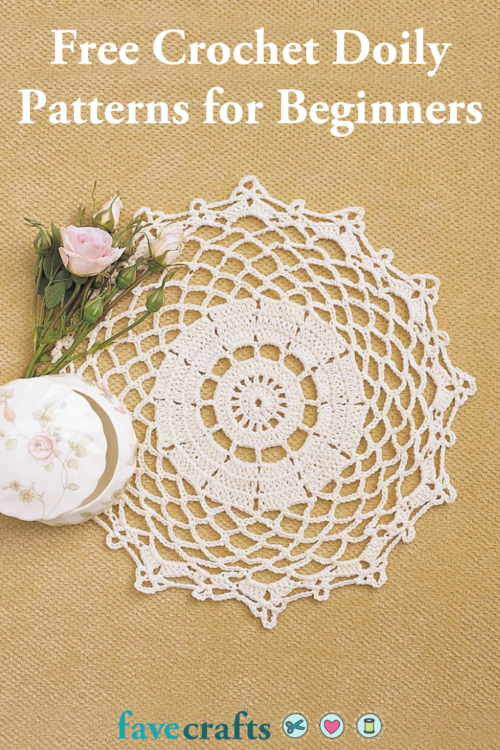 With these free crochet doily patterns for beginners, you'll be able to add a lovely lace accent to any room in your home. Doilies work up quickly and don't require much yarn. Great for gift giving and doing your own home decorating, these free easy crochet doily patterns for beginners are just the thing if you're looking for simple and fun crochet projects to get you through a rainy day or a lazy weekend.

Crochet doilies add a vintage touch to your home decor. You can place them under a potted plant or a vase for a lovely table accent that will give your room a whole new look. You could even turn crocheted doilies into bowls, table runners, or wall art. If you want to give your doilies a more modern, fun and funky look, use brightly colored yarn or multi-colored yarn! The possibilities are endless with these quick and easy crochet patterns.

If you love what you're reading, let us know by subscribing to our newsletter: Quick and Crafty.

What is the easiest crochet pattern to make?

If you are a true beginner to crochet, put these doily patterns on hold. Although these are great easy doily patterns, true beginners to crochet should focus on simpler projects like dishcloths, scarves, and even blankets first.

What is the best yarn for crochet doilies?

Traditionally crochet thread, fine weight, or lace weight yarn is used to make doilies. However, many of the patterns below use heavier yarn weights like DK and worsted, so your patterns will work up more quickly!

What size crochet hook to use for doilies?

This will depend on the pattern you choose below! Generally stick with the suggested hook for the yarn weight used in the pattern. Enjoy!
Your Recently Viewed Projects