Arnold Grummer's Paper Making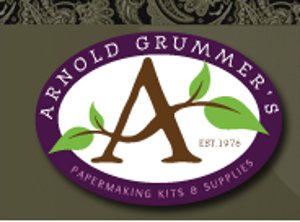 Arnold Grummer's is a family owned business, started in 1976 with a request from a school supply catalog for paper making kits for teachers. Since then, the business has grown to become a leading supplier for paper making kits and accessories for the home and classroom. The business office is located in the Historic Third Ward of Milwaukee, WI.
Arnold Grummer has been making paper for more than 30 years, first as a faculty member of the Institute of Paper Chemistry, then as curator of the Dard Hunter Paper Museum, and currently as the President of Greg Markim Inc. He has written four books and dozens of articles on paper science and paper crafting. He teaches preschoolers, FBI forensic scientists, printers, artists, and corporate executives about the miracles of fibers and hydrogen bonding in paper.
Arnold's credits include television programs, Smithsonian presentations, and paper making with visiting dignitaries and a U.S. President.
In 1999 the prestigious paper making society, Friends of Dard Hunter, captured the essence of Arnold's distinctive contribution with it's first-ever Lifetime Achievement Award: "For advancing the art of paper making...and sharing your infectious joy of the craft with us all."

Projects on FaveCrafts:
Video Projects on FaveCrafts:
Products Reviewed on FaveCrafts:
Links:
Like Arnold Grummer on Facebook
Your Recently Viewed Projects