50+ DIY Tablescape Ideas for Christmas
Find the perfect centerpieces, place settings, table runners, and more!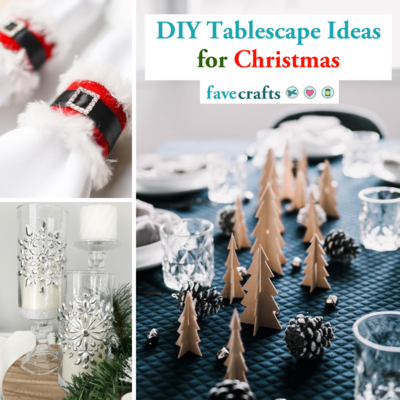 Everyone knows we eat with our eyes before we eat with our mouths. You want your table to look scrumptious, but how? With the perfect tablescape, which you can find here! Read along for our top DIY tablescape ideas for Christmas.

Hosting for the holidays might be something you do all the time, or it could be a new challenge for you. There's a lot of pressure put on first-time hosts, especially for Christmas, but don't worry! We've all been there, and it's going to be okay. 

The grand holiday dinner of your dreams can be a reality. And before you even think about it, yes! Your Christmas get together can look classy and expensive, when in reality it's only a few dollars and some DIYs. From Christmas table centerpieces to DIY Christmas coasters and dinner party decorations, you're going to knock this holiday table out of the park!
Table of Contents
Your Recently Viewed Projects