How to Make Natural Dyes for Fabric
Protect the earth and your wallet by making organic fabric dyes from items in your own backyard.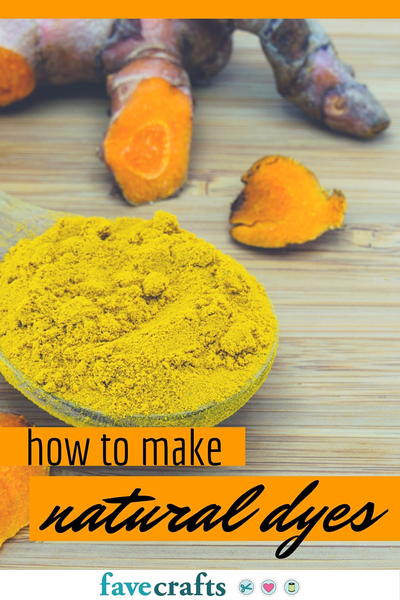 How to Make Natural Dyes for Fabric
Bright colors make fantastic clothing and crafts! They're not always great for the environment, though. For example, the chemicals used in creating synthetic dyes often run into rivers and pollute natural drinking water. While organic dyes aren't quite as vibrant as man-made dyes, they greatly reduce the amount of chemicals we leave behind.

One of the biggest advantages of learning how to make natural dyes is that you can make them from items you see or use every day, like the acorns in the park, the spinach in your garden, or the tea hiding in your kitchen cabinet.

There's no need to purchase pricey natural dyes online. If you want to go green with your crafting without spending a lot of "green," try making your own natural dyes for fabric. They are perfect for creating dyed T-shirts, scarves, or leggings. The softer color palette of natural dyes creates a chic, Bohemian look. You can also use organic dyes as paints for your artwork or other DIY craft ideas.

Indigo, one of the most commonly known natural dyes, traces its origin back to India. Other organic dyes, such as turmeric or dandelion roots, are less well-known but easier for the average crafter to find. Check out the steps below to learn how to make natural dyes for future DIY tie-dye projects.
Organic dyes stain skin just as much as synthetic dyes do, so make sure you take the proper precautions by wearing rubber gloves while doing any type of dyeing craft. If you do get some dye on your hands, however, there are ways to safely remove dye from skin. Check out this tutorial onHow to Remove Tie Dye from Skin
Materials List
For RED dye, use: Pomegranates, raspberries, beets, red hibiscus flowers, madder root, red leaves, or bloodroot
For REDDISH PURPLE dye, use: Red sumac berries, day lilies, or huckleberries
For PINK dye, use: Strawberries, cherries, roses, lavender, red onion skins, or avocado peels and pits
For ORANGE dye, use: Carrots, onion skins, butternut squash husks, or orange peels
For YELLOW dye, use: Marigolds, sunflower petals, dandelion flowers, bay leaves, paprika, turmeric powder, Queen Anne's Lace, or celery leaves
For GREEN dye, use: Artichokes, spinach, peppermint leaves, carrot tops, snapdragons, lilac flowers, grass, or nettles
For BLUE dye, use: Indigo, red cabbage leaves, blueberries, cornflower petals, hyacinth flowers, or dogwood bark
For PURPLE dye, use: Blueberries, blackberries, mulberries, red cabbage leaves, coneflowers, or purple grape skins
For TAN or BROWN dye, use: Dandelion roots, oak bark, walnut hulls, tea, coffee grounds, or acorns
For GRAY or BLACK dye, use: Walnut husks, sumac leaves, blackberries, jade plants, or iris roots
           Warning: Some plants may be toxic. Keep away from eyes and mouth.
Instructions
Prepare your fabric: Wash the fabric but don't dry it. 

Soak your fabric: To help the colors "set" into the fabric, soak it first in a fixitive solution. If you are using berries to dye your fabric, soak it in a mixture of 1/2-cup salt to eight cups of cold water. For any other plant-based material, soak it in four parts cold water to one part vinegar. Simmer the cloth in the fixitive for an hour. Rinse it in cool water until the water runs clear. Squeeze out the excess liquid.

Protect your surface: Put down a plastic tablecloth or layer of newspapers on your work surface to protect it from the dye. Make sure you also wear rubber gloves to prevent getting color on your hands.

Prepare your dye: Chop your berries, leaves, or whatever natural dye material you are using into small pieces. Make sure you are using ripe, fresh materials (not frozen or dried). Dump the pieces into a stainless steel pot. Fill it with twice as much water as the amount of plant material you are using. Bring the water to a boil, then simmer the mixture for an hour until you get a rich, dark color. Strain out the plant material and return the liquid to the pot.
Note: Pots and spoons may become stained during the dyeing process, so you might want to use older pieces for this project.

Get dyeing: Place the fabric in the dye. Bring it to a boil again and then simmer for an hour, stirring occasionally. 

Let it sit: Turn off the burner and check the color of your fabric. If you want a lighter wash of color, remove it from the pot. If you want a darker color, leave it in a while longer. The longer you let the cloth sit in the dye, the deeper the color will be. You could even let it soak overnight.
Note: The color will look lighter when the fabric is dry than it does when it's wet.

Wash it: Remove the fabric from the dye and wash it separately in cold water. Some excess dye will run out during this process. 

Dry it: Dry the fabric as you normally would.
More DIY Projects to Dye For
Your Recently Viewed Projects
Join our community of 5 million crafters!
Get free craft projects, exclusive partner offers, and more.
Thank You for Signing Up!
There was an issue signing you up. Please check your email address, and try again.