Pink Berries Tie Dye Skirt
Different shades of pink pull this skirt together. Once you sew the sateen cotton fabric together you can have an amazing skirt. Find this project from I Love to Create in the free eBook for fabric dye inspiration and instruction, Fun with Fabric Dye.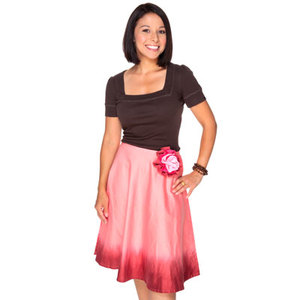 Materials:
Tulip Custom Dye Color Kit
Sewing machine
Plastic cooking spoon
Skirt pattern – Simplicity #2906
Salt
Flat plastic bin
Fabric #175521 – cotton sateen – white – 2½ yards
Scissors
Safety pins
Tablespoon
Rubber bands
Rubber gloves
Felt pen
Large plastic bucket
Sewing pins
Needle and thread to match
Instructions:
Sew cotton sateen fabric into skirt following pattern instructions.

Cut 3 strips 8" X 24" from scrap fabric.

Fill large bucket with one gallon of hot water following dye package instructions. Add four tablespoons of salt then use plastic spoon to stir until dissolved.

Wearing rubber gloves, carefully cut open dye packages then pour into included jars. Use a permanent felt pen to mark colors on outside of each jar.

Follow recipe to create Guava color from included Recipe Book. Use spoon to thoroughly mix. Immerse skirt and one strip of fabric into mixture then stir with spoon for 15 minutes – this will ensure even dying. After 15 minutes stir every so often for 45 minutes.

Rinse both pieces under water then wash in washer with small amount of laundry soap. Dry in drier and iron smooth.

To create darker color at hem, place skirt on work surface then starting at one side and about 8" up from hem, scrunch fabric together following curve of hem. Rubber band tightly at the 8" mark to secure fabric.

Fill flat plastic bin with a gallon of hot water then repeat dyeing step using recipe for Wild Current. Place a second strip of fabric in dye then dip hem of skirt up to rubber band into dye and swish around for 15 minutes. Lay remainder of skirt over edge of bin, letting dyed section steep in dye for 45 minutes following package instructions.

Carefully cut off rubber band then wash, dry and iron skirt and fabric strip.

Dye third section Pink Salmon, repeating steps above.

To create flower, cut strips into 5" X 18" strips. Fold in half lengthwise, right sides out then fold under one end about ½". Use needle and matching thread to sew a gather stitch along cut edge, tightly gathering. Knot off other end. Repeat step with remaining strips.

Starting with light strip, roll end then stitch along the way to secure. Add medium shade and keep stitching, adding darkest last.

Use safety pins to pin where desired.
Your Recently Viewed Projects