Light & Bright Tie Dye Shirt
This sweater from I Love to Create is a great one to make yourself. It only takes a few steps and you can wear it to an 80's party too. Scrunch the shirt together and get coloring.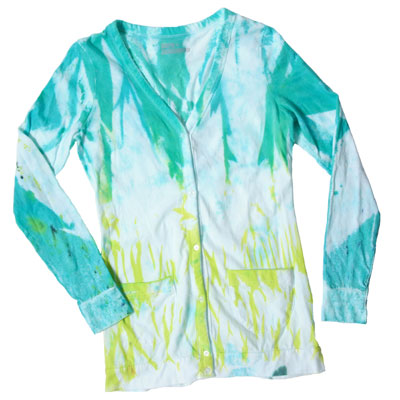 Materials:
Tulip® Dye Techniques Kit™
100% cotton sweater - white
PVC pipe - 6" round and 1-foot long
Spray bottle
Steps:
Prewash fabric to remove sizing. Do not use fabric softener.

Cover work surface with trash bags. Lay damp fabric on prepared surface.

Wearing rubber gloves, add water to the Lime dye bottle, following instructions. Replace cap tightly. Shake until dye is dissolved.Lay the bottom portion of the sweater on pipe and scrunch fabric together, leaving upper portion laying out flat.

Squeeze the Lime dye over the scrunched bottom portion of the sweater.

Add water to the Turquoise dye bottle. Replace cap tightly. Shake until dye is dissolved. Pour dye into a spray bottle.

Move the PVC pipe to underneath the top portion of the sweater and scrunch fabric. Spray top portion of sweater with Turquoise dye. (Refer to photo.)

Cover fabric with trash bag or plastic tablecloth. Let sit 4-6 hours. Wash in a large load of water with a small amount of laundry soap. Line dry.
Your Recently Viewed Projects