Asymmetrical Cardigan Tutorial
If you have an oversize T-shirt and aren't sure of what to do with it, check out this Asymmetrical Cardigan Tutorial by Victoria Lavertu for a great craft idea. This project is so simple and easy, and it's a great craft shirt project, perfect for cool summer nights. These are fun ways to make your own clothes.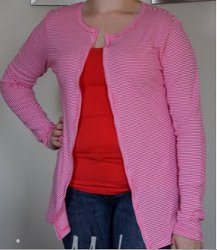 Materials:
1 long sleeved jersey knit shirt (preferably 1-2 sizes too big for the length),
Sewing machine and thread
Scissors or rotary cutter
Instructions:
Take your shirt and cut the front down the middle.

Make two more cuts along the sides just behind the side seams.

Make about a 4-4.5 inch cut.

Cut across the back to the opposite side where you made your other cut. Add about a 1/2 an inch to make a seam.

Fold up that flap and pin to make your hem for the back.

Sew your hem.

With the cut piece, cut one inch strips horizontally. Repeat two more times.

With each piece, wrap the front openings of your cardigan. Pin in place. Your piece will only go down two thirds of the way or more, so you can use the third strip to add to it.

Cut the end off so it lines up with your bottom hem.Do both sides.

Now sew along your openings. Sew as close as you can to the cut edge of your strip so your strips aren't flapping or rolling to much after it's washed.

Iron your edges and you are done.

Your Recently Viewed Projects