How to Use Tulip Permanent Fabric Dye
These Tulip fabric dye instructions will prepare you for your next project!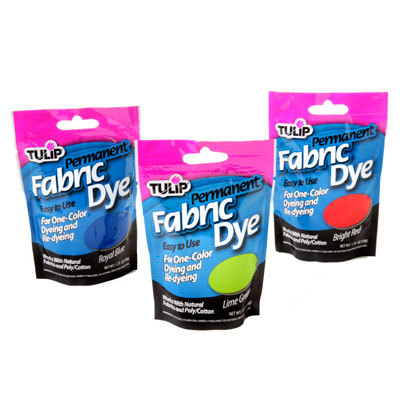 How to Use Tulip Permanent Fabric Dye
Follow these instructions from I Love to Create to dye fabric with Tulip Permanent Fabric Dye. Read these instructions before you begin a tie-dye project.

Once you've read the Tulip Fabric dye directions, be sure to explore 50 Tie Dye Craft Projects and How to Tie Dye to learn all about the different techniques and projects you can do with Fabric Dye!

Notes:
One pack dyes up to 1/2 lb. fabric (ex. men's extra-large shirt) to full shade shown on package.
Colors are mixable to create new custom colors
Works best on 100% cotton, linen, ramie and rayon; wool, silk and polyester/cotton mixes will dye to lighter shades
View iLoveToCreate's video on the types of dye best for each project. Skip to 1:50 to learn about Tulip Permanent Fabric Dye.
How to Use Tulip Permanent Fabric Dye Instructions
Fill bowl or stainless steel sink with one gallon of STEAMING HOT water. 

Stir in 1/4 cup (4 Tablespoons) salt. 

Pour in dye packet and stir until dissolved. 

Submerge fabric in dye mixture. 

Stir continually for 15 minutes, and then occasionally for 45 minutes. 

Rinse fabric in cold water. Wash in warm water and dry away from direct heat and sunlight.
What is your favorite type of fabric dye to use?
Your Recently Viewed Projects