How to Watercolor Flawlessly for Beginners
From how much water to use to the watercolor techniques you need for just about every project, this how to paint tutorial is a must-read resource.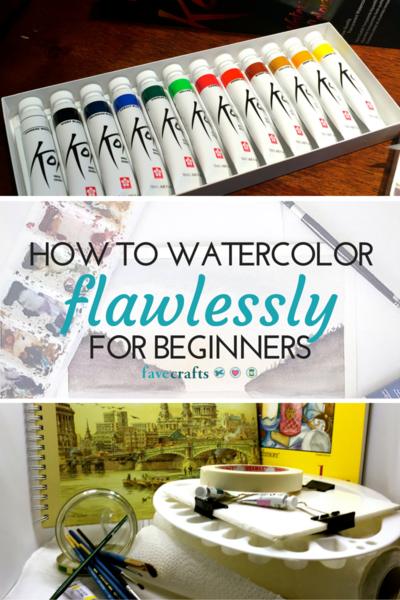 How to Watercolor Flawlessly for Beginners
Whether you are an accomplished artist or just a casual crafter looking for a new way to add color to your life, learning how to watercolor is a stunning, lovely way to not only create but add happy hues to your life. Trendy and totally do-able, projects like this Absurdly Simple Watercolor Landscape are a fabulous way to darling up your DIY crafts. From DIY wall art ideas to handmade cards, this popular paint type is showing up everywhere these days.

With this in mind, the FaveCrafts staff decided to ask one of our favorite designers to show us how to paint with watercolors! Armed with this article, you will be ready to add this amazing technique to your crafting skills.

Watercolor painting is a trendy hobby as well as an economical way to relax and express yourself. If you've been nervous about testing out the hobby, fear no more! The tutorial below is here to help and give you the confidence to keep on painting.

 
Find even more how to paint and how to draw tutorials in this list of crafting videos. This fantastic how-tos will have you making wow-factor art in a matter of minutes: Marvy Uchida Tips and Tricks for Drawing
Getting Started with Watercolor Paints
For beginners, if you already own, or if your children own water colour paints, start there.  Get a feel for the techniques. Use some good thick paper too.  If you are ready for your very own watercolor paint supplies collection check out the suggested materials section below.
Suggested Materials
It is recommended that even beginners purchase as best a quality of watercolor paints, in tubes preferably, that can they can afford.  If purchasing artist-grade paints is out of your budget then buy some good quality student-grade paints.  The associates in reputable craft supply stores should be able to make some good recommendations. Many beginner kits for student are very good. 
How to Watercolor: Your First Colors

But what colors should you buy?  If you want to purchase individual tubes here is what I suggest:

-Payne's Grey
-Burnt Sienna or Raw Sienna
-Burnt Umber
-Yellow Ochre
-Cadmium Yellow
-Cadmium Red
-Allison Crimson
-Sap Green
-Hooker's Green
-Ultramarine Blue
-Cobalt Blue

Note: There is no need to invest in black or white paints in the beginning.

Recommended Paper

The best papers to use while learning to watercolor paint are those designed especially for the art. These papers will be labeled as such. I suggest Cold-Pressed 90-140 lb. Watercolor Paper

Recommended Brushes

For brushes choose what is sold specifically for water colour, or includes water colour usage.  Artists favor the Sable hair brushes which tend to be pricier.  However, a good synthetic brush is fine for the beginner. Just remember to check to make sure that the brush holds its hair!  Give the hairs on the brush a good flick with your fingers to check for lose strands.

I recommend these sizes/types to start out:

-One inch flat
-#6 Round
-#4 Round
-A liner or Rigger Brush (choose according to personal preference).  

Other Helpful Tools When Painting with Watercolors

The following materials can really lend a hand while you learn how to watercolor. Combine these with the suggested paints and brushes above for an optimal experience.

-Plastic palette with many wells to contain paint and have several larger wells for mixing paints
-Some jars for holding water ( One jar for clean water, and one jar for dirty brush water.)
-A small light spray or squirt bottle
-Paper towels or rags, painter's tape (masking)
-A painting board (made of corrugated plastic, poster board, or masonite).
 
How to Watercolor: Step-by-Step Tutorial
In order to prepare your paint for your project, follow the steps below. Learning how to do this beautiful technique perfectly is a trial and error process. Experiment with brushstrokes, water density, and different supplies until you feel comfortable.
Squeeze out small amounts onto your palette.

Add water to the paint with your brush or squirt from a small spray bottle.

Pick up some paint and move it to a well on your palette, keeping that wet by adding some water, and creating a lot of soupy colour from the paint.  

Paint that is still shiny is wet. Watercolor paints tend to dry lighter than when they are wet. So keep this in mind when creating.

You will then work from this soup .  

Apply the paint to your paper as needed, using light strokes at first, experimenting with the amount of pressure you apply. More pressure means more paint on the page.

Note: Watercolor paints in the palette will dry out but are easily reconstituted with a spritz of water. To keep your palette moist longer, place it in a plastic bag or container during breaks. It is always nicer to work with shiny wet paint.  
How Much Water Do I Need?
Water is the true work horse in watercolor painting.  Learning to use the correct amount to achieve the desired effect takes practice.  Most artists practice a lot by first doing many samples of color washes to get used to working with water and pigment.
When not using enough water you may get a result that appears streaky, or use too much water and the paper will buckle.

(Click the photo below for a closer look.)

Learning to use just the right amount of water may take you some practice.
Finishing Your Painting
Most water colorists know that having a brush that is moist and shiny but not dripping usually gives them the look they want, and makes painting pleasurable. A good tip is to wet your brush in clean water, tap the excess off, and dab the tip of the brush onto a paper towel or blotting paper to absorb the extra water before dipping into the wet water colour paint.
Ready to Use Your Brand New Watercolor Painting Techniques?
Show off your brand new talent with the watercolor craft ideas below! Perfect for beginners, these tutorials show you how to paint like a pro.
If you love learning how to paint, check out this tutorial on how to paint clay pots. Terra cotta pots actually require some extra care and prep, so be sure to check out this full-length painting tutorial before you try! - How to Paint Terra Cotta Pots
What painting techniques do you want to master?
Your Recently Viewed Projects
Join our community of 5 million crafters!
Get free craft projects, exclusive partner offers, and more.
Thank You for Signing Up!
There was an issue signing you up. Please check your email address, and try again.