"23 Fabulous Picnic Craft Ideas + Restaurant Copycat Recipes" free eBook
23 Fabulous Picnic Craft Ideas + Restaurant Copycat Recipes Free eBook from FaveCrafts.com in partnership with AllFreeCopycatRecipes.com
Create the perfect picnic with this free eBook that includes DIY picnic projects, picnic crafts to crochet, picnic craft ideas for kids, best copycat recipes for a picnic and more!
Nothing says summer quite like a picnic. After a long and cold winter season, it's great to get outside and breathe in the fresh air. Plus, the sun and warm temperatures can instantly boost anyone's mood. Whether you have ten minutes or a full afternoon to spend outside, you can always grab a homemade blanket and have a picnic.
Before you feel the need to head outside for a little fresh air, consider a few picnic craft ideas. You can create everything from the utensil holders to the picnic blanket with a few simple supplies. In addition to practical items for your meal, you can also make DIY picnic games to keep the party going. While you're at it, why not bring a few supplies in your homemade picnic tote and create a few picnic crafts while you're sitting beneath the vast blue sky? If you're looking for crafts for the summer, this is the perfect resource. Additionally, there are plenty of easy crafts for kids to make and enjoy during your picnic outing.
It goes without saying that no picnic is complete without delicious, portable meal options. That's why we've teamed up with our friends at AllFreeCopycatRecipes to bring you some of our favorite copycat recipes, meal ideas and more. No need to buy anything for your next picnic when you have this free eBook as your crafty guide.
Click here to download 23 Fabulous Picnic Craft Ideas and Restaurant Copycat Recipes
Fabulous Picnic Craft Ideas and Restaurant Copycat Recipes Table of Contents
Note from the Editor
Hello, Readers!
It's time to head outside for a fun summer picnic! Make your time in the sun even more memorable by creating everything from drink pitchers to snack bags. In addition to taking a DIY approach to your picnic essentials, think outside the box and create games, ice cream cone cozies and snack bags that the whole family will appreciate.
Of course, the most important aspect of any picnic is the food. That's why we've teamed up with our friends at AllFreeCopycatRecipes to bring you some reader-favorite meal ideas. No need to ask for a box when you leave your favorite restaurant – these recipes are just as good as the originals and you can easily make them at home. Fill up your homemade tote with a few ice packs and your favorite dips, dressings and dishes - a fun afternoon in the sun is just around the corner!
You can find more craft projects, great activities for kids and decorating ideas at www.FaveCrafts.com.
Our eBooks, like all of our craft projects, are absolutely FREE. Please feel free to share with family and friends and ask them to sign up at our website for free newsletters from FaveCrafts.com.
We hope you enjoy reading and creating!
Sincerely, The Editors of FaveCrafts
www.FaveCrafts.com
Click here to download 23 Fabulous Picnic Craft Ideas and Restaurant Copycat Recipes.
What's Inside
DIY Picnic Projects
Picnic Helpers (pg.11): Make your picnic or barbecue a little easier with this great craft project using recycled aluminum cans. Your patriotic barbeque or picnic will be festive and eco-friendly! These picnic helpers are perfect for outdoor cooking on the 4th of July. You can customize your Picnic Helpers using different patterns like stripes, stars or even polka dots. You won't be sorry you made this easy craft as it is cute and helpful.
Beer Bottle Holder (pg.19): If you're looking for unique Father's Day gifts or even just something to hold your beer on a picnic during the summer season, the Beer Bottle Holder is a great easy craft to make. Plus, it looks cuter and is cheaper than beer koozies. Crafts made from recycled items, like this Beer Bottle Holder from Diamond Tech, are not only one of a kind gifts, but are a great way to save some money and help the environment! If you're feeling green this holiday, make this craft and make all your friends and family happy this summer.
Picnic Crafts to Crochet
Crochet Tote Bag (pg. 36): Crochet your own tote bag to go with any outfit with this free pattern. It would also look great carrying all your extra picnic supplies that don't fit in your picnic basket. This quick and easy bag is both adorable and practical because it is strong, durable, and large enough to hold all of your essentials.
Rolling Place Mats (pg. 38): With this crochet pattern, you can crochet a set of striped place mats with convenient silverware pockets. Roll up the crochet place mats with the stored silverware for picnics or outdoor dining. Paired with a red and white picnic blanket, these striped place mats are perfect for the 4th of July or any other patriotic holidays.
Picnic Craft Ideas for Kids
Soup Can Bowling (pg. 40): Dive into the recycling bin to find everything you need to make this bowling game. This is a great craft for summer vacation. You will also be environmentally friendly making this easy to make craft. You can bring it out during picnics, BBQ's, and family reunions. Make as many can "pins" as you want. Your kids will also love helping you decorate the pins and bowling ball.
Best Copycat Recipes for a Picnic (pg. 41): Help your kids out with this cool craft. They can make their own plates with their initials on them. Using colorful liquid beads, you can make this a fun craft at a birthday party or on a rainy summer day. This is great for crafting with kids. You can customize this easy to make craft with different colored beads, plates and designs. The whole family will love using a plate with their initials on it. Add this project to your cute craft ideas for the summer.
Best Copycat Recipes for a Picnic
Touchdown Guacamole (pg. 44): Get ready for game day with this awesome copycat appetizer recipe. Mix it up and serve it to your friends during the big game and they'll be jumping for joy. If you're looking for a quick-fix snack with flavor to spare, whip up this tasty treat in no time. This could also be a great served at a picnic. Your friends will enjoy this delicious guacamole while enjoying the great outdoors. Perhaps it will even inspire them to play a nice game of touch football.
Homemade Trader Joe's Cowgirl Bark (pg. 51): The grocery store Trader Joe's has an amazing selection of sweet treats. They sell chocolate bark that is legendary to chocolate enthusiasts nationwide. This Homemade Trader Joe's Cowgirl Bark recipe is a recreation of one of their latest chocolate wonders: Cowgirl Bark. The white chocolate bark is covered in Rice Krispies, dried cranberries, peanuts, almonds, pretzels, and gingersnap cookies. Each bite of the bark recipe has a great balance of sweet and savory flavor that will have you reaching for just a little more. This no bake dessert takes little time to prepare and requires almost no culinary skills to make. "Giddy up" and keep a batch around the house all season long.
Need Help Downloading this Free eBook?
FaveCrafts eBooks are free, downloadable craft project collections organized around a theme, such as Easter, Graduation or Low-Cost Clothing Crafts. These eBooks are PDF documents that can be downloaded off our website, saved to your computer, and/or printed out for easy reference while crafting. We think eBooks are a great way to offer a free collection of craft products to our users. We publish new eBooks every month. Our eBooks are also offered on iTunes and the Kindle store on Amazon.
If you are having trouble downloading our free eBooks, visit our FAQ page here: How do I download the eBook?

Don't miss our other Free eBooks!
If you enjoyed this eBook, you won't want to miss any of our other downloadable craft collections. You can browse our entire library of free eBooks here.
Sign up for our Free Weekly Newsletter, Quick and Crafty
The 23 Fabulous Picnic Craft Ideas and Restaurant Copycat Recipes eBook is absolutely free! If you decide that you love the eBook and would like more free craft projects, don't forget to sign up for our free e-mail newsletter "Quick and Crafty" to become part of our ever-growing craft community. By subscribing to the newsletter, you will receive:
Six weekly emails with free crafting patterns, tips, collection pages, videos and more + a weekly wrap-up.
Chances to win books and products from our weekly giveaways and contests.
New FREE patterns and eBooks made available to you throughout the year.
Access to our free pattern library full of over 1,000 of free crafting patterns.
The opportunity to share ideas and help others in the crafting community.
Now that you've rounded up some picnic craft ideas and restaurant copycat recipes from AllFreeCopycatRecipes, it's time to get to work! Start crocheting, gluing, cutting and cooking - there's so much to before your next picnic. Easy craft ideas for plates, utensils and more can help you save money and cut down on waste. The less you have to throw away at the end of your picnic, the better! There are also so many craft ideas for kids to make and show off before, during and after your next picnic. Make your afternoon even more memorable by creating restaurant copycat recipes from scrath - see if you can fool everyone with your culinary skills.
Crafts for the summer should be simple, fun and creative and these projects do not disappoint. Think outside the box and choose some picnic craft ideas that will make even the quickest picnic one to remember.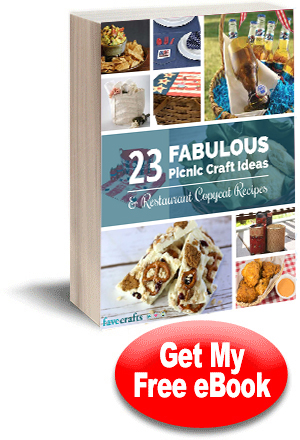 Click to download 23 Fabulous Picnic Craft Ideas + Restaurant Copycat Recipes.
Your Recently Viewed Projects
Join our community of 5 million crafters!
Get free craft projects, exclusive partner offers, and more.
Thank You for Signing Up!
There was an issue signing you up. Please check your email address, and try again.