Latest Free Craft eBooks
Free craft eBooks are the ultimate resource for crafting. Each eBook includes a collection of free craft projects organized around a theme, such as Christmas, Knitting or Low-Cost Kitchen Decorating. You can easily download and print out each book for on-hand reference while crafting. For help downloading our eBooks, see our help document here.
Our Newest Free eBooks
DIY Christmas crafts are the easiest way to deck your halls with a unique, personalized touch this holiday season. Adding your own personal flare to Christmas décor gives a certain warmth to your home that you just can't buy in stores. The homemade Christmas decorations in this free PDF will give you a bounty of ideas to keep you jolly and festive all season long. Get your copy today!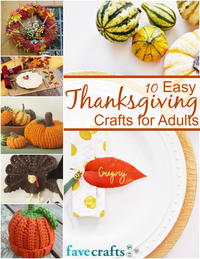 A homemade meal at Thanksgiving is made all the more lovely with your own crafted décor and tablescapes. Whether you're hosting Thanksgiving dinner or traveling to a loved one's home, these 10 Easy Thanksgiving Crafts for Adults are a festive way to celebrate the season. This Thanksgiving holiday guide features our top 10 Thanksgiving projects of 2016. Get your copy today!
Adult coloring books are popular for a reason! They are a whimsical, wonderful, cheap, and carefree way to spend some of your free time. Skip buying brand new coloring books at the store and download this collection of 15 completely free adult coloring pages. Get your copy today!
These DIY crafts are the best of the best! Voted on by you in our Best Blogger Craft 2016 contest, these craft project ideas were created by some of the best and brightest bloggers in the crafting world. Get your copy today!


This free eBook contains 13 stunning and absolutely adorable free DIY crafts tutorials. With full length photos and instructions from some of your favorite crafting companies, this crafting collection is one you are going to want to save for a long, long time. Get your copy today!
Gear up for more crafting with these well-loved titles!
READER FAVE 7 Adult Coloring Pages - When it comes to free coloring pages, you're never too old to get started. This 7 Adult Coloring Pages free eBook is filled with relaxing, calming graphics for you to color. Once you've completed your coloring page, you'll feel more in touch with yourself and more relaxed overall.

7 DIY Christmas Gifts: Handmade Gift Ideas You'll Love - With great DIY gifts for the holidays, this collection is filled with great projects that you can make for friends and family alike. With fantastic projects from American Quilter's Society, Polyform Products, Red Heart Yarn, Sizzix, and Therm O Web, this holiday gift guide will help you tackle your gift list in no time.

20 Easy DIY Holiday Projects - These easy DIY holiday projects really stand out and make a statement during this bright and shiny season. Just prepare yourself - once you make one of these DIY Christmas crafts, you won't be able to stop. Before you know it, your space will be filled with DIY holiday projects and you won't have anywhere to put your tree.