"The Make My Own Holiday Gifts Guide" eBook
The Make My Own Holiday Gifts Guide free eBook from FaveCrafts.com

Explore The Make My Own Holiday Gifts Guide eBook and find 12 easy Christmas crafts for holiday gifts to make this season. Find sewn Christmas gifts, Christmas ornament crafts, and homemade Christmas decorations. All of these homemade Christmas gifts are easy to make and will get you in the holiday spirit. If you want to give unique gifts that can be personalized for everyone is your life, then try making some easy Christmas decorations. You can welcome guests into your home to celebrate the holidys with colorful decorations and thrifty gifts.

As we prepare for the Holiday Season, Brother Sewing & Embroidery Machines would like to share some easy DIY Christmas crafts that let you express your creative side – and show off your talents to family and friends during your holiday celebrations. You'll find this eBook a valuable resource for inspiration and special techniques, such as appliqué and embroidery on unique holiday fabrics.

Create sewn Christmas gifts including Embroidered Christmas Stocking (pg. 10) or a Snowflake Ornament (pg. 17) for a new family member. Entertain guests at your home during the holidays with stylish décor, including a tablecloth bordered with holly or table settings embellished with appliqué. Our Sheer Magic Holiday Table Set (pg. 22) also makes for beautiful Christmas decorations– or the perfect homeade Christmas gift for a special friend.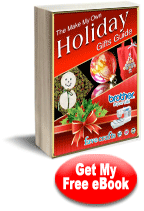 Download The Make My Own Holiday Gifts Guide eBook now. (pdf)
Tablecloths, napkins, and placemats are all essentials during a Christmas feast. If you're a beginning sewist or an advanced one, then these easy gifts to sew will keep you busy on those cold winter nights. Grab your needle and thread to stay warm while you craft easy Chrismas decorations. When you're done, your home will be filled with tons of holly, Christmas trees, and snowmen. Make sure your home isn't lacking any holiday spirit, so get started on making some homemade Christmas gifts.
All eyes will be on your beautifully-decorated table when you make Applique Christmas Placemat and Napkins (pg. 6). With these free online sewing patterns, you can make a set of Christmas placemats and matching napkins for easy Christmas decorations or sewn Christmas gifts. Spruce up your kitchen or bathroom with a cute Snowman Holiday Towel (pg. 28). Snowman Christmas crafts are a favorite theme for top holiday gifts. Follow this Christmas sewing pattern to create a snowman towel.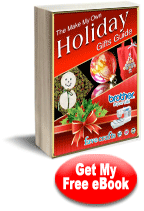 Download The Make My Own Holiday Gifts Guide eBook now. (pdf)
The holidays are the busiest time out of the year, and you're probably short on time when it comes to buying gifts. It can be frustrating spending hours in line at the store trying to buy that perfect gift for every special person in your life. Don't waste your valuable time at the stores when you could be spending it with friends and family. So break out your crafting supplies, settle down next to the fire with a cup of cocoa and get started on these easy holiday gifts to make.
Homemade Christmas gifts that come from the heart are the best kind to give. If you know someone whose tree is a little sparse this year, help them decorate it by making these Easy Colorful Christmas Ornaments (pg. 12). Homemade Christmas ornaments swirled with bright paints make for colorful holiday gifts. You'll have a blast making these easy Christmas decorations and they will appreciate the thought. If you have a friend or family member who needs something to destress in the winter and relax during the holidays, then give them some Snowballs for the Bath (pg. 16). You can use inexpensive snowballs and your favorite essential oil to create snowballs for the bath. These clever snowballs make the ultimate homemade Christmas gift.
When things get crazy around Christmas and you feel like you're running around the stores like a madman, don't add buying gifts to your list of things to do. Spend time at home relaxing with a glue gun in one hand and paint in the other, making some easy Christmas decorations.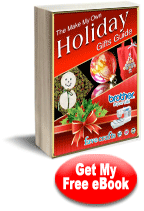 Download The Make My Own Holiday Gifts Guide eBook now. (pdf)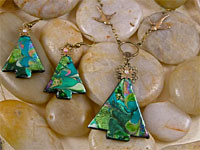 There is nothing more reminiscent of Christmas than a beautifully-decorated Chrismas Tree with twinkling lights. It is a classic image of the holiday season, so it only makes sense that some of your gifts have this image as well. Christmas tree crafts will instantly brighten up your day on a dreary winter day before the holidays. Get crafting early so you're not stressed when Christmas rolls around by making homemade Christmas gifts today.
Free hand sewing patterns are a great way to create Christmas gifts quickly and easily. The Christmas Tree Button Tote is a great craft where you can create a cute Christmas tree on a red tote with buttons (pg. 9). A homemade Christmas gift like this is perfect for carrying presents to put under the tree or carrying food for the Christmas feast. You only need minimal sewing skills to complete this cute craft. For the Christmas fashionista, you can always make Christmas Tree Pendant and Earrings. Statement jewelry never goes out of style, so arrive in style on Christmas Day with an adorable Christmas tree around your neck and on your ears. This craft is sure to create one-of-a-kind gifts.
Christmas tree crafts are a great way to spend time with your family while preparing for the holday season. You can make them early in December so that when Christmas rolls around you'll be excited to wear your cute, new earrings and store presents in an adorable tote.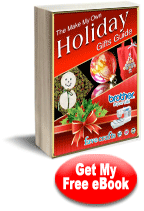 Download The Make My Own Holiday Gifts Guide eBook now. (pdf)
Find our latest eBooks here.
Find our complete list of published eBooks here.
For tips on downloading our eBooks, see the eBook Help Document.

As you can see, there are plenty of holiday craft ideas. Christmas is a time to celebrate with family and friends, so don't spend it at the store shopping for decorations and ornaments. You can save time and money when you make homemade Christmas gifts instead of buying them. You can make classic projects with Christmas trees on them or unique ones like a keepsake box. Whatever you make, your friends and family are sure to love it.

With your free copy of The Make My Own Holiday Gifts Guide eBook, you can also subscribe to our Quick and Crafty newsletter to become part of the FaveCrafts community. In subscribing to the newsletter, you will receive:
Five weekly emails with free crafting patterns, tips, collection pages, videos and more + a weekly wrap-up.
Chances to win books and products from our weekly giveaways and contests.
New FREE patterns and eBooks made available to you throughout the year.
Access to our free pattern library full of over 1,000 of free crafting patterns.
The opportunity to share ideas and help others in the crafting community.
Make this the best holiday season you've ever had. From pretty keepsake boxes to an embroidered tablecloth, the projects in The Make My Own Holiday Gifts Guide are great for crafters of all ages and expertise. Download your free copy of The Make My Own Holiday Gifts Guide eBook today!
Your Recently Viewed Projects
Join our community of 5 million crafters!
Get free craft projects, exclusive partner offers, and more.
Thank You for Signing Up!
There was an issue signing you up. Please check your email address, and try again.