How to Clean Paper, Cardboard, and Toilet Paper Tubes
Learn how to make all of your paper roll crafts shiny and new with this easy tutorial.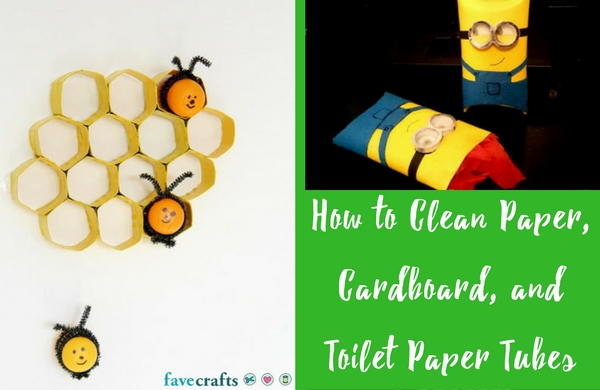 How to Clean Paper Cardboard and Toilet Paper Tubes
You're just about to build an amazing paper roll craft, and then you notice something. There's a little patch of dirt on your toilet paper roll. Just underneath that speck of dirt, you see what looks to be an oil stain. This is the last toilet paper roll you have, and it's seemingly unusable. This type of problem happens all of the time in the world of paper crafts, and we're here to tell you that you don't have to throw that toilet paper roll away! In How to Clean Paper, Cardboard, and Toilet Paper Tubes, we'll teach you the solution for keeping all of your paper-based materials clean and usable. These techniques are easy, and all they require is just a little bit of patience.

With these techniques, you'll be able to restore your toilet roll crafts, cardboard materials, and paper supplies! All three types of material use very similar techniques. The main variation in how to restore paper depends on how thick your crafting supplies are. Thicker paper crafting supplies are easier to clean than thinner sheets of paper. If you're looking to clean paper, you just need to be a little more delicate with your cleaning.  
 
Materials List
Brush
Sponge
1/2 cup of white vinegar
1/2 cup of water
1/2 cup of baking soda
Spray bottle
Cotton balls
Absorbent cloth
Paper towels
How to Remove Dirt and Debris
This section details how to clean surface-level dirt and debris from paper and cardboard. In most instances of dirty or damaged paper crafts, this technique should make those crafting materials look as good as new!
The first step in removing dirt and debris from any paper craft material is by gently wiping the affected area with a dry cloth. This should remove any loose debris. If you're trying to clean thinner paper, start with a soft brush. Brushes can be less abrasive than cloths, especially if you need to wipe very delicate areas. 

If the dry approach doesn't remove all of the dirt, add a little bit of warm water to your cloth. Make sure to rinse off any leftover debris from the first round of cleaning. If you're working with a brush, you may need to wash the brush with soap and water. Let the brush dry before using it again. 

When adding water to your cloth, make sure that it's damp and not drenched. You don't want to oversaturate your paper craft material. Gently wipe the surface of your material to remove any leftover dirt.

For very fine pieces of paper, water is not a recommended solution. You can, however, use a rubber sponge to carefully rub against your sheet of paper. If the sponge gets dirty, simply cut off the dirty edge and continue until the debris is all gone. 

If your cardboard or paper material has a shiny, coated surface, you can add mild soap to your water. Make sure to wipe away the soap with a rinsed cloth. 
How to Remove Stains
Stains are the worst and most difficult offenders when it comes to paper restoration. Luckily, the solution to removing stains from your precious paper roll crafts is only a few extra steps! 
The first step in removing stains from your paper craft materials is to see how bad the stain is. If your stain covers the entire surface area of the affected cardboard or paper, this solution might not work. For stains that have only soaked into a portion of your supplies, start by soaking up any leftover liquid with a dry paper towel. Do not rub the surface of your cardboard or paper. Pat the affected area carefully. 

If you're cleaning the stain on a thinner piece of paper, straighten out the paper and place two waterproof items on opposite corners to hold down and "stretch out" the affected area. 

Moisten a towel or a cloth and wipe the affected surface. Wipe gently until the color stops soaking into your towel or cloth. For paper, prepare an even solution of water and white vinegar. Use 1/2 cup of each to make the solution, and use cotton balls to carefully dab the stained surface until the stain clears. 

For cardboard, mix 1/2 cup of white vinegar with 1/2 cup of baking soda. Once the mixture stops foaming, pour it into a spray bottle. Add warm water until your spray bottle is full. Spray the stained area, and blot the area with an asbsorbent cloth until the stain is gone. 

Once you've removed the stain, pat your paper craft materials with a dry paper towel until the formerly stained area is dry. Continue to let your materials dry out in the open afterward. 
How to Sanitize Your Paper Crafts
Once you've removed any dirt or stains from your crafting supplies, you might feel the need to sanitize them for exta assurance. This feeling may be especially true when it comes to toilet paper roll crafts. 
The tried and true method for sanitizing toilet roll crafts or any other thicker paper crafts is Lysol spray. Clorox wipes are also a quick and easy way to sanitize your crafting supplies, but if your crafting supplies are going to be used by small children, neither of these methods are recommended. 

If you set your toilet paper roll crafts outside on a sunny day, the heat from direct sunlight should kill off bacteria. 
Ready to Use Your Newly Cleaned Supplies?
If you're ready to put those newly cleaned paper craft supplies to good use, try these amazing projects! 
Your Recently Viewed Projects
Join our community of 5 million crafters!
Get free craft projects, exclusive partner offers, and more.
Thank You for Signing Up!
There was an issue signing you up. Please check your email address, and try again.