Hope and Faith Stamped Card
String gives textures to this Hope and Faith Stamped Card, while interesting paper cut-outs create a fantastic border.You'll love the warm oranges and blues in this stamped card. Homemade greeting cards are a great way to show how much you care. Gather up your favorite supplies and add your own little touches to make this card really stand out. If you're looking for handmade greeting card ideas but aren't sure where to start, this is the perfect project. Colored ink and cool punches add a fun dimension and unexpected look to an otherwise ordinary card.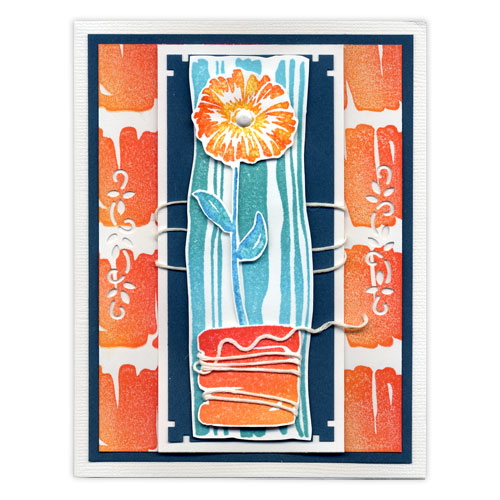 Materials:
Hope & Faith stamp set-Posh Impressions
White cardstock
Dark Turquoise cardstock
Orange Blending Blox ink
Turquoise Blending Blox ink
Color markers
Mister
Ivy border punch
Corner notch punch
Small hole punch
Brad
Cord
Mounting tape
Instructions:
Color flower from set with markers. Mist with water and stamp onto white cardstock. Cut out when dry. Ink three blocks from set with orange blending blox ink. Stamp onto white cardstock. Cut out one. Stamp shadow lines with turquoise blending blox ink onto white cardstock. Cut around leaving a small white border. Wrap cord around cut out block and curl end with a toothpick. Punch hole for brad in flower and insert. Mount flower and block to shadow lines.

Trim a dark turquoise panel and notch corners. Layer to a larger white panel. Wrap cord around center of pieces securing ends to the back with tape.

Ink three blocks again with orange blending blox ink. Stamp in rows as shown onto a white card. Use border punch at center sides. Tape pieces of white cardstock to the back side of border punch outs. Layer card to a larger dark turquoise card. Layer these two cards to a folded white card.

Mount panels to center of base card. Mount flower piece to center of panel.
Your Recently Viewed Projects