21 Crepe Paper and Tissue Paper Crafts
From gorgeous crepe paper flowers to tissue paper art, these tissue paper crafts for adults will add delicate touches to any space.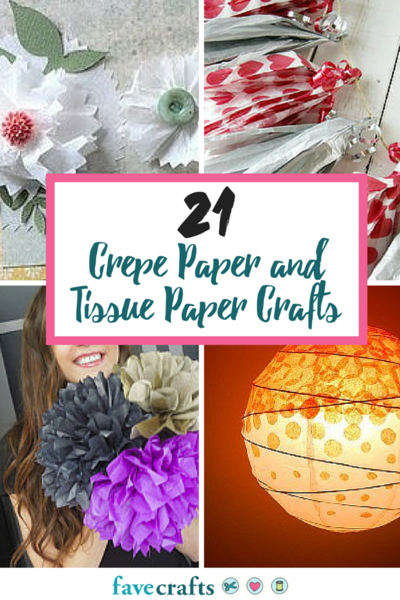 Pretty, and pastel-hued, tissue paper crafts are a stunning way to upgrade your space and your crafting endeavors. Using crepe paper and tissue paper to make stunning décor pieces allows you at add delightful details that add a delicate touch to any space. Making tissue paper crafts allows you work with a gorgeous gossamer texture. From crepe paper flowers to decoupaged tissue paper ideas like adorned mason jars, tissue paper art is simple to make and often relatively cheap. You can even use leftover tissue paper from wrapping gifts if you are looking to be thrifty.
While tissue paper flowers and blooms are the most popular way to make DIY crafts with this always-popular material, there are plenty of other crepe paper ideas to explore. Tissue paper is a versatile crafting material that works especially well with home decor ideas and paper crafting ideas. You can add tissue paper accents to just about any craft you would like. Scroll down to check out our stunning collection of 21 Crepe Paper and Tissue Paper Crafts.

 
Table of Contents
Tissue Paper Crafts
Working with tissue paper is especially exciting, because it is a subtle crafting material. Tissue paper allows you to add color and texture to your ideas without having to battle thick material that may overshadow other parts of the creative piece. Tissue paper crafts are especially lovely as details and home décor pieces because they add light colors. From stained glass inspired cuties to DIY jewelry ideas, tissue paper and crepe paper is an extremely versatile material.
Tissue Paper Art
If you are looking to get a little more serious with your crepe paper ideas, create tissue paper art that you can display for a long while. These stunning art projects can double as DIY home décor, making lovely wall art pieces and more. They make great party decorations too!
Tissue Paper Flowers
When you think tissue paper crafts, you probably immediately think of crepe paper flowers. Delicate tissue paper and flower craft ideas are the perfect pair. The flimsy, lovely look of tissue paper allows you to layer material to make flowers of all shapes and sizes. There's no better material for producing petals than tissue paper.
Let us know:
Which type of tissue paper craft do you prefer: tissue paper art or tissue paper flowers?
Your Recently Viewed Projects